North Carolina Burn Injury Lawyer
Survivors of burn injuries can suffer permanent damage and pain. Severe burns may need ongoing treatment and prevent the victim from returning to work. The physical, emotional, and economic impact of a burn injury often affects both the burn victim and their loved ones.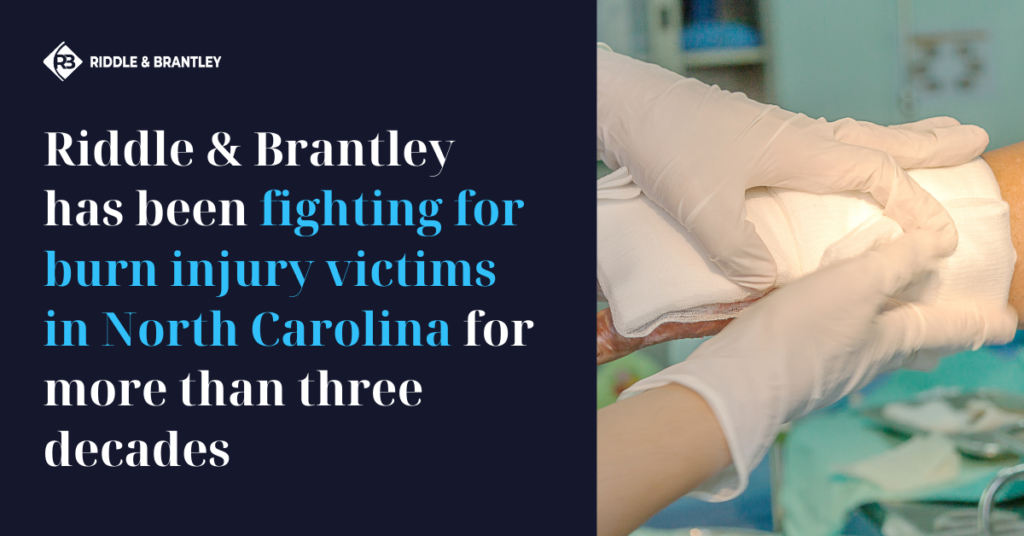 If you or someone you love suffered burn injuries that resulted in significant pain, physical scars, disfigurement, expensive medical bills, or psychological suffering, contact our burn injury lawyers at Riddle & Brantley. When you call 1-800-525-7111, you can schedule a free consultation with a North Carolina personal injury lawyer who has experience representing burn injury victims with competence, compassion, and personalized attention.
We believe that Justice Counts!
Effects of Burn Injuries
Burns are one of the most common forms of trauma, and the risk of serious harm extends beyond the initial injury. According to the CDC, about 4,500 people die each year from these injuries, and up to 10,000 succumb to burn-related infections. The skin is the body's largest organ, and it protects the body from microbes, dangerous temperatures, and harmful contaminants. Naturally, if the skin is damaged, the barrier is less effective.
Burns also alter the body's immune defenses, further increasing susceptibility to infection. In addition, they can lead to significant and permanent disfigurement that impairs social interactions and emotional health. The types of medical treatment that these injuries require —  skin grafts and other surgeries — can be painful and expensive. Even when the initial pain resolves, itching can continue for decades.
An experienced North Carolina burn injury attorney can help you receive the compensation necessary for medical treatment, lost income, and the emotional harm that often results from serious burns. Contact us today at 1-800-525-7111 and take the first step towards getting your life back.
As always, there are no upfront costs and no attorney fees unless we win your case and you receive compensation. If you don't receive compensation, we don't get paid. It's as simple as that.
Call 1-800-525-7111 and let's review your burn injury claim.
Who is Responsible for Your Burn Injury?
Burn injuries are so common because they can occur in many different situations. In most circumstances, to recover compensation, an injured party will need to prove how the injury occurred and who was legally responsible.
Potentially liable parties depend on the context in which the accident occurs. The most common burn injury cases that we see in North Carolina include:
Auto accidents – Burns are common injuries in car accidents and truck accidents. If someone suffers thermal burns because of a car fire in a collision, the at-fault driver or the manufacturer of a malfunctioning vehicle could be liable for damages. North Carolina is an at-fault insurance state, meaning the party who caused the wreck — or their insurance carrier — will be responsible for paying the victims' damages.
Defective products – Some consumer products can pose burn risks, from children's toys to cosmetic appliances. When designers or manufacturers fail to ensure the safety of their items, they may be liable for the suffering that they cause injured consumers. You might have grounds for a product liability claim if a defective or dangerous product caught fire, exploded, or otherwise caused your burn injuries.
Dangers on Property – Landowners have a legal duty to keep their properties reasonably safe for visitors. Property hazards such as fires, explosions, or acidic chemical spills could be grounds for a premises liability claim — if they failed to fix or place a warning near a potentially hazardous situation.
Another common source of burns is workplace injuries. If you are seriously injured at work, the circumstances will determine whether you may file a personal injury lawsuit or proceed with workers' compensation. The easiest way to find out who might be liable for your damages is to discuss your case with a lawyer.
Our experienced legal team can investigate your accident, identify the possible defendants, and file your lawsuit within the statute of limitations. Call us today at 1-800-525-7111 for a FREE, no-obligation consultation.
Should You Take Legal Action?
Burn victims often face a long road to recovery. A personal injury settlement or verdict can provide the funds needed to pay necessary costs, replace income, and deter others from careless conduct in the future.
A settlement or award may include compensation for:
Past and future medical bills
Surgeries, skin grafts, and rehabilitation
Live-in care or disability costs
Lost wages and lost earning capacity
Physical pain and emotional suffering
Mental anguish or psychological distress
Loss of quality of life
An experienced burn injury law firm can make a big difference in the outcome of your personal injury claim. We are passionate about our clients and the personal injuries they have suffered. We believe that Justice Counts!
We recently negotiated a settlement of $100,00 for a child who was seriously burned when a grill caught fire at a restaurant where he was eating with his family. The settlement included an upfront payment and periodic payments in the future to compensate for his physical and psychological injuries (see disclaimer below).
Our Team of North Carolina Burn Injury Lawyers
At Riddle & Brantley, we always put our clients first. We have empathy for the difficulties injury victims have experienced and have secured millions of dollars for past clients (see disclaimer below). Contact us today at 1-800-525-7111 to learn more about your burn injury claim. Initial case evaluations with our firm are always free and confidential — and you won't pay any attorney fees unless we win your case and you receive compensation.
"Riddle & Brantley found me all the available money from the insurance companies."
-David H., Riddle & Brantley client
Justice Counts for burn victims.
---
*Disclaimer: The results mentioned are intended to illustrate the type of cases handled by the firm. These results do not guarantee a similar outcome, and they should not be construed to constitute a promise or guarantee of a particular result in any particular case. Every case is different, and the outcome of any case depends upon a variety of factors unique to that case.