Huntersville Work Injury Lawyer
Have you been injured at work in Huntersville or elsewhere in North Carolina? If so, you may have a workers' compensation claim — and you may be entitled to compensation. A Riddle & Brantley work injury lawyer with experience in Huntersville can help.
For a FREE consultation, please call 1-800-525-7111 or complete the form below. We will review your case and advise you on your legal options.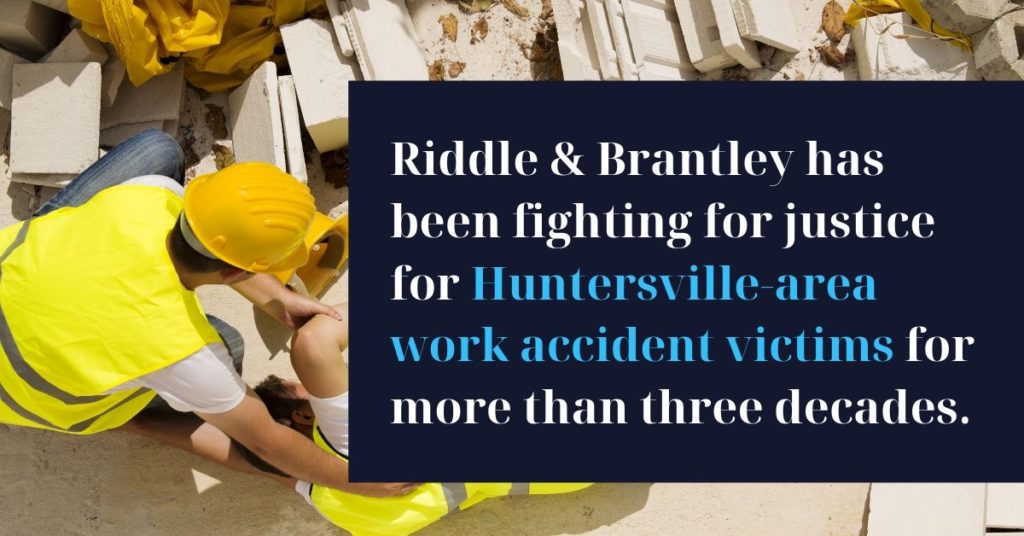 As always, there is no obligation and if you decide to hire us, there are no upfront costs and no attorney fees unless we win your case.
We have two Bar-Certified Workers' Compensation Specialists on staff to help you with your work injury claim. These attorneys are recognized by the North Carolina Bar Association for their proficiency and experience practicing workers' comp law.
We have been fighting for injured workers in North Carolina since 1985, and we're very familiar with the Huntersville area. We would love to help you if we can.
Our work injury lawyers can assist with workplace injuries for all types of workers, including:
Office personnel
Factory workers
Construction workers
Truck drivers
Heavy equipment operators
Medical staff including doctors and nurses
Law enforcement personnel
Paramedics and EMTs
Firefighters
Warehouse workers
Agricultural and farm workers
And many more…
In the most tragic situations, our North Carolina wrongful death attorneys can help fight for justice for family members, as well.
Justice for Huntersville Workers
Huntersville is a large and growing city outside Charlotte, North Carolina with a population of more than 55,000 people. Busy interstate I-77 serves the area, along with NC-73, NC-115, and US Highway 21.
Rapid population growth and booming industry mean that workplace accidents in Huntersville are unfortunately common.
Our work injury lawyers have experience in Huntersville and greater Charlotte, and we handle all types of workplace injury cases, including those involving:
Injuries from falls
Back injuries
Neck injuries
Shoulder injuries
Hand injuries
Injuries from repetitive motion like carpal tunnel
Spinal cord injuries
Traumatic brain injuries
Paralysis
Loss of limbs and amputations
Crush injuries
Burns
Broken bones
Respiratory problems
Exposure to toxic chemicals and substances, including asbestos exposure
And many more…
"We're committed to justice for workers in Huntersville and all North Carolina." -Gene Riddle
Work Injury Settlements and Judgments
Every case is different and there is no guaranteed outcome in any workers' compensation claim. However, we are proud of the results our Riddle & Brantley work injury lawyers have won for our clients, including:
$1,800,000 | Workers' Comp / Truck Accident — Our client was driving a truck for his employer when another truck crossed the center line, resulting in a head-on collision. Our client suffered serious injuries including the eventual amputation of his left leg below the knee. Attorney Gene Riddle took the case and ultimately secured settlements with both the workers' comp carrier and the defendant third party's truck, totaling $1,800,000.
$750,000 | Workers' Compensation — Attorneys Gene Riddle and Adam Smith represented our client who was injured when hit by a landscaping company's truck while on the job. Riddle and Smith promptly filed suit and the insurance company agreed to mediation, where we secured a $750,000 settlement.
$725,000 | Workers' Compensation — Managing partner Gene Riddle fought for justice for an agricultural worker who was injured while carrying heavy objects on the job. His injuries required multiple surgeries and ongoing pain management. When the defendants denied benefits, Riddle argued the case in front of the North Carolina Industrial Commission and won a favorable decision, ultimately securing a $725,000 settlement at mediation.
*** Disclaimer: The results mentioned are intended to illustrate the type of cases handled by the firm. These results do not guarantee a similar outcome, and they should not be construed to constitute a promise or guarantee of a particular result in any particular case. Every case is different, and the outcome of any case depends upon a variety of factors unique to that case.
For more workers' compensation case results, please visit our Riddle & Brantley settlements and verdicts page.
A Team Dedicated to Getting You Justice
Huntersville-area clients can also rest assured that in addition to being represented by an experienced work injury lawyer, they will also be supported by a team of case managers, paralegals and investigators committed to their success.
Our goal is to make your workers' compensation claim as stress-free as possible for you, so you can focus on your recovery.
For a FREE consultation, please call 1-800-525-7111 to speak with our legal team. You can also complete the short form below if you prefer.
There is no obligation, and no upfront costs or attorney fees unless we win your case and you receive financial compensation for your injuries.
Work Injury Attorneys with Experience Serving Huntersville Clients
Our workers' compensation attorneys have nearly 200 years of collective legal experience and fight tirelessly for injured North Carolinians.
"The great thing about Riddle & Brantley law firm is from the moment you walk in the door … it's a wonderful family atmosphere. I would like to thank the Riddle & Brantley law firm for their representation in my workers' compensation case." -C. Schaeffer
If you're looking for a Huntersville work injury lawyer, you may want to consider the experienced North Carolina workers' comp attorneys at Riddle & Brantley.
Our motto is Justice Counts and we believe everyone deserves equal protection under the law.
Please call 1-800-525-7111 for a FREE consultation. We'll listen to your story and advise you on a potential workers' compensation claim. If we can help and you decide to hire us, there is no attorney fee unless we win your case and you receive compensation.
Work injuries can be traumatic and the consequences can last a lifetime.
You don't need to go through this alone.
We would love to help you get justice if we can. Please call 1-800-525-7111 for a free case review or contact us by filling out the short form below.
Justice Counts.