Jacksonville Personal Injury Lawyer
Retaining a Jacksonville personal injury lawyer after suffering any type of injury can put you on the path to physical, emotional, and financial recovery. Riddle & Brantley, offers much more than just legal services. Our Jacksonville accident lawyers strive to help clients and their families any way they can, from recommending local hospitals to dealing with mounting medical bills. Contact us today for your free consultation.
How a Jacksonville Personal Injury Lawyer Can Help
The Jacksonville personal injury lawyers at Riddle & Brantley have more than 225 years of combined legal experience. We are incredibly successful at recovering compensation for our clients, with a track record of millions secured in settlements and verdict awards. Our Jacksonville accident lawyers dedicate personal and professional attention to each client who comes to us for assistance. We genuinely care about the families we help and can guide them through the legal process from start to finish. We greatly value our clients and are 100% committed to achieving justice.
Free Consultation: No obligation or cost to you.
We respond to calls and emails after hours and on weekends
Bilingual staff: Te podemos ayudar con abogados que hablen español.
Collectively, our attorneys have more than more than more than years of combined experience.
Millions of dollars won for our clients.
Variety of practice areas and locations — no matter where you are in North Carolina we have the tools to help and several locations you can visit.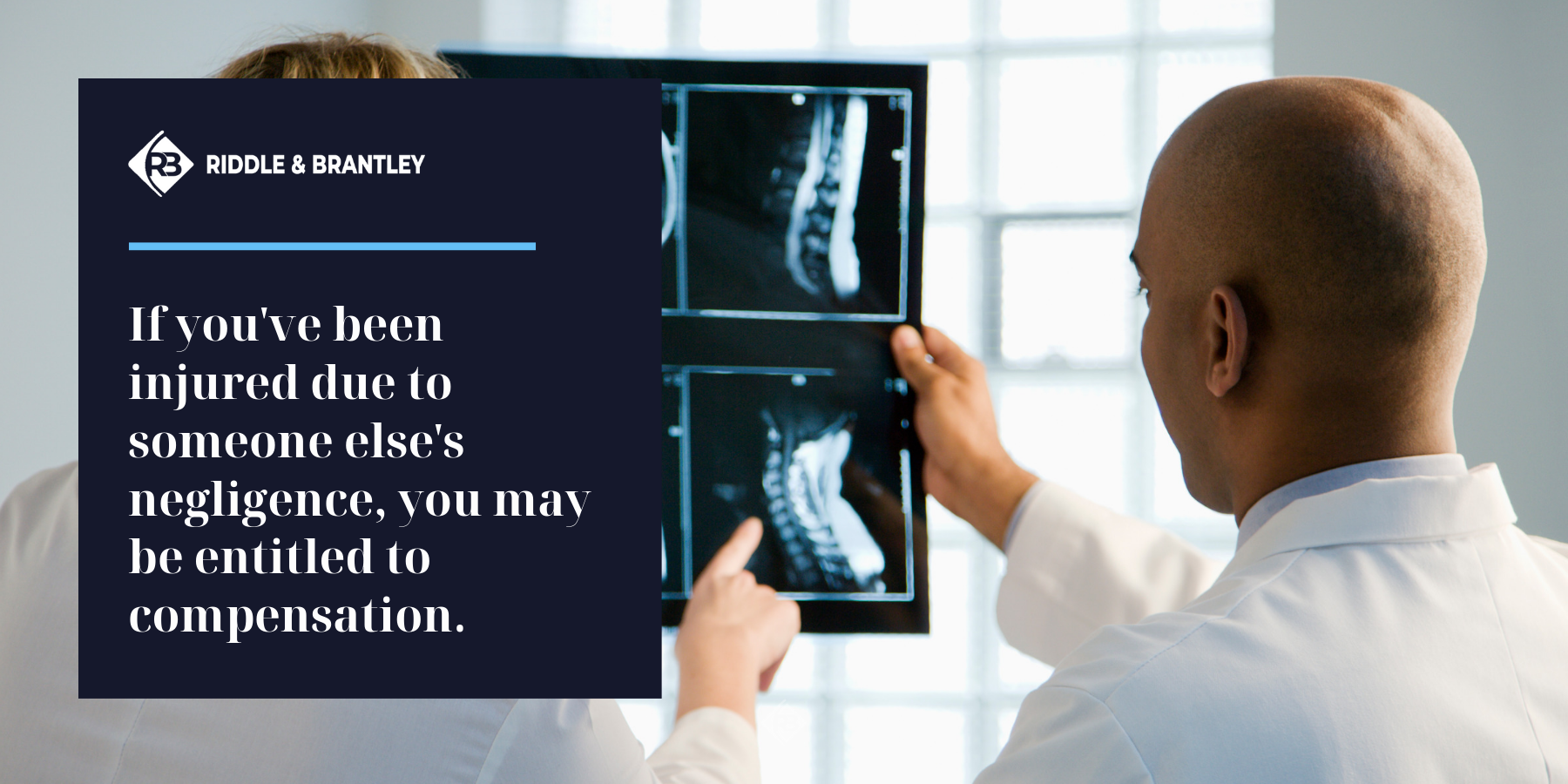 Compensation in a Personal Injury Case: How Much is My Case Worth?
A personal injury case comes down to monetary damages. "Damages" Is the amount of money that would sufficiently equate to the amount of suffering you have endured physically, mentally, and monetarily.
Here are descriptions of the two types damages that are common to personal injury cases and will help you calculate your case's worth:
What Are Compensatory Damages?
Compensatory damages are meant to monetarily replace what you, the injured person, have lost. This is an easy number to come up with when adding up medical bills, lost wages, or property damage; but very difficult to figure out when placing a value on how your life has changed due to physical limitations as well as your pain and suffering. These are the types of compensatory damages:
Pain and Suffering — The physical pain and suffering that you have suffered may be entitled to damages, but can be difficult to measure. One of our experienced attorneys will collect your medical information to help in coming up with a monetary value.
Emotional Distress — Often combined with "pain and suffering," but differs in that it's related to the mental anguish resulting from the accident instead of the physical. Common symptoms include terror, anxiety, shock, sorrow, confusion, and lack of sleep.
Income — You can seek compensation for the income you lost due to the injury. You may also be awarded damages related to your "loss of earning capacity," which means your inability to earn future income because of the accident.
Medical Treatment — Reimbursement for past and future treatment is typically always included in the settlement you receive.
Property Damage — Your property that was damaged or lost in the accident can likely be reimbursed. Items such as vehicles, items within the vehicle, and clothing will be appraised at fair market value.
Loss of Enjoyment — Damages you may be able to collect because you are physically limited due to your injury making you unable to engage in hobbies, recreational activities, exercise and any other activities you were previously able to enjoy.
Loss of Consortium — These damages refer to the impact your injury has had on your relationship with your spouse, such as a loss of companionship and/or inability to engage in sexual intimacy. Depending on the jurisdiction where your claim is heard in North Carolina, the impact the injury has had on a parent-child relationship may be considered.
What Are Punitive Damages?
These kind of damages are meant to punish the defendant, in that they are similar to fines. If the defendant's actions are found to have been malicious or excessively irresponsible then you may be awarded punitive damages. North Carolina has set a limit on the maximum amount that can be awarded for punitive damages, which is three times the amount given for compensatory damages or $250,000, whichever is greater.
How Your Actions Can Affect Your Case's Worth
North Carolina follows the rule of "contributory negligence," which means that if you were even partially at fault for your injury then you are not entitled to compensation. Also, failure to mitigate damages could significantly affect your awarded damages. This law expects you to minimize the costs caused by your injury as much as possible. 
Examples of negligence in personal injuries:
Negligence is when someone acts in a careless, not intentional, manner that causes an injury to another person and is the basis of most personal injury claims.
In order to win a personal injury case based on negligence, there are four elements that must be proved:
Duty of Care — The defendant legally had an obligation to avoid acts that could likely cause injury.
Breach — The defendant failed to take preventative measures to avoid causing harm.
Cause — Injury was caused by defendant's failure to act.
Harm — The plaintiff experienced financial loss due to injury.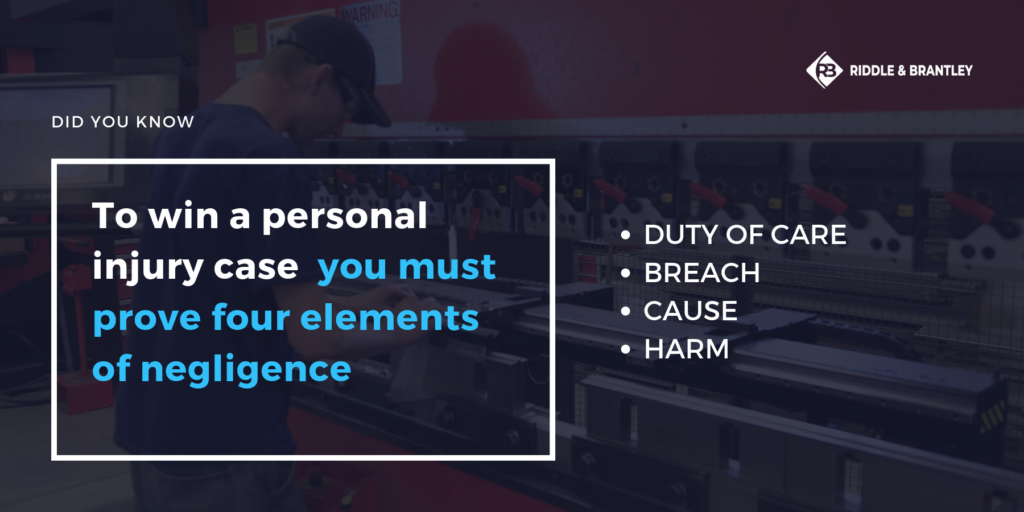 How do you calculate pain and suffering?
Calculating pain and suffering is typically done by either multiplying the amount of actual damages (loss of income and medical treatment costs) by a number between 1 and 5 (depending on injury's severity) or by use of a per diem approach. A per diem approach attaches a monetary amount to every day since the accident until you have recovered. If you've been injured in Jacksonville NC area, one of our lawyers can help you with this calculation.
Why Pursue a Personal Injury Claim?
The civil justice system in Jacksonville, North Carolina, allows victims of negligence to seek money damages from the at-fault party or parties. This means that if someone negligently, recklessly, wantonly, or intentionally caused your injuries or a loved one's death, you could be eligible for financial compensation. Compensation awards can reimburse you for the following damages and expenses:
Past and future medical bills
Lost wages and capacity to earn
Property damage repairs/replacement
Physical pain and emotional suffering
Permanent injuries and scarring
Funeral/burial costs
If your family is in a financial bind after a loved one suffers a serious injury, find out if you have grounds to pursue compensation through a personal injury claim. An investigation from our injury attorneys could uncover one or more parties who are legally responsible for paying your damages. The at-fault party could be another driver, an employer, product manufacturer, property owner, physician, or another party.
What Types of Accidents Warrant Help From a Jacksonville Personal Injury Lawyer?
Our passionate team of attorneys offer free, confidential case evaluations to every new client. You can learn about the legalities of your situation and discover whether you have the elements of a personal injury claim in Jacksonville, at no obligation. Our lawyers have represented clients after the following personal injury accidents:
Dog bites
Nursing home abuse and neglect
Swimming pool accidents
Social Security/VA claims
If you're not sure if your accident makes you eligible for a claim, call (919) 778-9700 to find out today. Give us a call to discuss your unique case with one of our lead Jacksonville attorneys. Your first phone call with us could be the start of a long-standing relationship with a lawyer who truly cares about you.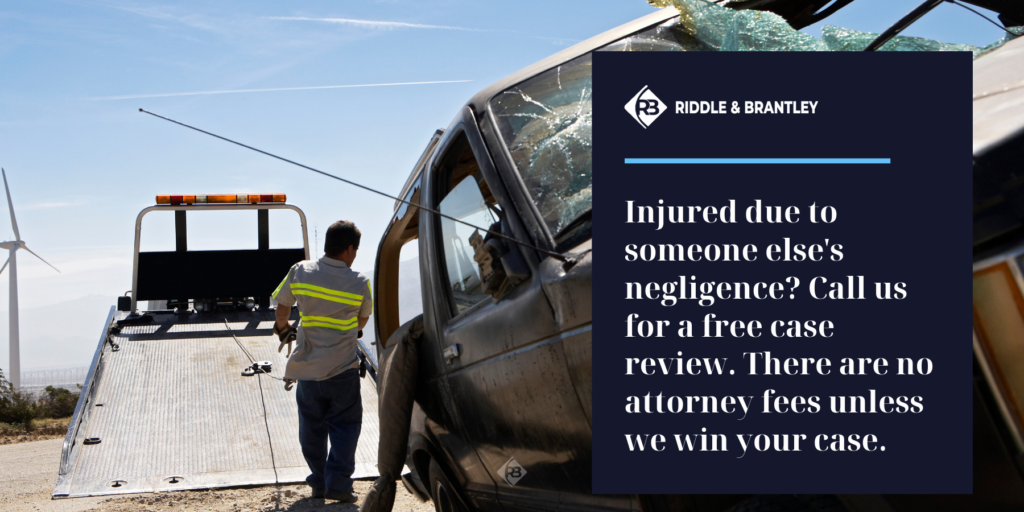 What to Do After an Injury in Jacksonville?
Over the years, our attorneys have learned exactly what personal injury victims should and should not do in the hours and days after their accidents. The steps you take can make a big difference in the outcome of your claim. Here's a general outline to follow:
Call 911. Report your accident to the police, your employer, a store manager, and/or other authorities, depending on the situation.
Go to the hospital. Take care of your personal health by going to the doctor immediately after suffering an injury.
Contact us.  Reach out to us as soon as you can to discuss your personal injury case. We'll go to work for you without delay.
Get Help Today | Call Riddle & Brantley | Free Consultation
When in doubt, call us before you do anything else. We'll give you trustworthy, sound advice that can help you start your claim on the right foot. You have three years from the date of your accident to file a personal injury claim before you lose the right to file. Call our Jacksonville accident attorneys at 1-800-525-7111 or complete the form for your free legal consultation with a Jacksonville personal injury lawyer today.