Texting and Driving Accident Lawyers in Charlotte
Texting and driving is a serious danger to drivers on the roads in North Carolina, and Charlotte is no exception. Driving while texting is a serious type of distracted driving, and the consequences can be devastating and even deadly.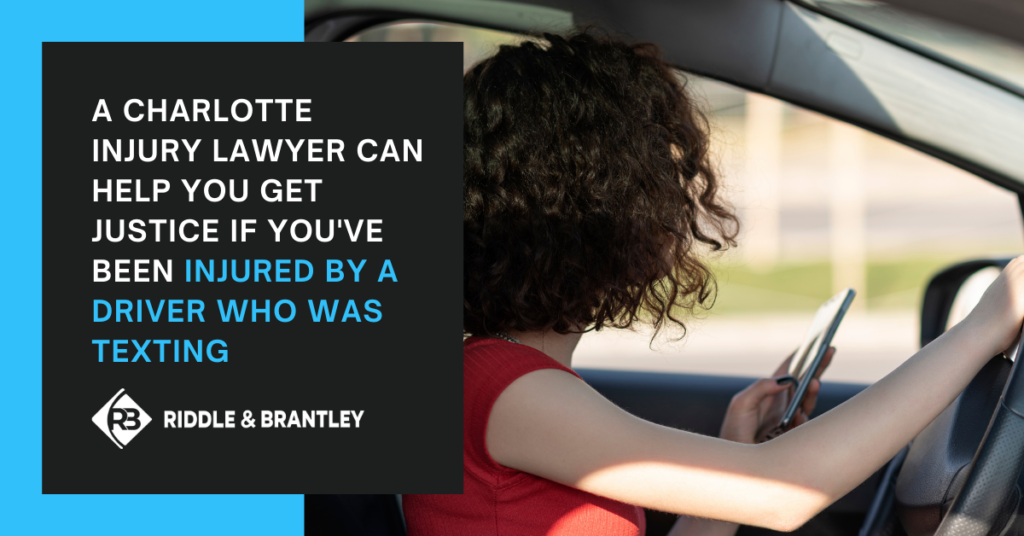 If you've been injured by a driver who was texting and driving, a Charlotte texting and driving accident lawyer at Riddle & Brantley can help. Call 1-800-525-7111 for a FREE, no-obligation consultation. There are no attorney fees unless you receive compensation.
We are available for in-person consultations by appointment only at our Charlotte location, and can also consult with you from anywhere by phone, email, text, or video conference. We can even come to you directly if you prefer. Call 1-800-525-7111 to speak with a Charlotte personal injury lawyer handling texting and driving accident cases today.
Accidents in Charlotte NC Caused by Texting and Driving
It's difficult to say how may accidents are caused by texting and driving in Charlotte, but the North Carolina Department of Transportation (NCDOT) reports that roughly 18 percent of all accidnets in North Carolina involve distracted driving.
Many distracted driving accidents involve texting behind the wheel. Based on NCDOT's report, an estimated 6,361 traffic accidents in Charlotte in 2019 involved distracted driving, many of which may have involved a driver who was texting. An estimated 15 deaths resulting from auto accidents in Charlotte in the same year may have been caused by distracted driving, including texting and driving.
Texting and driving accidents are common in Charlotte and across North Carolina, and a Charlotte car accident attorney handling these cases can help victims fight for the justice and compensation they deserve.
Keep in mind that in most cases in North Carolina, you have three years from the date of injury to file a personal injury claim or lawsuit. In wrongful death cases, you have only two years from the date of death.
Proving Fault in a Texting and Driving Accident
In most cases, the driver who was texting while driving bears full responsibility for the car, truck, or motorcycle accident. But in North Carolina, the rule of contributory negligence means that if the defense can prove that the plaintiff even partially contributed to the accident, the plaintiff can be barred from recovering compensation.
So it's very important to contact an experienced Charlotte texting and driving accident lawyer right away so he or she can lead a comprehensive accident investigation and prove fault to strengthen your case.
Some of the evidence we often look at in a texting and driving accident includes:
Witness testimony
Expert witness testimony, such as that of accident reconstructionists
The official accident report from law enforcement
Medical records
Photos documenting the crash scene, including vehicle damage, debris, skid marks, and injuries
Surveillance camera footage and dash cam video
In some cases, we can even subpoena cell phone records from the defendant. In one recent truck accident case, we were able to obtain traffic data from Google Maps.
Attorneys in Charlotte NC Handling Texting and Driving Cases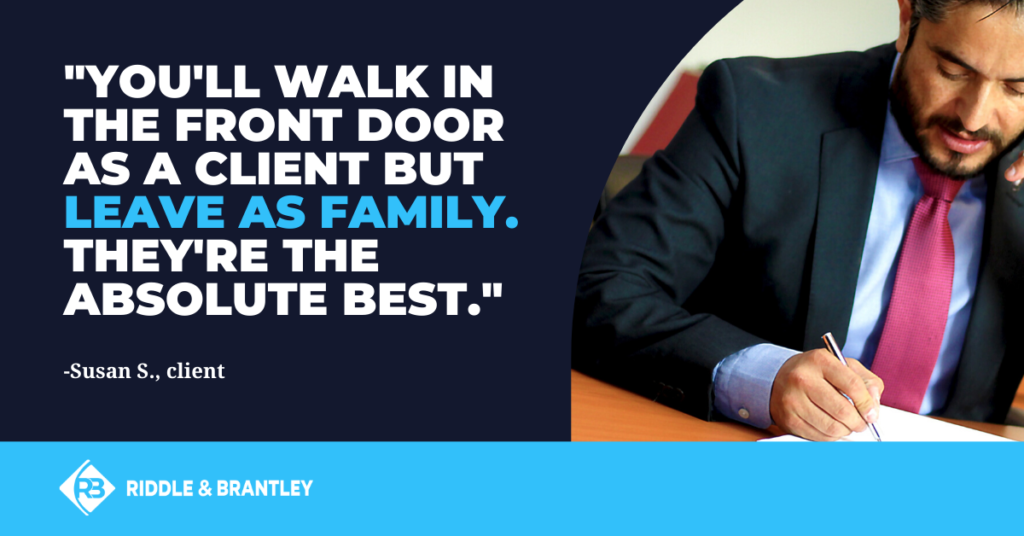 If you've been injured in a texting and driving accident, or you've lost a loved one due to a driver who was texting and driving, you deserve justice and we are ready to help however we can.
At Riddle & Brantley, an experienced Charlotte texting and driving accident attorney can review your claim, advise you on your best legal options for pursuing compensation, and if you decide to hire us, fight aggressively for your right to justice. Since 2000 alone, we've recovered over $600 million in compensation for victims of others' negligence (see disclaimer below).
For a FREE consultation with an experienced Charlotte injury lawyer handling texting while driving accident cases, please call 1-800-525-7111.
The consultation is always free, and we don't charge any upfront costs if you decide to hire us. If we don't win your case and recover compensation for you, you also won't pay any attorney fees. That's our promise to you.
"You'll walk in the door as a client but leave as family. They're the absolute best."
–Susan S., Riddle & Brantley client
Call 1-800-525-7111 or complete the short form below for a FREE, no-obligation consultation with an experienced Charlotte texting and driving accident injury lawyer.
Justice Counts.
---
*** Disclaimer: The results mentioned are intended to illustrate the type of cases handled by the firm. These results do not guarantee a similar outcome, and they should not be construed to constitute a promise or guarantee of a particular result in any particular case. Every case is different, and the outcome of any case depends upon a variety of factors unique to that case.