Durham Hit and Run Accident Lawyer
Durham Hit and Run Lawyer
The aftermath of a hit and run accident can be devastating. With the at-fault driver nowhere to be found, it can be challenging to pursue a personal injury claim to recover the compensation you deserve. Whether the driver can be located is critical to your case, but there are still legal options to be pursued even if he or she is never identified. A Durham hit and run accident lawyer can help.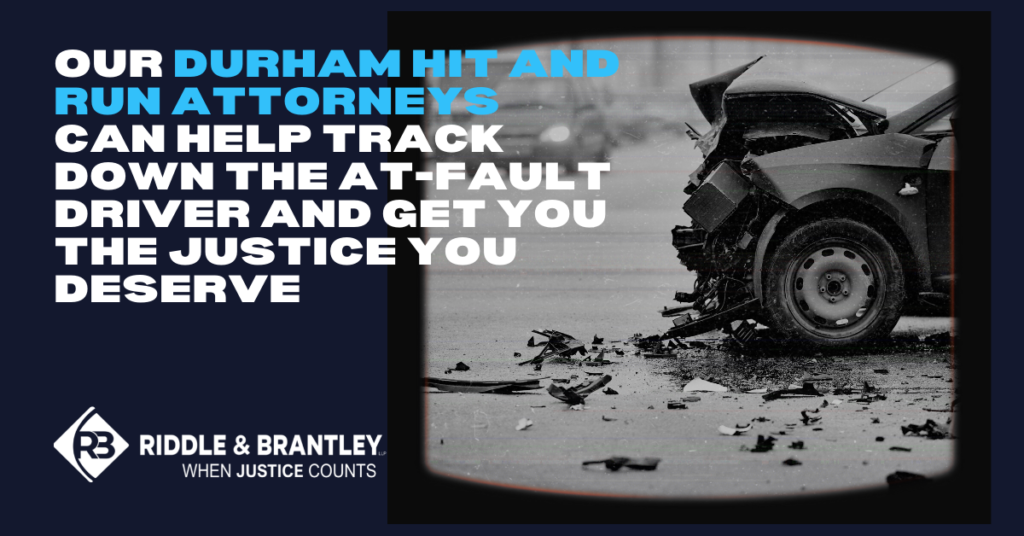 At Riddle & Brantley, our Durham hit and run accident lawyers are experienced handling hit and run cases, and we've recovered more than $600 million for injured victims since 2000 alone (see disclaimer below). We would love to help you if we can.
What to Do After a Hit and Run Accident
If you've been injured in a hit and run accident, follow these tips to protect your health and legal rights. You may be entitled to compensation and it's important that you do everything possible to strengthen your case — and improve the chances that the at-fault driver is located and held accountable.
Call 911 — Involve the police right away after a hit and run accident. The official accident report will be important evidence in a potential injury claim, and law enforcement can immediately begin searching for the at-fault driver.
Provide a Description of the At-Fault Driver's Vehicle — Share any details about the fleeing driver's vehicle with law enforcement. This includes vehicle make, model, and color, as well as the license plate number if you've been able to identify it.
Seek Medical Attention — Get treatment for any injuries, keeping in mind that the full extent of some injuries may not become apparent for several days. Your medical records and compliance with treatment will play an important role in any injury claim stemming from a hit and run accident.
Document Everything — Take photos of the crash scene, including any vehicle damage, debris, skid marks, road signage and pavement markings, etc. Also be sure to get photos of any injuries you've suffered.
Talk with Witnesses — Eyewitnesses are always important in an injury claim, but they may be critical in helping identify the at-fault driver in a hit and run accident. Get witnesses' contact information and be sure to follow up. Your Durham hit and run accident attorney can help interview potential witnesses, as well.
Do NOT Give a Statement to the Insurance Company — Don't give a recorded statement to the insurance adjuster without first consulting with a Durham car accident attorney.
Contact a Durham Hit and Run Accident Lawyer — Talk with an accident attorney as soon as possible after a hit and run accident. He or she can help investigate the accident and immediately start work trying to identify the liable driver.
Why Do Drivers Flee Accidents?
There are many reasons why a driver might flee a car accident scene. Some of the most common reasons include:
Lack of Insurance — The liable driver may not have car insurance as required by law, and be afraid of the financial cost of the accident.
Driving Under the Influence — If the driver was under the influence of alcohol or drugs, they may face serious criminal charges and be tempted to flee.
Criminal History — The driver may have a criminal record, which may affect their defense and potential penalties, depending on the circumstances of the accident.
"Can I Get Compensation if the Hit and Run Driver is Never Found?"
In most cases, if the at-fault driver flees the scene and is not found afterward, you can still recover compensation in a car accident claim under your uninsured coverage. Uninsured / underinsured motorist coverage (UM/UI) is required in North Carolina.
Under UM coverage, your own auto insurance company would compensate you for your damages if a hit and run driver is not located and held accountable.
Hire a Hit and Run Accident Attorney in Durham
If you've been injured in a hit and run accident in Durham, you deserve an experienced advocate on your side who has handled these complicated cases before. Our hit and run attorneys and Durham distracted driving lawyers have the experience you need.
An experienced Durham hit and run accident lawyer can help:
Investigate the circumstances of the accident to help prove fault
Help identify and locate the at-fault driver
Collect and preserve important evidence
Obtain surveillance footage and dash cam video
Identify and interview potential witnesses
Obtain the official accident report from law enforcement
Calculate damages
Identify all available insurance coverage
Refer you to trusted medical providers
Prepare you for official statements to the insurance company
Negotiate with the insurance company
Represent you in mediation and/or arbitration proceedings
File a lawsuit if necessary
Conduct depositions
Represent you at hearings and court proceedings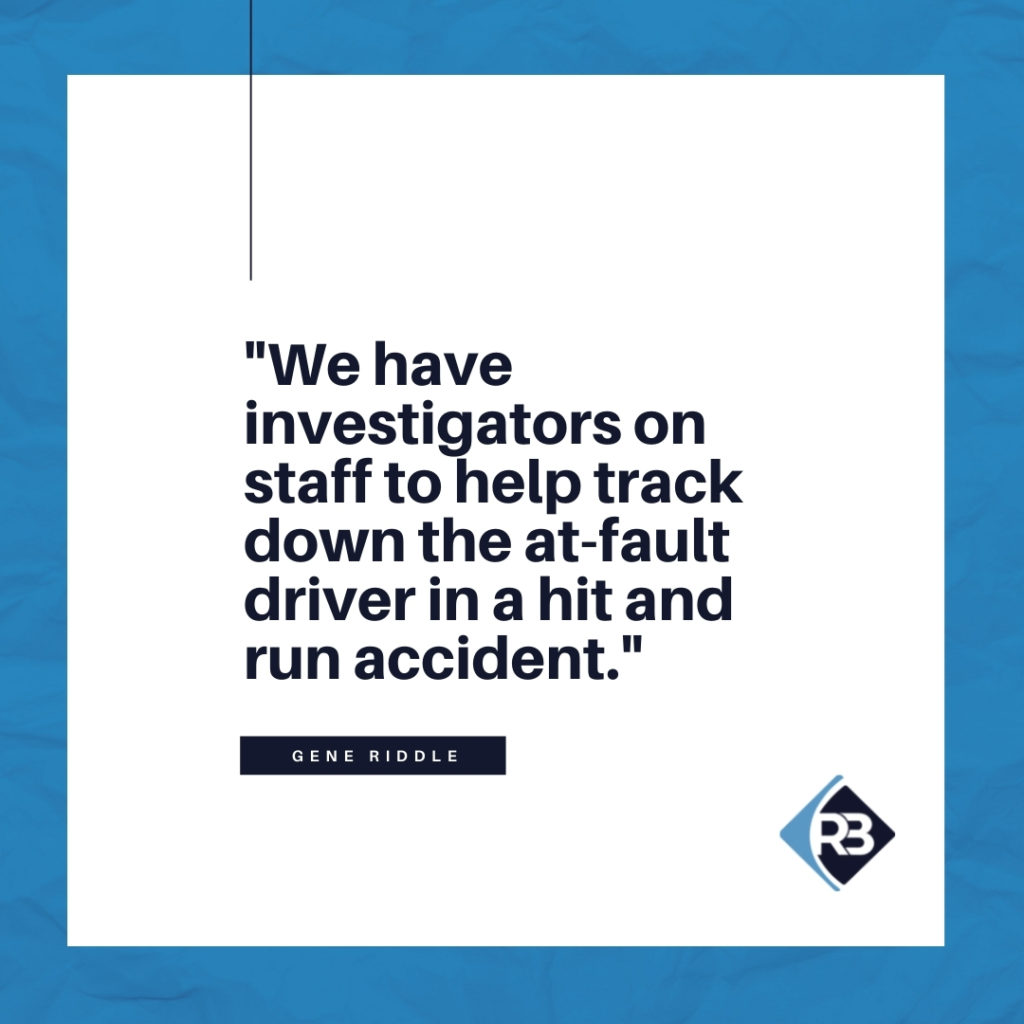 Don't wait — talk with a Riddle & Brantley hit and run lawyer in Durham immediately so we can help identify the at-fault driver and advise you on your legal options. We are available for in-person consultations at our convenient Durham location by appointment only and can talk with you anytime from anywhere by phone, email, text, or video conference.
The phone call is your first step toward getting the justice you deserve. We believe Justice Counts and look forward to talking with you.
---
*** Disclaimer: The results mentioned are intended to illustrate the type of cases handled by the firm. These results do not guarantee a similar outcome, and they should not be construed to constitute a promise or guarantee of a particular result in any particular case. Every case is different, and the outcome of any case depends upon a variety of factors unique to that case.