Durham Texting While Driving Attorney
Durham Texting and Driving Lawyer
Have you been hit by a driver who was texting while driving? If you suffered injury, a texting and driving accident lawyer at Riddle & Brantley may be able to help.
Texting and Driving in Durham NC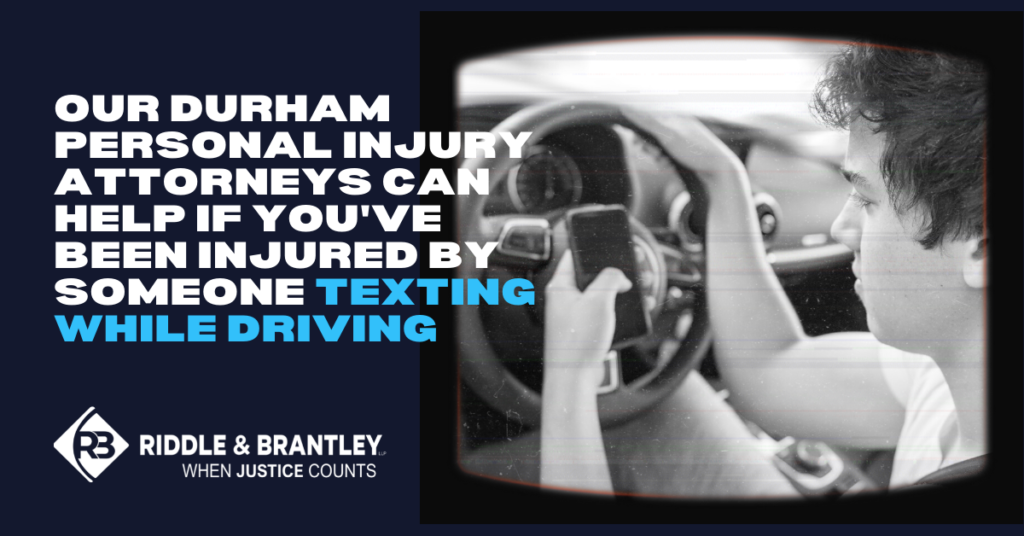 Texting and driving is on the increase across the country, and Durham and North Carolina are no exception. Texting while behind the wheel is an especially dangerous type of distracted driving, and the consequences can be devastating and even deadly.
The North Carolina Department of Transportation (NCDOT) reports that "activities like speeding or texting while driving have disastrous consequences." In a recent overview, NCDOT reported that 18.8 percent of all auto accidents in North Carolina in 2019 involved distracted driving, and texting while driving may have been a factor in many of these crashes.
Consequences of Texting While Driving
The consequences of a texting while driving accident can be severe. Victims may suffer serious physical injuries, which may be life-threatening or even deadly. They may face serious financial stress and emotional trauma as a result of the car accident, as well.
Damages in Durham NC Texting While Driving Cases
If you've been injured in a texting and driving accident, you may be entitled to significant damages (compensation) if the other driver is found at-fault. Damages that may be available in texting while driving cases include:
Medical expenses
Lost wages
Loss of future earning potential
Pain and suffering
Punitive damages
Punitive damages are intended to "punish" a guilty party, and are only awarded by a judge or jury when the defendant is found to have engaged in "gross negligence," which is defined as "willful and wanton" misconduct. It is possible that a Durham personal injury lawyer could argue that texting while driving constitutes "gross negligence" if the circumstances show there was particular recklessness.
Regardless, the strength of any texting and driving accident case in Durham NC will rest on the evidence. A Durham auto accident attorney at Riddle & Brantley might use the following evidence in a texting and driving accident injury case:
Surveillance footage from nearby security or traffic cameras
Video footage from in-vehicle "dash cams"
Cell phone records
Eyewitness testimony
Expert witness testimony
The official accident report
In some cases, a defendant will even admit to texting while driving or being otherwise distracted when interviewed by a police officer, further strengthening a victim's case.
"Is Texting While Driving Illegal in North Carolina?"
Texting while driving is illegal in North Carolina, and those convicted may face significant penalties including a $100 fine.
Truck drivers who are found guilty of texting while driving face stronger penalties. Federal law prohibits texting and driving by commercial truck drivers. Two convictions in a span of three years may result in the suspension of a truck driver's commercial license for 60 days, and three convictions in that same time may result in a 120-day suspension.
Bus drivers also face stiff penalties for texting while driving. In North Carolina, texting and driving by a bus driver is a Class 2 misdemeanor, which also carries a fine of at least $100.
Injured in a Durham Texting and Driving Accident?
If you've suffered injury in a texting and driving accident, our experienced injury lawyers are ready to help.
The consultation is free and there is never any obligation. If we don't win your case, you won't pay any attorney fees. We only get paid when we get you compensation.
We offer free consultations in-person at our Durham office by appointment only — and we're available anytime, anywhere, by phone, email, text and video conference. Since 2000 alone, we've recovered more than $600 million in total compensation for our deserving clients (see disclaimer below).
"Riddle & Brantley found me all the available money from the insurance companies."
–David H., Riddle & Brantley client 
Justice Counts, and we are ready to help you however we can.
---
*** Disclaimer: The results mentioned are intended to illustrate the type of cases handled by the firm. These results do not guarantee a similar outcome, and they should not be construed to constitute a promise or guarantee of a particular result in any particular case. Every case is different, and the outcome of any case depends upon a variety of factors unique to that case.