Fayetteville Uber Accident Lawyer
Were you involved in an Uber or Lyft Accident in Fayetteville?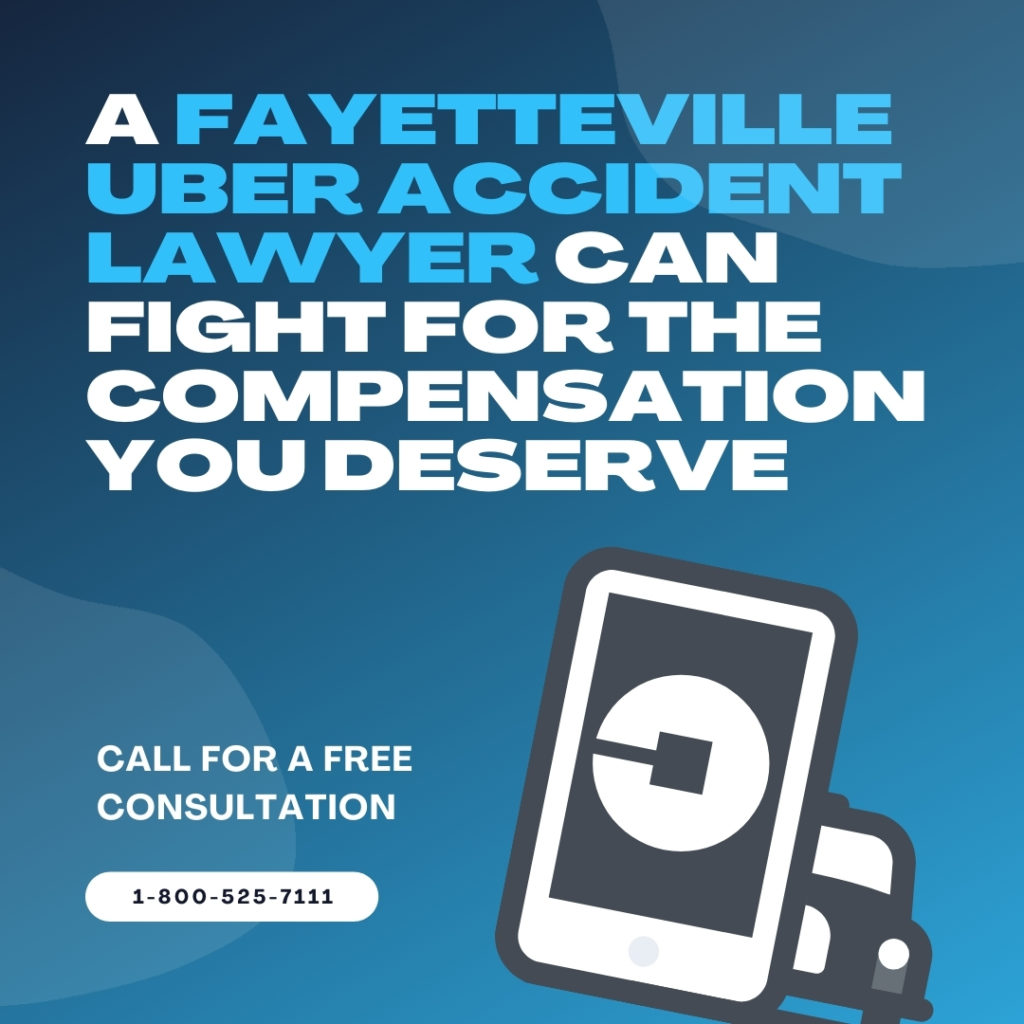 Uber and Lyft (and other similar rideshare services) have made transportation more accessible and convenient. But what happens when a passenger is injured in a Lyft or Uber accident? Or when a pedestrian is hurt by a negligent Uber or Lyft driver? These incidents sometimes happen in Fayetteville. In these cases, it's worth consulting with an experienced Fayetteville Uber accident lawyer who can advise on your best legal options for pursuing a civil claim for compensation.
Who is Liable in an Uber or Lyft Accident?
The aftermath of an Uber or Lyft accident can be complicated if you've been injured and are seeking compensation. Who is responsible? And what insurance coverage may be available to pay on your claim?
There are two important steps in seeking compensation in an Uber car accident: determining fault, and finding available insurance coverage.
Determining Fault
The first step is determining who was immediately responsible for the accident. This may be the Uber driver or the driver of another vehicle. In rare cases, a pedestrian may even be determined to be at fault. An experienced Uber accident lawyer in Fayetteville can help investigate the accident and determine who's at fault.
Finding Insurance Coverage
Insurance coverage can get complicated in an Uber accident. Depending on the facts and circumstances of your Lyft or Uber accident, the following insurance policies may apply to your injury claim:
Uber or Lyft liability coverage — Uber and Lyft maintain million-dollar insurance policies to cover damages in the event a passenger is injured. Separate coverages apply to different phases of the ride.
Driver auto insurance — Drivers are required to maintain their own auto insurance in addition to the liability coverage they receive from Uber or Lyft. In some cases, this separate policy may apply to your claim.
Another driver's car insurance — If another vehicle is involved in the accident and that driver was found to be liable, his or her auto insurance policy may apply to your claim.
In some cases, a faulty vehicle part may be found to have contributed to the accident. These cases are more complex, but a claim may potentially be filed against the vehicle or part manufacturer, as well.
An experienced Fayetteville Uber or Lyft accident lawyer can help investigate the cause of your Uber accident, determine liability, and help find all available insurance coverage.
"What Kind of Compensation is Available in a Lyft or Uber Accident?"
There are no guarantees in any case, and the specific outcome will depend on the unique facts and circumstances of the case. However, in most cases there is insurance available to cover damages in a Lyft or Uber accident. The company-provided policies often provide significant coverage.
In one recent Uber accident case, Riddle & Brantley attorneys led by Gene Riddle recovered $339,500 for an Uber passenger who was injured when the rideshare vehicle was t-boned. Recovered compensation included $50,000 from the insurance carrier for the other car, and $289,500 from the Uber policy (see disclaimer below).
Uber Car Accident Attorney in Fayetteville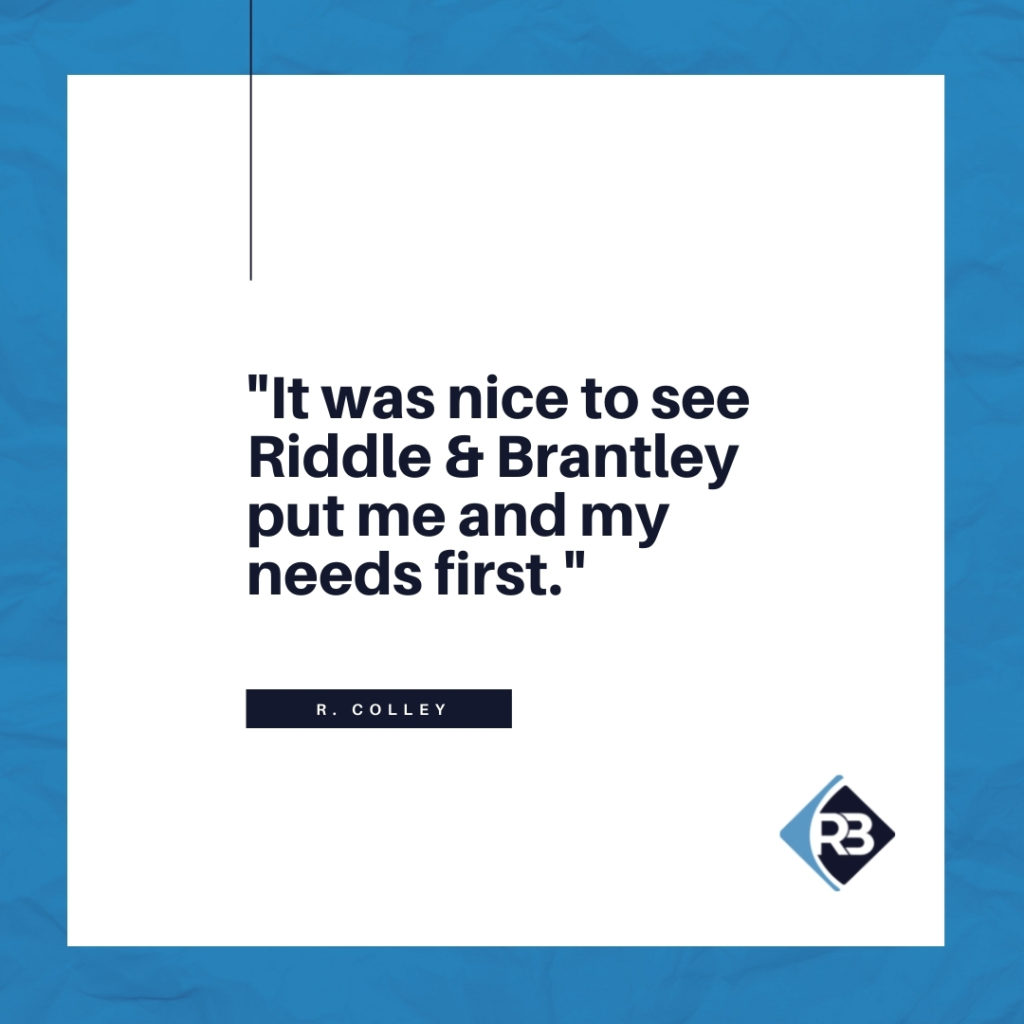 At Riddle & Brantley, a car accident attorney in Fayetteville, NC handling Uber and Lyft accidents can help investigate your claim and, if you decide to hire us, seek maximum compensation for your injuries.
We have been holding defendants and insurance companies accountable for more than three decades and would love to help you if we can.
The consultation is free, and we don't get paid unless you do. If we don't win your case and recover compensation for you, you won't pay a dime in attorney fees. It's as simple as that.
"I felt very confident in Riddle & Brantley representing me. I would not hesitate to recommend them at all."
–Kathleen Y., Riddle & Brantley client
Call (910) 387-9186 and let's review your claim.
Justice Counts and we are ready to help however we can.
---
*** Disclaimer: The results mentioned are intended to illustrate the type of cases handled by the firm. These results do not guarantee a similar outcome, and they should not be construed to constitute a promise or guarantee of a particular result in any particular case. Every case is different, and the outcome of any case depends upon a variety of factors unique to that case.