Fayetteville Truck Accident Lawyer
Our Truck Accident Lawyers Fight for You
Commercial truck and tractor-trailer accidents can cause catastrophic injuries to those involved. If you're looking for a Fayetteville truck accident lawyer, you may want to consider the truck accident attorneys at Riddle & Brantley.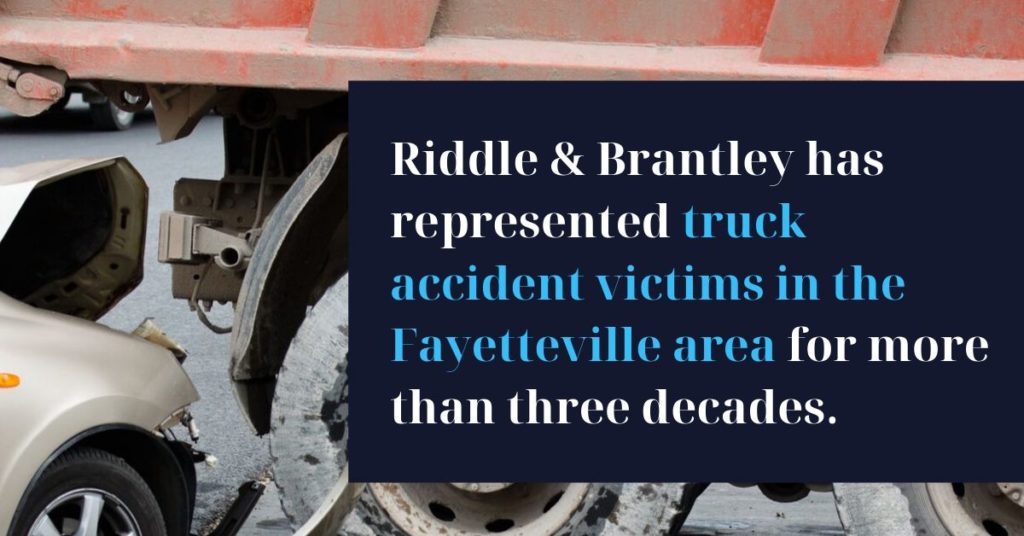 Our injury lawyers have more than 220+ years of combined experience representing truck accident victims in Fayetteville and across North Carolina.
Reach out to Riddle & Brantley for expert guidance on a wide range of truck accident lawsuits.
You can also complete the fast and easy form below.
If you decide to hire the Riddle & Brantley law firm, your Fayetteville personal injury attorney will be a tireless advocate for your case. We'll do our best to recover the compensation you deserve.
The consultation is free and there is no attorney fee unless we win your case and you receive financial compensation.
Truck Accident Investigation
We will begin the investigation into the truck accident immediately after we are hired. Our comprehensive truck accident investigations include preserving evidence (in some cases, we preserve the vehicles), interviewing the investigating officer and witnesses, and potentially hiring experts like accident reconstructionists and federal trucking safety experts.
We also have investigators on staff with backgrounds in North Carolina law enforcement who have experience working on complicated truck and tractor-trailer accident cases.
Riddle & Brantley truck accident attorneys proudly serve clients in Fayetteville, North Carolina, and surrounding areas.
We'll even come to you if it's more convenient.
As always, there is no obligation, no upfront cost, and no attorney fees unless we win your case and you receive financial compensation.
Proud to Serve Fayetteville, North Carolina
Fayetteville, North Carolina is a city located in Cumberland County and is best known as the home of Fort Bragg military base.  Interstate 95 runs around Fayetteville and has a reputation for being a very dangerous road with many serious accidents.
We have handled many truck accidents that have occurred on I-95 in our many years of serving the injured.
Fort Bragg is a military installation of the United States Army and by population the largest military installation in the world. There are more than 50,000 active duty personnel in Fort Bragg.
"We're proud to serve all those in Fayetteville, including those serving our country. Many of our attorneys and staff have close family connections to the military." -Gene Riddle
Is There a Deadline for Filing a Trucking Accident Lawsuit?
Yes, there is a deadline for filing a truck accident lawsuit in the state of North Carolina.
The North Carolina statute of limitations for truck accidents is generally three years from the date of injury, per G.S. §1-52. While this may seem like you have plenty of time to act, the reality is that it's best to contact a lawyer as soon as possible because, as noted above, crucial evidence can disappear. Potential witnesses may move or be unable to recall the incident with clarity. In addition, if you've lost a loved one in a trucking accident, you may have the right to pursue a wrongful death claim, though in most cases, the statute of limitations for these claims is two years.
The statute of limitations sets a legal limit or deadline for how long you have to file a personal injury case for compensation. The time limit varies based on the claim and where the lawsuit is filed. Statutes of limitations protect defendants from unfair legal action and ensure that lawsuits are pursued with diligence. They're also helpful because relevant evidence may be lost over time.
For example, it would be almost impossible to collect the type of evidence needed to prove the negligence of the truck driver. For instance, CCTV surveillance video, which can be very important in this type of case, gets overwritten by newer footage. The older footage is deleted to make room for more recent videos.
In addition, because North Carolina is one of the few states that is still a contributory negligence jurisdiction, this type of evidence may help ensure a successful claim. This doctrine says that a person injured in any part due to their negligence may not collect monetary damages from the party accused of causing the accident. CCTV video and witness testimony can help establish that you were not negligent.
Compassionate Truck Accident Attorneys Committed to Your Case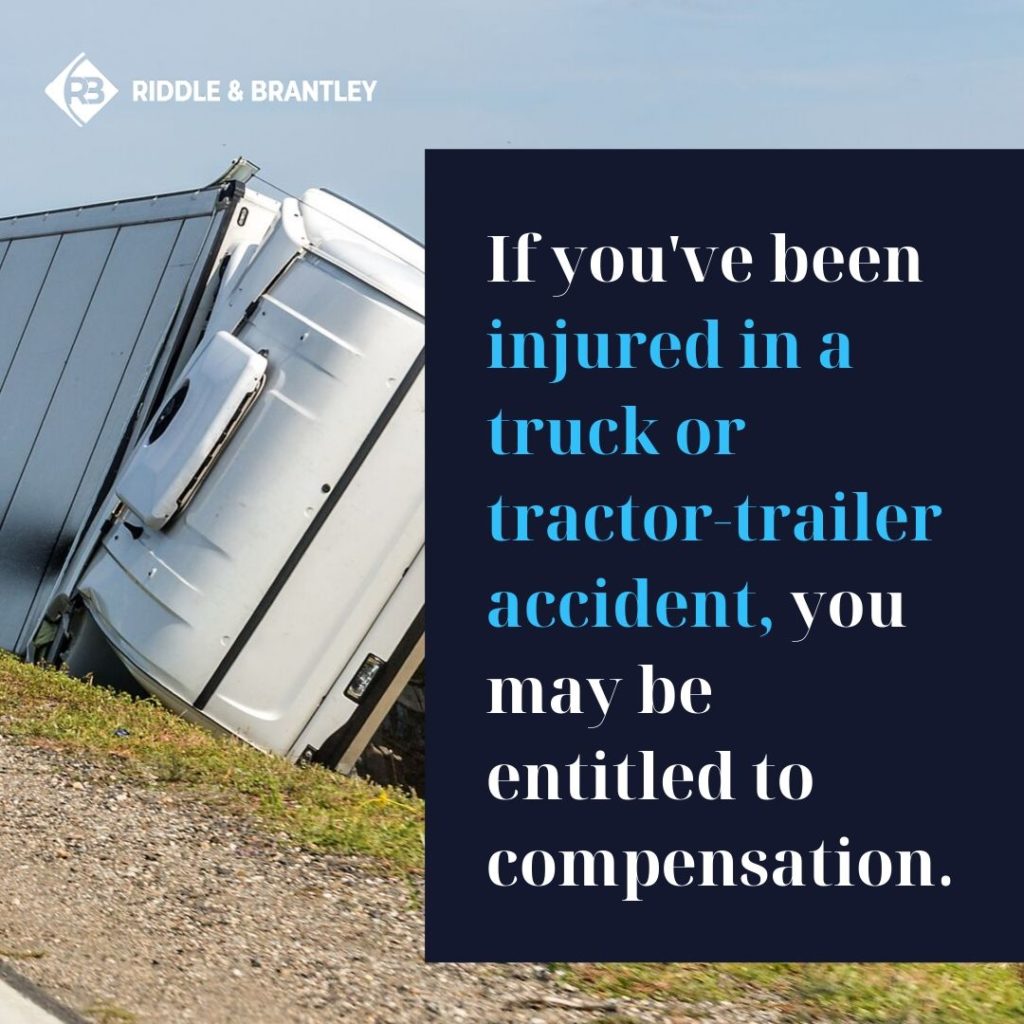 Being involved in a serious truck or tractor-trailer accident is a devastating experience that can take a toll on all injured parties as well as their loved ones.
In some cases, severe physical injuries are accompanied by the emotional burden of dealing with trucking and insurance companies who don't want to take responsibility for the actions of their drivers.
This can make dealing with the aftermath of a truck or tractor-trailer wreck very overwhelming.
You don't have to go through it alone.
There are many legal options available that can help improve the outcomes for victims of large truck accidents and ensure victims get the financial compensation they deserve from those responsible.
Riddle & Brantley has been fighting for victims of truck and tractor-trailer crashes since 1985 and we would love to see if we can help you.
North Carolina is home to some of the busiest highways in the South, and many factors can result in truck accidents:
Truck driver fatigue – Despite federal regulations that impose limitations on driving time as well as distances, truck drivers sometimes drive without adequate rest. In certain cases, this behavior may be encouraged by negligent truck companies.
Speeding or failing to obey other traffic laws – Speeding reduces the stopping time of heavy commercial trucks significantly. In many cases, truck drivers cannot react quickly enough to prevent a major collision.
Poorly maintained trucks – Trucking companies and drivers have a responsibility to maintain vehicles, and when maintenance is skipped or problems are overlooked, lives are endangered.
Use of drugs and alcohol – Some truck drivers abuse drugs and/or alcohol while on the road, seriously endangering the lives of others.
Riddle & Brantley truck accident lawyers are available to help individuals who have been injured in a major truck or tractor-trailer crash, including those injured in the Fayetteville area.
We will explain all the options for taking legal action against carrier companies whose negligence played a role in the accident.
We will review your case and advise you on your best legal options.
The consultation is free and there is no attorney fee unless we win your case.
The devastation of being involved in a commercial truck accident does not go away immediately after the accident. The damage linked to the accident often requires those injured to have a strong support system long after the crash.  This system of support should include a personal injury attorney who can play a vital role in helping recover damages you may be entitled to under the law.
If you've been injured in a truck accident, there are some things you can do to help your potential injury claim, including:
Call 911
Seek immediate medical attention if needed
Never give a statement to the insurance company without your representative present
Talk with law enforcement and be honest and accurate. Remember anything you say can be used against you.
Gather all important documents and make a list of any damages. Get all medical bills and other documents related to the wreck. Be sure to document any issues affecting your life that are the result of your accident.
Contact a truck accident lawyer – A personal injury lawyer is probably the most important ally you can have in taking on a commercial truck carrier and truck drivers who deny any responsibility for their wrongdoing.
If your accident was in the Fayetteville area, you'll probably want to consider a truck accident lawyer with experience helping area clients.
Common Truck and Tractor-Trailer Accident Injuries
The truck accident attorneys at Riddle & Brantley have served clients in the Fayetteville area for more than three decades and have experience handling all types of injury cases, including those involving:
Broken Bones
Cuts and scrapes
Soft tissue injuries
Head injuries – including TBI (traumatic brain injuries)
Spinal cord injuries
Shoulder injuries
Back injuries
Concussions
Burns
Internal bleeding
Organ damage
Memory loss
Emotional trauma (PSTD)
And more
There is never any way to know how a case will end.
Will it settle? If it goes to trial, will the verdict be favorable?
We make no guarantees concerning the outcome of any case, but we are proud of the results we have obtained for North Carolinians injured in serious truck and tractor-trailer accidents.
Some of our results include:
$9,450,000 – Tractor-Trailer Accident: A family of four was tragically killed by a tractor-trailer on the I-95 interstate just north of the Fayetteville area. Our attorneys quickly organized a comprehensive accident investigation, determined liability and filed suit. The case entered mediation prior to trial and settled for total compensation of $5.45 million. Litigation against another involved defendant is still pending.
$2,000,000 – Truck Accident: Attorney Gene Riddle represented the sons of a woman who suffered debilitating injuries as a result of an accident involving an 18-wheeler tractor-trailer. Tragically, she later succumbed to her injuries. Riddle & Brantley hired experts to help establish liability and ultimately negotiated a $2,000,000 settlement with the defense counsel.
$750,000 – Truck Accident: Our client was a passenger in a vehicle when it was hit by a tractor-trailer. The accident totaled the vehicle and our client was seriously injured. We applied pressure on the truck's insurance company by filing suit, at which point they agreed to mediation. At mediation, our client was awarded a total settlement of $750,000.
*** Disclaimer: The results mentioned are intended to illustrate the type of cases handled by the firm. These results do not guarantee a similar outcome, and they should not be construed to constitute a promise or guarantee of a particular result in any particular case. Every case is different, and the outcome of any case depends upon a variety of factors unique to that case.
Personal Injury Lawyers with Experience Handling Truck Accident Cases in Fayetteville
If you have been injured in a truck accident in the Fayetteville area as a result of someone else's negligence, you deserve justice and may be entitled to financial compensation for your injuries.
We would love to help if we can.
Come talk to the experienced truck accident attorneys at Riddle & Brantley.
We pride ourselves on excellent client service and can even come to you if you prefer.
Let us evaluate your situation and advise you on the best course of action.
We believe Justice Counts for you and your loved ones, and we're committed to seeking justice for victims in Fayetteville.
Call (910) 387-9186 today and let's talk.