Unilever Issues Dry Shampoo Recall for Cancer Risk Due to Benzene Contamination
Benzene in Dry Shampoos May Cause Cancer, Prompting Major Recall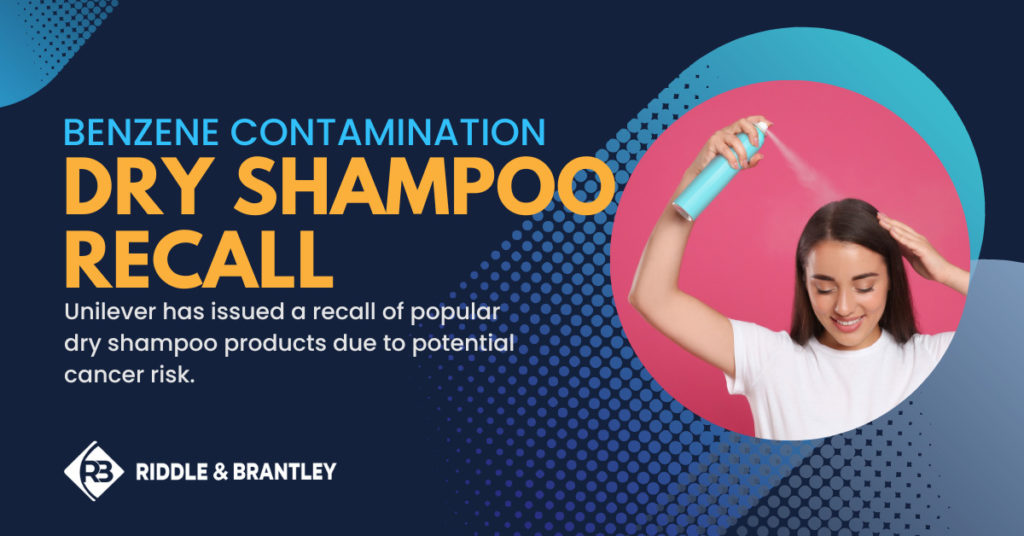 Consumer products giant Unilever has issued a wide-ranging recall of popular spray-on dry shampoos due to benzene contamination, warning that the dangerous chemical may cause cancer. In a joint recall announcement with the Food & Drug Administration (FDA), Unilever said it was recalling the dry shampoos "out of an abundance of caution" and that no adverse effects had been reported. Benzene, however, is a known carcinogen, meaning that it can cause cancer in humans.
IMPORTANT: According to the voluntary recall, "consumers should stop using the affected aerosol dry shampoo products and visit UnileverRecall.com for instructions on how to receive reimbursement for eligible products." Retail stores have also been instructed to remove the affected shampoos from their shelves.
Riddle & Brantley has been investigating benzene contamination in other dry shampoos since early 2022 and we are ready to help however we can. If you've used one of the recalled dry shampoos and been diagnosed with leukemia, non-Hodgkin's lymphoma, or multiple myeloma, call 1-800-525-7111 for a FREE, no-obligation case review and let's see if we can help. There are no upfront costs and you won't pay any attorney fees unless we recover compensation for you in your dry shampoo cancer claim.
NOVEMBER 2022 UPDATE: Following the recall by Unilever, independent lab Valisure announced that it discovered elevated levels of benzene in more spray-on shampoo products. Valisure has filed a citizen petition urging the FDA to issue recalls of more dry shampoos that may contain benzene.
What Shampoos Were Recalled by Unilever?
The Unilever recall covers many popular brands of aerosol-based spray-on dry shampoos, including:
Dove
Nexxus
Suave
TRESemmé
TIGI (Rockaholic and Bed Head)
A complete list of recalled shampoos, potentially contaminated with cancer-causing benzene, is available from Unilever online.
What's the Risk?
According to the recall announcement, trace amounts of benzene were found in the affected dry shampoos. Benzene is a cancer-causing chemical that has been linked to various cancers, including leukemia, non-Hodgkin's lymphoma, and multiple myeloma.
The recall announcement by Unilever called benzene levels in the dry shampoos "potentially elevated," and specifically noted that "daily exposure to benzene in the recalled products at the levels detected in testing would not be expected to cause adverse health consequences."
Nevertheless, many consumers are already alleging that the benzene contamination in these dry shampoo products caused their cancer, and several firms — including Riddle & Brantley — are actively investigating and considering filing dry shampoo lawsuits and claims.
Previous Dry Shampoo & Conditioner Recalls
Benzene contamination also prompted a separate recall of other dry shampoos manufactured by Proctor & Gamble (P&G) in early 2022. At that time, Riddle & Brantley began investigating these claims and considering legal action related to any potential negligence and/or wrongdoing by P&G. The company, like Unilever, has strongly denied any liability.
"I Used These Shampoos and Was Diagnosed with Cancer. What Can I Do?"
As of late October 2022, it's unclear what the legal ramifications of this recall may be, however our firm is actively investigating claims of cancer potentially caused by benzene contamination in dry shampoos and other products, including spray-on deodorants and body sprays and sunscreens. If you believe that you or a loved one's cancer may have been caused by benzene contamination in shampoo, call 1-800-525-7111 or complete the fast and easy form below for a FREE, no-obligation case review. We'd love to help however we can.
Stay tuned to our blog for the latest information regarding the Proctor & Gamble and Unilever shampoo recalls. We are committed to public safety and ready to help however we can. Justice Counts.