Did Janssen Pharmaceuticals Know Elmiron Can Cause Eye Damage?
Alarming reports that the bladder medication Elmiron may cause serious eye damage have resulted in many Elmiron lawsuits being filed and raised serious questions about potential negligence by the manufacturer, Janssen Pharmaceuticals.
Is Elmiron dangerous?
A 2019 study by researchers at Emory University found a link between Elmiron (pentosane polysulfate sodium) and serious eye damage, including pigmentary maculopathy and retinopathy, both of which can lead to blindness.
Elmiron is manufactured by Janssen Pharmaceuticals, a division of Johnson & Johnson, and reportedly brings in roughly $150 million in revenue per year in the United States alone.
Elmiron is the only FDA-approved drug for treating interstitial cystitis, a rare and painful bladder disorder. Those taking Elmiron should consult with their doctor and consider potential Elmiron alternatives.
What did Janssen Pharmaceuticals know and when did the company know it?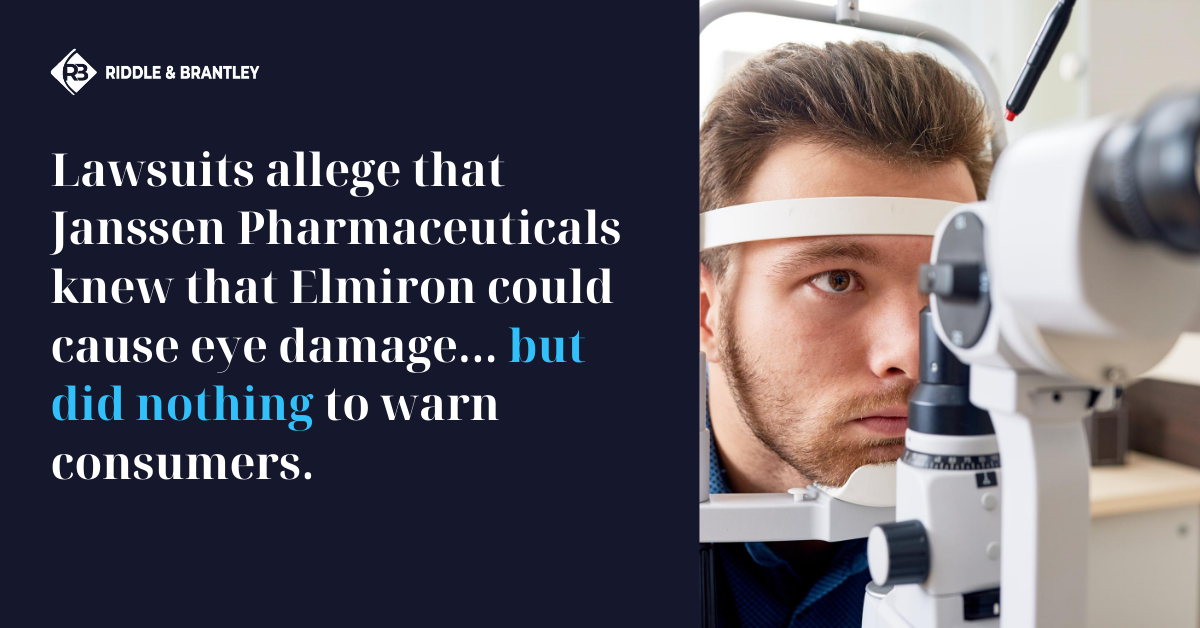 Elmiron eye damage lawsuits allege that Janssen Pharmaceuticals knew that Elmiron may cause eye damage and did nothing to warn consumers. A warning was only added to the Elmiron label in June 2020, months after the Emory University study connected Elmiron with pigmentary maculopathy. The warning cautions that taking Elmiron may result in "retinal pigmentary changes."
In an early lawsuit filed in 2020 against Janssen Pharmaceuticals, the plaintiff claims that "Since approximately 2018, independent studies and reports, documented in medical literature raise similar concerns regarding Elmiron's safety and propensity for causing serious visual complications including, but not limited to, pigmentary maculopathy."
But that's not all.
The same lawsuit also claims:
"By approximately 2001, Defendants had reasonable evidence of a causal association between serious vision-related injuries and Elmiron…could cause serious vision-related injuries; Defendants knowingly withheld and/or misrepresented information required to be submitted under FDA NDA regulations, concerning the safety and efficacy of Elmiron."
According to the court filing, Elmiron manufacturers knew about the "Elmiron defect but failed to warn or test. From approximately 1997 to the present, Defendants have received multiple Adverse Event Reports ("AER") from medical professionals concerning Elmiron."
If these claims are true, Janssen Pharmaceuticals may be liable for significant damages potentially caused by Elmiron, and victims with Elmiron eye damage claims may be entitled to financial compensation. Legal analysts anticipate a potential Elmiron settlement could be significant.
Have you taken Elmiron and been diagnosed with pigmentary maculopathy or another eye injury?
If you've taken Elmiron and suffered serious eye damage, such as pigmentary maculopathy, you may be entitled to significant financial compensation and our experienced Elmiron lawyers are ready to help.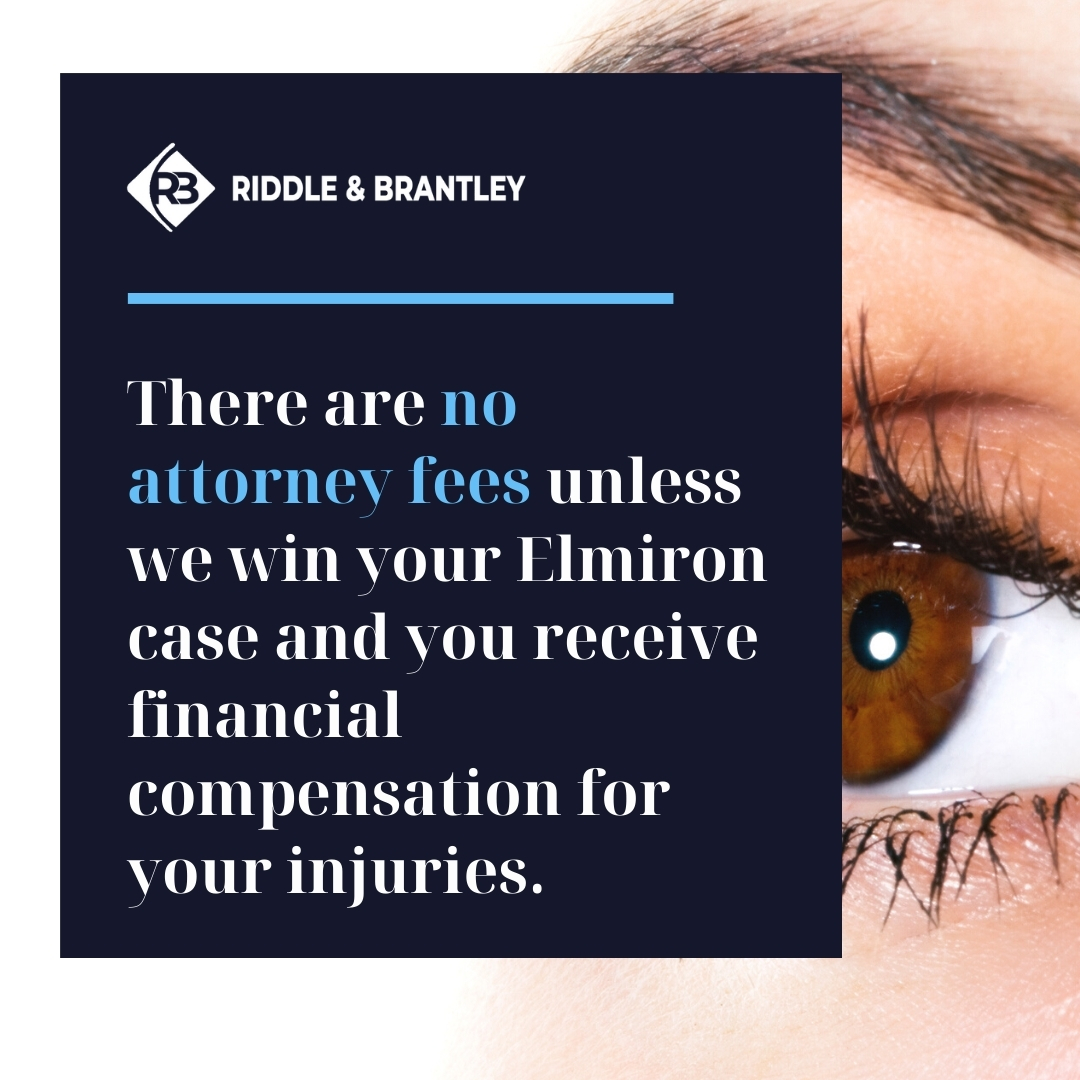 For a FREE, no-obligation consultation with an experienced Elmiron lawsuit attorney, please call 1-800-525-7111 or complete the fast and easy form below.
There is never any obligation and you won't pay any attorney fees unless we win your case and you receive compensation as part of an Elmiron class action lawsuit or other legal action.
Please call 1-800-525-7111 today for a FREE, no-obligation consultation concerning your potential Elmiron injury claim or lawsuit. You may be eligible for compensation and we would love to help you get the justice you deserve.
Why Riddle & Brantley for your Elmiron lawsuit?
Since 1985, Riddle & Brantley's dangerous drug attorneys have been holding drug manufacturers accountable. We believe Justice Counts for all those injured due to potentially dangerous drugs like Elmiron and we are committed to seeking justice and compensation for victims.
Our team is led by attorney Gene Riddle, who has been recognized by such organizations as Multi-Million Dollar Advocates Forum, The National Association of Distinguished Counsel, The National Trial Lawyers Top 100, and Super Lawyers. He maintains a top-tier AV Preeminent rating from Martindale-Hubbell, and received the Litigator Award in 2014 (see disclaimer below).
Gene and his team of injury attorneys have won many five, six and even seven-figure settlements and judgments on behalf of injured victims (see disclaimer below), and are proud of the words clients use to describe their experience with the firm:
"They handled my case very professionally, with respect from beginning to end."
–Joseph W., Riddle & Brantley client
For a FREE consultation with an award-winning injury attorney concerning your Elmiron eye damage claim, please call 1-800-525-7111 today.
There is no obligation, the consultation is free, and you won't pay any attorney fees unless we recover compensation for you.
Don't wait — we anticipate a deadline will be applied to any potential settlement and now is the time to have your claim investigated. Please call 1-800-525-7111 or complete the short form below for a free consultation.
"This settlement changed me and my family's lives."
–Linda B., Riddle & Brantley client
Justice Counts.
---
*** Disclaimer: The results mentioned are intended to illustrate the type of cases handled by the firm. These results do not guarantee a similar outcome, and they should not be construed to constitute a promise or guarantee of a particular result in any particular case. Every case is different, and the outcome of any case depends upon a variety of factors unique to that case.
*** Disclaimer: An attorney must meet certain requirements to join these organizations or receive these awards. For more information on Membership Criteria for Million Dollar Advocates Forum, Multi-Million Dollar Advocates Forum, Super Lawyers, The National Trial Lawyers Top 100, The National Association of Distinguished Counsel, AV Preeminent by Martindale-Hubbell, and the Litigator Award, please visit our Membership Criteria page. These awards and memberships should not be construed as a promise or guarantee of a similar result. Each case is different and must be evaluated separately.