Purdue Pharma Reaches Tentative Opioid Lawsuit Settlement
IMPORTANT: Please note that due to filing deadlines and other criteria, we are no longer accepting any opioid claims.
Purdue Pharma, the maker of OxyContin, has reached a tentative settlement with 27 states and territories in a lawsuit alleging the opioid manufacturer helped fuel the opioid crisis. The deal is valued at more than $12 billion.
Despite the announcement, 20 other state attorneys general have not agreed to the deal.
Under the terms of the tentative agreement, the Sackler family, which owns Purdue Pharma, would give up control of the opioid manufacturer. Purdue would declare bankruptcy and be converted into a for-profit trust, which would continue selling OxyContin and other medicines.
Proceeds from future sales of the company's drugs would be awarded to the plaintiffs, along with additional money contributed by the Sacklers. Reports indicate that the Sackler family would pay $3 billion in cash over seven years.
Under the terms of the deal, neither Purdue Pharma nor the Sacklers would admit any wrongdoing.
More than 45 states and territories and almost 2,300 cities and counties have filed lawsuits against Purdue Pharma, contending that the company and its owners should "face a reckoning for the deaths of hundreds of thousands of people from overdoses and the calamitous systemic costs," according to a report in the New York Times.
IMPORTANT: Please note that due to filing deadlines and other criteria, we are no longer accepting any opioid claims.
Do you have a case for an opioid lawsuit?
In order to qualify for an opioid lawsuit, you or a loved one must have:
Died due to overdose…
OR suffered an opioid overdose requiring hospitalization of more than 3 days
OR suffered from opioid addiction resulting in significant personal losses (job loss, loss of home, financial distress, divorce, loss of child custody, etc.) and requiring rehab or hospitalization
OR entered inpatient rehab due to opioid overdose and/or addiction
AND you must have received a prescription for the opioid from a doctor prior to addiction or death
Allegations Against Purdue Pharma
The opioid lawsuits allege that for years, Purdue Pharma marketed OxyContin and other prescription opioids as safe, with low risk of addiction.
According to a lawsuit brought by the State of Virginia, "It did so knowing those claims were unproven at best and demonstrably false at worst."
More than 400,000 people in the United States have died in the last two decades in opioid-involved overdoses, and state and local governments have spent billions on health care and law enforcement in response to the crisis.
Disagreement Among Opioid Lawsuit Plaintiffs Over Purdue Settlement
Attorney General Ashley Moody of Florida, who supports the deal, calls the settlement "historic."
"Sadly, this agreement cannot bring back those who have lost their lives to opioid abuse, but it will help Florida gain access to more life-saving resources and bolster our efforts to end this deadly epidemic."
Not all plaintiffs agree.
According to Minnesota Attorney General Keith Ellison, the settlement "may be worth far less than media reports say and seems to be not yet good enough for the magnitude of the death and destruction Purdue and the Sacklers have caused."
"The Sacklers were in full control of Purdue at all times during the crisis," Ellison said. "Families and survivors deserve transparency about what they did to contribute to the deaths of their loved ones. We cannot allow them to escape with their reputations intact."
In North Carolina, Attorney General Josh Stein agreed. "We believe they created a mess and must help to clear it up. I am now preparing filings to sue the Sackler family … Purdue, the Sacklers, and other drug companies need to pay to treat those struggling with addiction."
Letitia James, attorney general for the state of New York, was even more direct, calling the proposed deal "an insult, plain and simple."
"Blood on their hands"
Pennsylvania Attorney General Josh Shapiro said "I truly believe that they [the Sacklers] have blood on their hands."
The Sackler family issued a statement in support of the deal:
"This is the most effective way to address the urgency of the current public health crisis, and to fund real solutions, not endless litigation."
Many states, including Virginia, New Mexico, and Delaware have already filed separate lawsuits against members of the Sackler family, whose fortune is estimated by Forbes at approximately $13 billion.
"If Purdue cannot pay for the harm it inflicted, the Sacklers will," said New Jersey Attorney General Gurbir S. Grewal.
Have You or a Loved One Been Injured by Prescription Opioids?
IMPORTANT: Please note that due to filing deadlines and other criteria, we are no longer accepting any opioid claims.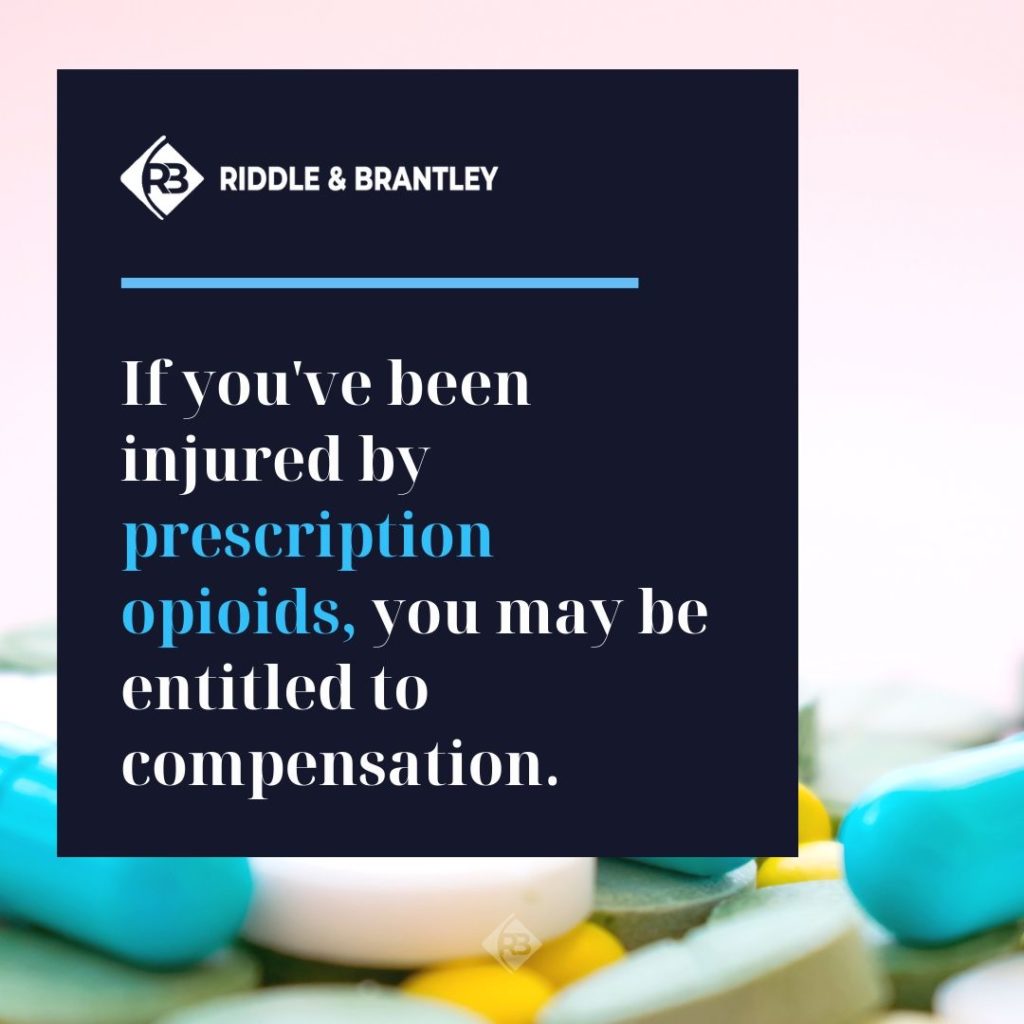 Thousands of lawsuits across the country allege that opioid manufacturers knowingly engaged in deceptive marketing practices and even continue shipments of prescription opioids despite reports of suspicious orders.
We believe these alleged actions are wrong, and we are committed to seeking justice for victims and their families.
If you have been injured by prescription opioids, please call us at 1-800-525-7111. We'll listen to you, help determine whether you have a case, and advise you on your legal options.
The consultation is free, and there is no upfront cost or attorney fees unless we win your case and you receive financial compensation.
Please call 1-800-525-7111 or complete the form below for a FREE consultation.
Our personal injury attorneys together have more than 220+ years of legal experience, and we have helped thousands of injury victims recover millions in collective damages.
If you've been injured by prescription opioids due to the negligence or wrongdoing of an opioid manufacturer, you deserve justice — and we would love to help you if we can.
Please call 1-800-525-7111 today to see if we can help.
Justice Counts.
IMPORTANT: Please note that due to filing deadlines and other criteria, we are no longer accepting any opioid claims.