Can I sue JUUL?
Recently, an environmental group sued e-cigarette maker JUUL and reached a settlement that will restrict the company's marketing practices in several ways. The legal action comes as JUUL faces increasing scrutiny for an outbreak of lung disease cases and deaths associated with e-cigarette products.
Can I sue JUUL?
If you've suffered addiction, injury or illness due to use of JUUL e-cigarettes between age 14 and 26, including EVALI (e-cigarette and vaping product associated lung injury), you may qualify for a JUUL lawsuit and be entitled to compensation. Our JUUL lawsuit attorneys are ready to talk with you — please call 1-800-525-7111 for a free consultation. There are no legal fees unless we win your case.
JUUL and the Vaping Epidemic
As of now there are approximately 1500 cases of lung disease and 33 deaths linked to vaping.  JUUL Labs, the makers of JUUL e-cigarettes, could be facing a rash of e-cigarette-related lawsuits.
Facing criticism from the Food & Drug Administration (FDA) and a potential nationwide ban on flavored e-cigarettes, JUUL has announced it will no longer market its products to teens and children.
Vaping-Related Illness Epidemic
The FDA has called the surge in vaping among teens an "epidemic." According to the FDA, in 2019, roughly 25 percent of teens in high school report using e-cigarettes in the past 30 days.
As awareness of the dangers of vaping continue to grow, the nation's largest vape maker, JUUL, has felt mounting pressure. In addition to its suspension of marketing aimed at youth, JUUL has also announced it will be suspending sales of many of its flavored products, which are aimed at our youth.
Legal Action Against JUUL
In 2015, the Center for Environmental Health sued e-cigarette makers over the amount of formaldehyde found in the company's product.  As the suit worked its way through the courts, vaping rates among teenagers continued to climb, and the nonprofit advocacy organization focused its efforts on JUUL's allegedly manipulative marketing practices.
As a result of legal action and federal scrutiny, a new agreement requires that JUUL not market to children and teens in very specific ways. For instance:
JUUL is not allowed to advertise at sporting events or concerts that anyone under the age of 21 may attend.
No advertising is allowed at schools and the models used for JUUL advertising cannot be under 28 years old.
JUUL has also closed its popular social media accounts and ceased marketing "fun" flavors allegedly aimed at luring minors.
In September 2019 the Trump administration announced plans to ban flavored e-cigarettes, but so far this has not happened.  Many agree that the FDA, the agency with regulatory authority over e-cigarettes, needs to act.
The number of teens who vape doubled between 2017 and 2018 and has only continued to rise in 2019.  Given the climb in vape related illnesses (also known as EVALI, or e-cigarette product and vaping product associated lung injury), there has been growing support for action to ban the sale of flavored e-cigarettes.
Public health and consumer advocates allege that JUUL has intentionally targeted minors and downplayed the health risks associated with vaping, including the potential that e-cigarettes cause cancer.
According to JUUL, the company agrees that no youth should use their products.  JUUL recently announced it will suspend sales of most of their flavored products.
Can JUUL e-cigarettes cause cancer?
Although long term study data is not available at this time, recent studies conclude that the significant amount of nicotine and other chemicals found in JUUL e-cigarettes may potentially cause cancer.
Though JUUL e-cigarettes do not burn tobacco, the liquid inside a JUUL cartridge may contain as many as 70 chemicals, some of which may cause cancer.  A study published in the journal Oral Oncology linked e-cigarettes to cancer-related cell damage.  Some of the potential cancer-causing agents are:
Formaldehyde
Nitrosamines
Carbonyl Compounds
Polycyclic Aromatic Hydrocarbons (PAH)
Acrolein
Do I have a potential JUUL lawsuit?
You may be asking, "Can I sue JUUL?"
If you have suffered addiction or injury due to JUUL e-cigarettes, you may be entitled to financial compensation. Please note at this time we can only accept cases in which you've suffered addiction, injury or illness potentially caused by using JUUL e-cigarettes between age 14 and 26.
The JUUL lawsuit lawyers at Riddle & Brantley are actively investigating these claims. For a FREE consultation and case review, please call 1-800-525-7111.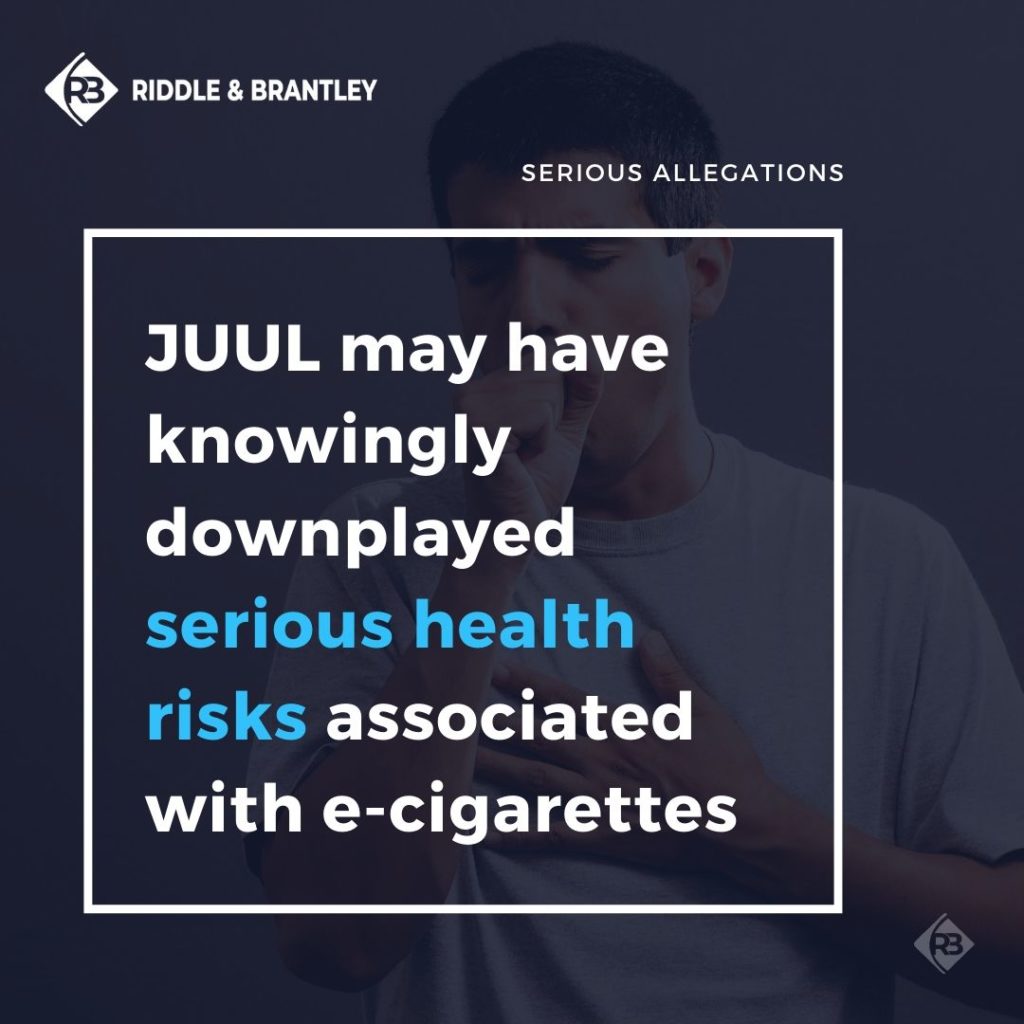 JUUL may have deliberately downplayed health risks associated with JUUL e-cigarettes and aggressively targeted minors in their advertising practices. The company is also alleged to have downplayed the serious potential health risks associated with vaping.
If these allegations are true, Riddle & Brantley is committed to holding JUUL and all e-cigarette company manufacturers accountable.
For a FREE consultation with a Riddle & Brantley product liability attorney, please call 1-800-525-7111 or complete the short form below. 
We will be glad to speak with you and advise you on any legal options you have.  The consultation is free, and we don't get paid unless you are compensated for your injury.
Let us work for you.  Justice Counts for you and your loved ones.
Call 1-800-525-7111 today. You may have a case to sue JUUL and recover damages you need and deserve.