JUUL Stops Advertising as Potential JUUL Lawsuits Loom
JUUL announced it will stop advertising in the United States as the manufacturer grapples with a string of deaths reportedly connected to vaping and the government weighs a total ban on flavored e-cigarettes.
In particular, JUUL will end its "Make the Switch" campaign that implies that e-cigarettes are far safer than traditional tobacco-burning cigarettes.
The Food and Drug Administration (FDA) has disputed JUUL's health and safety claims.
JUUL also announced that the company will not fight against the proposed ban and that CEO Kevin Burns will step down.
***Our product liability attorneys are actively evaluating cases in which vaping with JUUL between ages 14 and 26 may have caused addiction, injury, illness or death. Please call 1-800-525-7111 for a FREE consultation. You may be entitled to compensation.
More than 50 deaths have recently been reported allegedly caused by use of e-cigarettes (often referred to as "vaping") and more than 2,000 cases of lung illness or injury are believed to be connected with JUUL or similar devices (the CDC has named this mysterious disease EVALI, which stands for e-cigarette and vaping product associated lung injury)
In early September, the U.S. government announced that it was considering a total ban on flavored e-cigarettes after reports of death and illness spiked.
A JUUL and E-cigarette "Epidemic"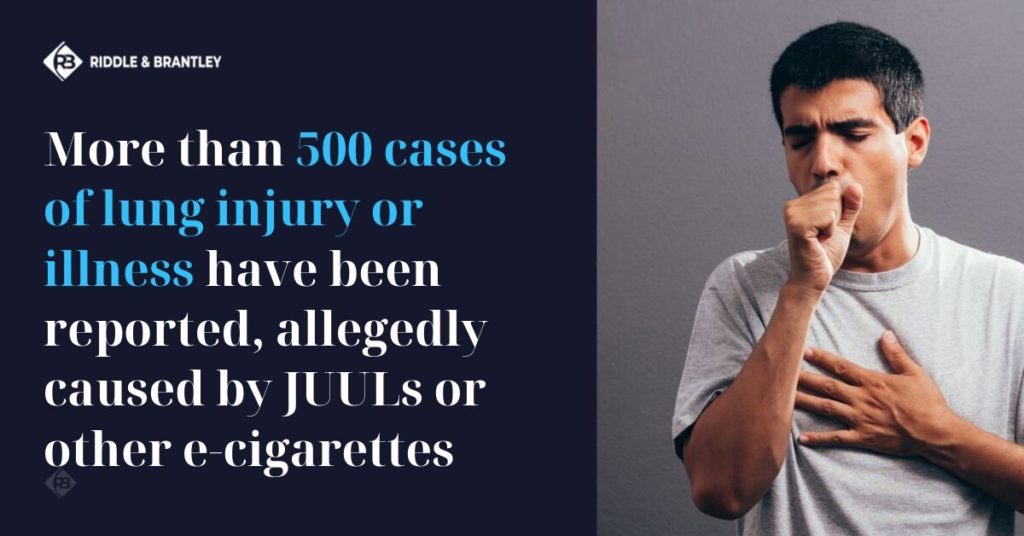 Public health experts are increasingly alarmed as the use of JUUL e-cigarettes has skyrocketed, particularly among youth.
The FDA has called the surge in vaping among teenagers an "epidemic."
Roughly 25 percent of high school students reported using JUULs or other e-cigarettes in the past 30 days in 2019, according to the FDA.
While long-term data is not yet available, recent studies have determined that the significant amount of nicotine and other chemicals in JUULs may potentially cause cancer and other diseases.
Do you have a potential JUUL lawsuit?
Riddle & Brantley is investigating claims of injury or illness potentially caused by JUUL e-cigarettes. If you've been injured, you may be eligible for a JUUL lawsuit and our product liability attorneys would love to help if we can.
Please call 1-800-525-7111 for a free consultation with our JUUL lawsuit attorneys. You can also complete the short form below if you prefer.
The consultation is free, there is no obligation, and you won't pay a dime in attorney fees unless we win your case and you receive financial compensation.
***Please note that at this time, those eligible for a JUUL lawsuit must have vaped with these e-cigarettes between ages 14 and 26 and suffered addiction, injury, illness or death.
JUUL allegedly made false or misleading claims about the health effects of its e-cigarettes, and aggressively marketed JUULs to minors with easily concealable devices and "fun" flavors like mint, mango and Fruit Loops.
We believe that's wrong — and Riddle & Brantley is committed to holding negligent companies accountable for any injuries caused by their products.
For a FREE consultation with a JUUL lawsuit lawyer, please call 1-800-525-7111 or complete the short form below.
Justice Counts.