Raleigh Car Accident Lawyer
Every year, thousands of people in North Carolina are injured in car accidents. If you're injured in the Raleigh area, a Raleigh car accident lawyer at Riddle & Brantley can help. These injuries often lead to significant medical bills, missed time at work and even permanent disability. If the accident was the result of negligent actions of another person, accident victims may be eligible to recover compensation through a legal claim.  If you or a loved one have suffered serious injuries in a car accident, a Raleigh car accident lawyer at Riddle & Brantley may be able to help.
Our Raleigh car accident attorneys have more than 225 years of combined experience handling all types of civil claims. Call today for a free and confidential case evaluation.
We have convenient locations in Raleigh, Durham, and Fayetteville and can even come to you if it's more convenient. Free consultations with our Raleigh car accident lawyers are available by phone, email, text or even video conference.
*In-person consultations available by appointment only in our Durham and Fayetteville office spaces.
Why Choose a Riddle & Brantley Raleigh Car Accident Lawyer
We answer calls and emails after hours and on weekends
Free, no-obligation consultations
Se habla Español
More than 200 years of Combined Legal Experience
Experienced team with local ties
Have won millions for accident victims (see disclaimer below)
The experienced Raleigh car accident attorneys at Riddle & Brantley are led by Gene Riddle. In more than 35 years practicing law in North Carolina, Gene has been recognized as a member of Million Dollar Advocates Forum, Multi-Million Dollar Advocates Forum, Super Lawyers, and The National Trial Lawyers Top 100. He maintains a prestigious AV Preeminent rating from Martindale-Hubbell and he is the recipient of the 2014 Litigator Award (see disclaimer below).
"This settlement changed me and my family's lives."
–Linda B., Riddle & Brantley client
Do I Need a Car Accident Lawyer After an Accident?
If you sustain injuries in a car accident, you'll not only need to address your medical needs but may also need to handle insurance claims, police investigations, and other legal entanglements. If another person or party caused your accident due to negligence, you may be able to seek compensation through a personal injury claim. While it is technically possible to represent your own interests in court, hiring an experienced Raleigh car accident attorney can help you secure a more favorable result.
Statistics show that those who do hire a personal injury attorney recover on average 30 percent more than those who do not hire an attorney.
Car accident claims can be complex. A Raleigh car accident lawyer can take care of all the elements of your claim and allow you to focus on recovery. The attorneys at Riddle & Brantley know how to handle car accident claims, whether they involve legal action against a negligent individual, organization, or manufacturer. Your attorney will gather the necessary evidence to strengthen your claim and handle all interactions with insurance companies. Most importantly, your car accident attorney is prepared to fight for justice on your behalf in settlement negotiations and, if necessary, in a trial.
Results for Victims of Auto Accidents in Raleigh
In more than 35 years serving the people of Raleigh and greater North Carolina, we're proud of the record of five, six and even seven-figure verdicts and settlements we've obtained for car accident victims and their loved ones (see disclaimer below).
Recent wins include:
$9,450,000 | Truck Accident & Wrongful Death — Attorneys Gene Riddle and Kurt Dixon fought for justice for the surviving loved ones of a family of four who were killed in a tragic tractor-trailer crash on a busy North Carolina highway not far from Raleigh. We organized a thorough investigation, subpoenaed data from Google Maps, and proved liability in the case. We filed multiple lawsuits and eventually obtained a total settlement of more than $9 million from multiple parties involved in the accident.
$2,750,000 | Car Accident — Attorney Donald Dunn successfully recovered more than $3 million in compensation for our client, who suffered serious injuries in a major car accident. He suffered injuries to his legs, arm and neck. The arbitration settlement was immediately followed by a separate $1 million judgment against the insurance company.
$1,000,000 | Car Accident — Managing partner and attorney Gene Riddle and attorney Adam Smith fought for justice for our client, who was seriously injured in a car accident in central North Carolina. Through extensive negotiations, we obtained $1 million in total compensation for the victim, including a Medicare Set Aside fund to provide for future medical treatments.
*** Disclaimer: The results mentioned are intended to illustrate the type of cases handled by the firm. These results do not guarantee a similar outcome, and they should not be construed to constitute a promise or guarantee of a particular result in any particular case. Every case is different, and the outcome of any case depends upon a variety of factors unique to that case.
"Riddle & Brantley found me all the available money from the insurance companies."
–David Howard, Riddle & Brantley client
How To Prove Negligence
When a driver fails to abide by the rules of the road, engages in reckless behavior, or intentionally breaks the law behind the wheel, anyone injured as a result may file a personal injury lawsuit against the negligent driver. Proving negligence in a personal injury claim for a car accident involves four basic elements:
Duty. The plaintiff must prove the defendant owed a duty of care to the plaintiff during the given situation. All drivers have a duty of care to follow the traffic laws, heed posted traffic signals, and operate their vehicles safely.
Breach. The plaintiff must also show the court how the defendant breached this duty of care. For example, running a stop sign or a red light would constitute a breach of duty. Failing to address a known safety issue with a vehicle can also qualify as a breach of duty.
Damage. The plaintiff must have suffered some injury or measurable economic loss to file a claim. If a defendant was negligent, but the plaintiff did not sustain any injuries or losses, he or she would have no claim.
Causation. The plaintiff in a personal injury case must also be able to link the defendant's negligence to the plaintiff's damages. The plaintiff may only sue for the damages directly resulting from the defendant's negligence, so the plaintiff will need to prove that the injuries did not happen from some other cause.
Car accident injury claims can be complicated, time-consuming, and stressful. Let one of our Raleigh car accident lawyers handle every aspect of your case so that you can focus on what's most important — your recovery and regaining your quality of life.
For a FREE case review with a Raleigh car accident lawyer at Riddle & Brantley, please call 1-800-525-7111.
There is absolutely no obligation and you won't pay any attorney fees unless we recover financial compensation for you in your Raleigh car accident injury claim.
Common Injuries in Raleigh Car Accidents
The speed at which an accident occurs greatly influences the outcome. Accidents that occur at higher speeds generally result in more significant damage and carry a greater risk of injury, but even seemingly minor accidents can result in significant injuries that worsen over time.
In North Carolina, more than 28 percent of all car accident injuries occur between the hours of 3 pm and 6 pm.  In Raleigh, more than 36 percent of injuries occur during that time frame.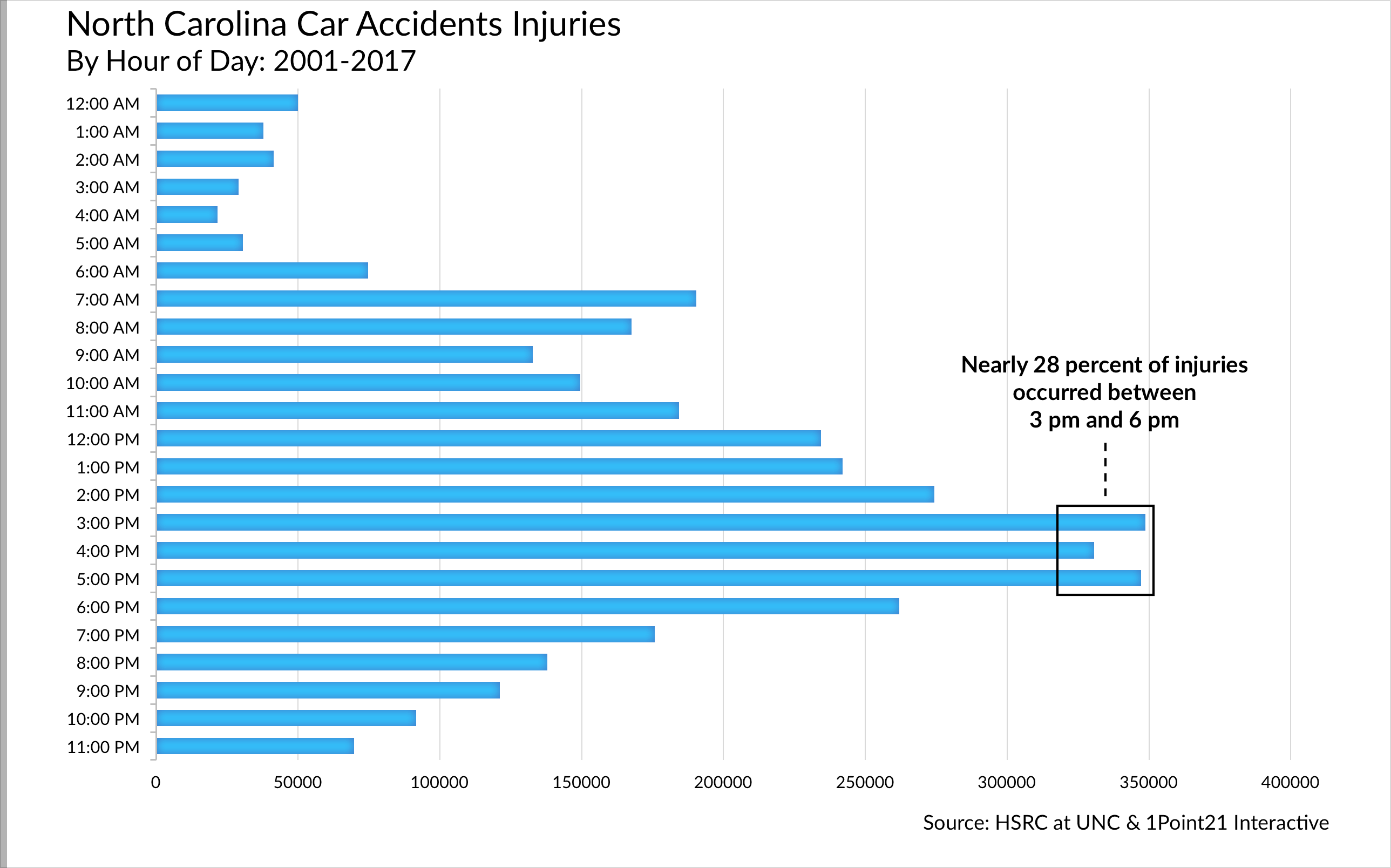 The most common injuries that occur due to car accidents include:
Broken bones — Bone fractures occur in countless possible ways. While standard fractures may leave a bone in pieces, they do not break the skin. Compound fractures are severe injuries that break the skin, exposing the victim to infections. Any type of bone fracture can require significant medical care, and recovery can take months or longer. Some bone fractures may necessitate physical therapy or result in a permanent limited range of motion.
Musculoskeletal injuries — Many car accidents involve significant momentum or sudden shifts in momentum that can damage the soft tissues of a driver's body, such as the muscles, tendons, and ligaments. While most of these injuries will recover in time, they can be extremely painful and limit the victim's range of motion through recovery. Slipped spinal discs, inflammation, muscle stiffness and various other symptoms can persist for weeks or longer.
Traumatic brain injuries — A car accident may cause a driver's head to hit the window or another object during impact, resulting in a potentially fatal head injury. A traumatic brain injury can cause various neurological symptoms such as disorientation, confusion, memory problems, sensory confusion, and more. Some traumatic brain injuries will require immediate emergency surgery to save the victim's life, and some will result in long-term or permanent disabilities.
Contusions, cuts, and scrapes — Even minor injuries can cause intense pain and extensive scarring. Some deep cuts may even interfere with the victim's ability to work as they heal.
Spinal injuries — Any damage to the spinal cord is permanent, so a driver who sustains such injuries may experience partial or full paralysis. Some of these injuries may result in significant damages to cover the costs of necessary ongoing medical care, physical therapy, and lost income due to the inability to work.
Internal injuries — Some car accident injuries will not be immediately noticeable. Internal organs may rupture or suffer injuries from the forces acting on the body during an accident or from poorly fitted seatbelts.
A Raleigh car accident lawyer at Riddle & Brantley can assist with you a claim or lawsuit involving any of these types of injuries and more. We are experienced fighting for justice for those injured in auto accidents in the Raleigh area and would love to help however we can.
Our Raleigh truck accident lawyers and Raleigh motorcycle accident lawyers can assist with other types of claims, as well. In the most tragic situations, a Raleigh wrongful death attorney at Riddle & Brantley can help.
For a FREE consultation with a Raleigh car accident lawyer, please call 1-800-525-7111 today.
There are no upfront costs and no attorney fees unless we win your case and recover financial compensation for you.
Call 1-800-525-7111 or complete the fast and easy form below for a free, no-obligation consultation.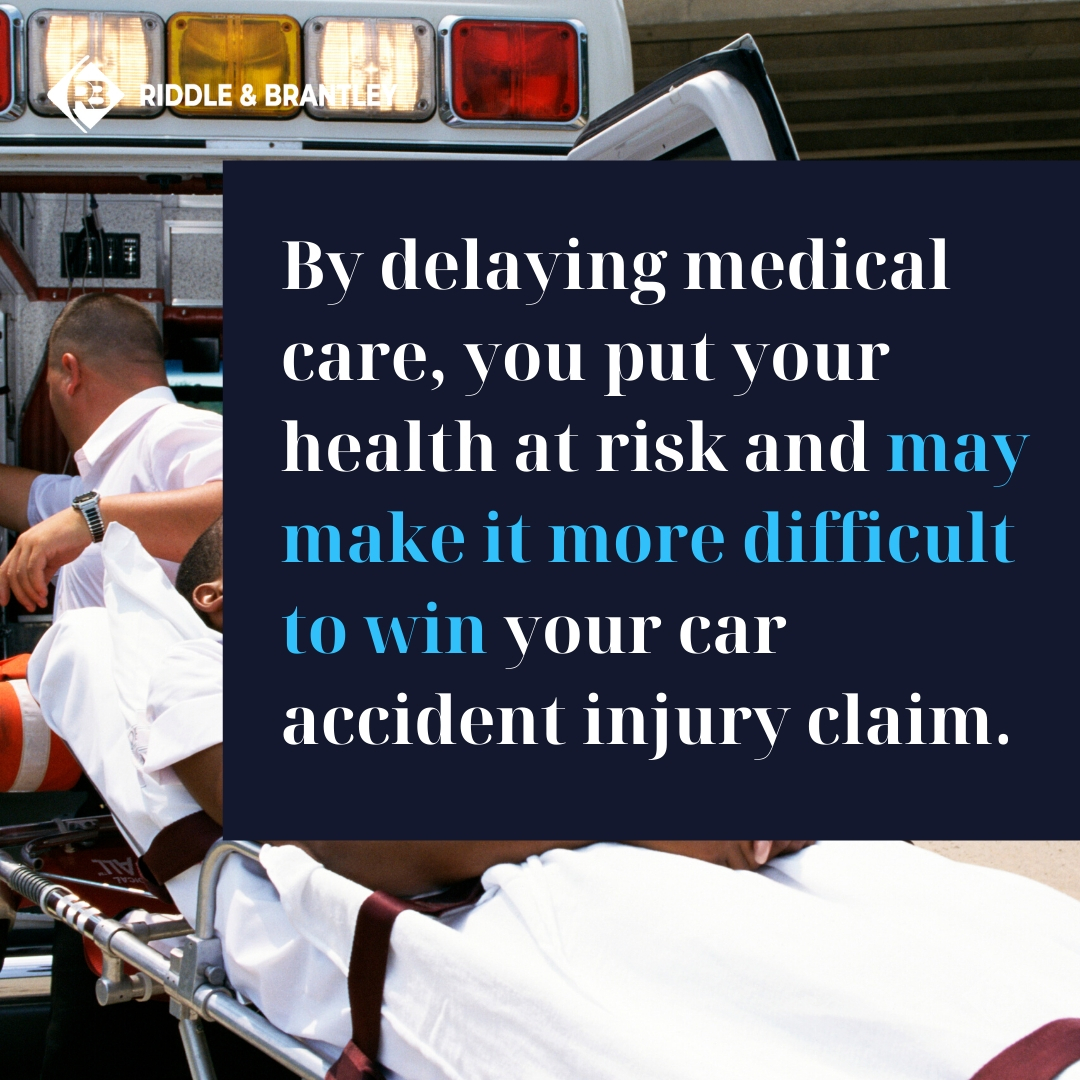 Remember, your top priority after any car accident should be medical attention, even if you think you only sustained minor cuts and scrapes. While you may need to wait for the police to allow you to leave the scene of an accident, seek medical treatment as soon as you are free to leave. If you delay, you could allow an existing injury to worsen. Some injuries may not manifest noticeable symptoms immediately, and the adrenaline rush from the accident may dull pain sensations for a while.
If you delay medical care, you put your health at risk and may jeopardize your chances of succeeding with a lawsuit later, should you choose to pursue one. Delaying treatment may also cause problems when it's time to deal with insurance claims, as adjusters may use the delay as justification for lowering or denying your claim. In a personal injury lawsuit, the jury hearing your case will assume that if you did not seek immediate medical care, your injuries couldn't have been as bad as you claim. Instead of risking your chances of securing legal compensation for your damages or your wellbeing, seek medical care as soon as possible after any car accident.
Raleigh, North Carolina Car Accident Statistics
More than 460,000 people call the Raleigh area home, and the average commute time is around 22 minutes.  In 2017, there were 17,763 motor vehicle collisions in Raleigh, leading to more than 4,400 injuries and 29 fatalities.  In Wake County, there were a total of 13,020 crashes in 2016 – up from 11,692 in 2015.
Total Crashes in Raleigh, North Carolina: 2001-2017
From 2001 to 2017, there was an increase in traffic collisions of more than 33 percent in the city of Raleigh.  During the same period, injuries from motor vehicle collisions increased by more than 28 percent.
North Carolina Car Accident Laws
Each state has specific laws concerning car accidents. The statute of limitations, N.C. Gen State § 1-52(16) (2016), for personal injury and property damage, is three years in North Carolina. This means a plaintiff has three years to file an accident claim, beginning on the date of the accident. A Raleigh car accident lawyer can help you navigate North Carolina laws in order to get you the justice you deserve.
North Carolina also follows a contributory negligence law, meaning a plaintiff may not recover compensation for damages if the plaintiff shares any fault in causing the accident in question. This is in strict contrast to the modified comparative negligence law that most other states follow, which allows plaintiffs to partially recover compensation when they are partially at fault. When you decide to file a claim, your attorney will advise you as to the merit of your case and whether you could absorb any fault for the incident.
Insurance Requirements in North Carolina
North Carolina state law requires all drivers to purchase and maintain auto insurance coverage that meets the state's minimum insurance requirements. The minimum policy must offer 30/60/25 coverage, or $30,000 in bodily injury coverage per person per accident, $60,000 bodily injury liability total per accident, and up to $25,000 in property damage coverage. North Carolina drivers must also purchase uninsured motorist coverage in the event of an accident with a driver who does not have insurance. All drivers in Raleigh and throughout North Carolina must carry proof of insurance with them at all times while driving.
All drivers have the option of purchasing more extensive coverage or additional types of coverage, but more coverage generally means higher premiums. It's crucial to balance how much you're willing to spend in premiums and how much coverage you think you need. You get what you pay for.
Have you been injured in a Raleigh car accident?
The experienced Raleigh car accident attorneys at Riddle & Brantley can help. We will listen to you, investigate your claim and help advise on your best available legal options. If you decide to hire a Raleigh accident lawyer at Riddle & Brantley, we'll do everything we can to get you the justice and compensation you deserve.
For a FREE consultation with an experienced Raleigh car accident lawyer, please call 1-800-525-7111. 
There are no upfront costs and you won't pay a dime in attorney fees unless we recover financial compensation for you.
"They made a hard time in my life easier to endure."
–Melissa C., Riddle & Brantley client
Types of Accidents
The most common causes of car accidents in North Carolina are alcohol consumption, speeding, and distracted driving. A distracted driver may not notice a car changing lanes ahead fast enough to slow down and prevent an accident. Alcohol impairs a driver's judgment and ability to safely operate a vehicle, and a DWI/DUI offense can lead to significant legal penalties as well as civil claims from anyone injured by the drunk driver. Speeding and aggressive driving can also cause accidents, so it's crucial for Raleigh drivers to stay vigilant and attentive at all times on the road.
Need Help? Call a Riddle & Brantley Raleigh Car Accident Lawyer Today!
Proving negligence in any type of personal injury case is difficult, so injured Raleigh drivers need legal representation they can trust to handle these claims. The Raleigh car accident lawyers at Riddle & Brantley have the experience and resources to handle the toughest car accident claims. Contact our team today to schedule a free consultation with one of our Raleigh personal injury attorneys. After we review the details of your case, we can let you know what type of claim you may have.
We believe Justice Count for victims of motor vehicle accidents in Raleigh and the greater Triangle and we would love to help however we can.
Please call 1-800-525-7111 to speak with a Raleigh car accident lawyer today.
"I would recommend them to anyone. They fought hard for me."
–Christine W., Riddle & Brantley client
There is no obligation and there are no attorney fees unless we win your case and you receive financial compensation for your auto accident injuries.
The car accident attorneys at Riddle & Brantley would love to help with your Raleigh car accident injury claim. Please call 1-800-525-7111 today and let's talk.
Recent Client Testimonial
"Riddle and Brantley did an amazing job for me and my girls. I'm so Thankful for all they did. Job well done Thanks for all you guys did"
– Shameka Spears