Roundup Ingredient Glyphosate Allegedly Linked to Liver Disease
More legal problems may be looming for Roundup pesticide manufacturer Monsanto.
Roundup, the popular pesticide used on approximately 80 percent of American croplands, has long been alleged to cause non-Hodgkins lymphoma and other types of cancer.
But does Roundup weed killer also cause liver disease?
A new study suggests that glyphosate and liver disease may be connected.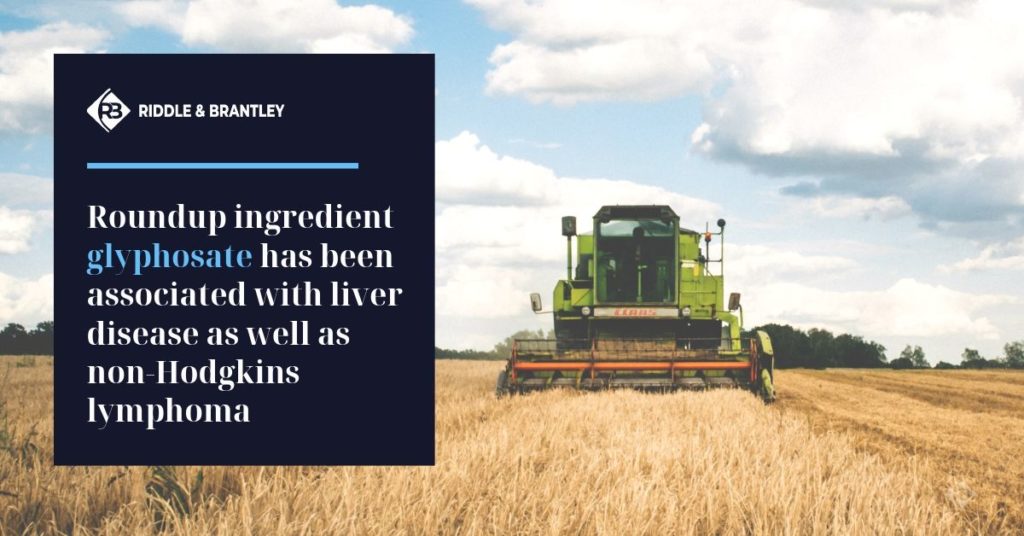 According to the study published by the University of California, San Diego, levels of glyphosate were much higher in patients with liver disease compared to those with a healthy liver.
The level of glyphosate in the food supply "has increased significantly over the past 25 years," according to UCSD researchers, as the use of Roundup in agriculture has grown more common.
According to lead researcher Dr. Paul J. Mills:
"The increasing levels [of glyphosate] in people's urine very much correlates to the consumption of Roundup treated crops into our diet."
According to UCSD, "Glyphosate is the most widely used herbicide in the United States; it was developed and patented by agrochemical giant Monsanto in the 1970s and its sales represent approximately 50 percent of the company's annual revenue."
Raleigh-linked manufacturer faces thousands of Roundup cancer lawsuits
Monsanto, whose parent company, Bayer, has facilities in Raleigh, faces more than 11,000 lawsuits alleging that Roundup exposure resulted in non-Hodgkins lymphoma.
Multiple juries have awarded more than $2 billion in damages thus far, and a potential settlement seems increasingly likely.
Have you been exposed to Roundup and diagnosed with non-Hodgkins lymphoma or liver disease?
The Roundup cancer lawyers at Riddle & Brantley are actively investigating these cases.
If you've been exposed to Roundup and diagnosed with non-Hodgkins lymphoma or liver disease, you deserve justice… and you may be entitled to compensation.
For a FREE consultation, please call 1-800-525-7111 or complete the form below. There is no obligation, and there are no attorney fees unless we win your case and you receive financial compensation.
You deserve justice, and we would love to help. Please contact us today.