AFFF Cancer Lawsuits: February 2023 Update
AFFF Cancer Lawsuits Move Toward Trial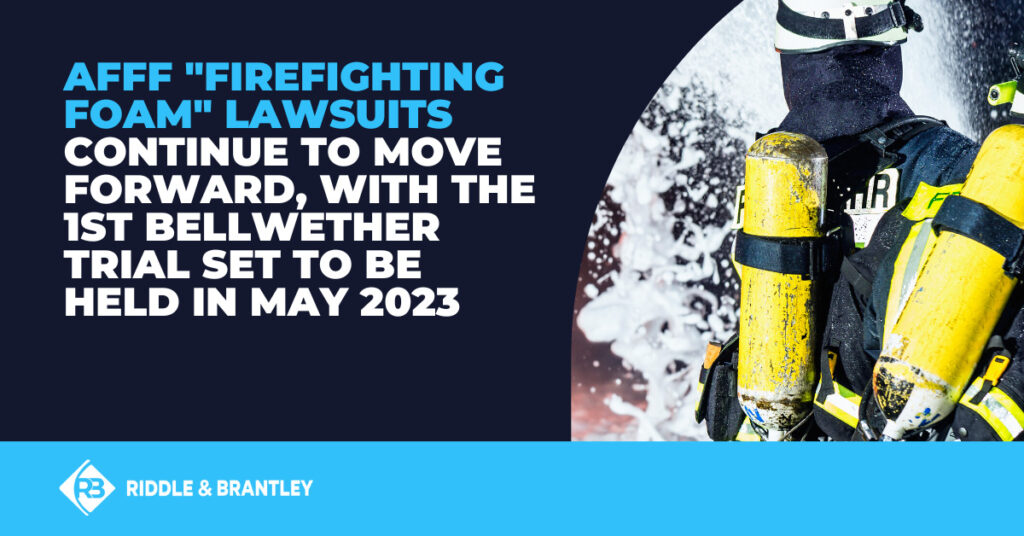 New cases in AFFF firefighting foam multidistrict litigation (MDL) continue to climb as the first bellwether trial approaches. The AFFF firefighting foam MDL topped 3,380 individual cases in January 2023 after a new study clarified links between the substance and cancer-related deaths.
The first AFFF bellwether trial, the City of Stuart v. 3M Co., et al, is set to begin in May 2023. The AFFF firefighting foam MDL involves both personal injury cases and lawsuits filed by municipal governments over water supply contamination. This first bellwether trial involves municipal water contamination, not personal injury claims, but both types of cases will include similar evidence and testimony.
IMPORTANT: You may be entitled to compensation if you or a loved one have been exposed to AFFF firefighting foam and later received a cancer diagnosis. Call 1-800-525-7111 or fill out the form at the bottom of this page for a FREE case review to see if you qualify for an AFFF cancer lawsuit.
The consultation is 100% free. You only pay attorney fees if we win and you receive financial compensation.
Does AFFF Cause Cancer?
AFFF, which stands for Aqueous Film Forming Foam, is used to fight fires that stem from liquid fuels such as gasoline or oil. Two important AFFF ingredients fall under the class of substances known as per- and polyfluoroalkyls (PFAS).
PFAS, which are known as "forever chemicals" due to how long they remain present in a body or the environment, are also known carcinogens. The PFAS chemicals present in AFFF have been linked to the following types of cancer:
Non-Hodgkin's lymphoma
Other types of lymphomas
Pancreatic cancer
Bladder cancer
Leukemia
Neuroendocrine tumors
Prostate cancer
Breast cancer
Liver cancer
Ovarian cancer
Two 2015 studies revealed elevated PFAS levels in firefighters. One study found that a group of 101 Southern California firefighters had three times more PFAS in their blood compared to the general population. The other study measured a significant association between AFFF exposure and elevated PFAS levels.
2023 Update: More Research Links AFFF to Cancer Among Firefighters
A more recent study, published in January 2023, found that firefighters in the UK are significantly more likely to die from cancer and other diseases compared to the general public. Specifically, the firefighters studied were:
Four times more likely to die from prostate cancer.
Three times more likely to die from leukemia.
Twice as likely to die from kidney cancer.
Researchers in that study pointed to chemicals present in AFFF as contributing factors to firefighter mortality.
"I'm a Firefighter. Am I at Risk?"
AFFF isn't used by every fire department, but if you know you've been in contact with the substance you may be at risk.
AFFF has been used by fire departments and the military since the late 1960s, when it was invented by United States Navy scientists alongside chemical company 3M. Since the 1970s, the substance has been used to extinguish fires on military ships, at airports (civilian and military), and by fire departments across the United States.
If you worked in one of these settings or lived in a community near an area where AFFF was used or discarded, you may have been exposed. If you have been diagnosed with cancer and believe you were exposed to AFFF, you deserve compensation. Call 1-800-525-7111 for a FREE case review with our AFFF firefighting foam cancer lawyers. We will advise you on your best legal options and fight aggressively for justice should you decide to hire us.
Where Do AFFF Lawsuits Go From Here? 
In December 2022, three of the chemical manufacturing companies being sued over AFFF-related cancers filed summary judgment motions to remove themselves from the upcoming bellwether trial.
These companies argue there isn't enough evidence to show their AFFF products are responsible for water contamination in Stuart, Florida. Because there are many defendants named in this  bellwether trial, some may get out before litigation begins.
Plaintiffs have responded with expert testimony, citing water contamination that may have been caused by AFFF use in routine fire department training procedures.
Additionally, a 1993 fire at the Stuart Petroleum Plant required significant AFFF use to extinguish the blaze. Hundreds of firefighters worked for five straight days to extinguish the massive petroleum plant fire. According to a First Coast News report, AFFF foam was ultimately responsible for extinguishing the blaze, suffocating the flames in just 90 minutes once it was used.
More will be known about the overall direction of the AFFF class action lawsuit after the City of Stuart v. 3M Co., et al, is decided. Evidence and testimony in this case will influence both municipal lawsuits and personal injury claims.
Do You Have a Claim?
For a FREE case review to see if you may qualify for an AFFF cancer lawsuit, please call 1-800-525-7111. Riddle & Brantley is actively investigating these claims and is committed to seeking justice for victims and their loved ones.
Don't wait — the longer you wait, the harder it may be to prove liability in your case. Call 1-800-525-7111 or complete the fast and easy form below for a free case review today.
Justice Counts.