Asheville Personal Injury Lawyer
If you've been injured in an accident and believe another person or company is responsible, you may be considering an Asheville personal injury lawyer.
We may be able to help.
A personal injury lawyer from Riddle & Brantley with experience in Asheville may be able to help. Our injury lawyers have more than 225 years of collective legal experience and have been fighting for clients in Asheville and across NC for decades.
For a FREE, no-obligation consultation, please call 1-800-525-7111 or complete the form below. There is no upfront cost and no attorney fee unless we win your case and you receive financial compensation.  We pride ourselves on our ability to quickly and thoroughly investigate the accident and if experts or accident reconstructionists are necessary we have them available.
We have our own investigator who can contact witnesses and law enforcement officers to promptly preserve all evidence. This is especially vital to many truck accident cases.
A commitment to Asheville NC
Asheville, North Carolina is one of the fastest growing cities in the state, with a population of 89,121 according to 2016 estimates. It is the 12th most populous city in North Carolina. The city is nestled in the beautiful Blue Ridge Mountains and is home to many iconic Art Deco buildings and the Biltmore House. The famous Gilded Age estate was the summer home of the Vanderbilt family and still is the largest privately-owned house in the United States.
Today, Asheville is known as the cultural hub of western North Carolina, and its downtown features many restaurants, art galleries, and performance venues. Many craft breweries call Asheville home.
As the largest city in western North Carolina, Asheville is no stranger to car accidents and injuries. I-40, I-240 and I-26 surround Asheville, and the busy roads and construction mean accidents are increasingly common.
If you've been injured in a car, truck, or motorcycle accident, or any other type of accident in Asheville or the surrounding area, please contact a personal injury lawyer at Riddle & Brantley for a free consultation.
In addition to all other types of accidents, we also represent victims in mass tort cases, including 3M military earplugs lawsuits, Roundup herbicide lawsuits, and Johnson & Johnson talc / baby powder lawsuits.
As always, there is no upfront cost and no attorney fee unless we win your case and recover financial compensation for you. Please call us at 1-800-525-7111 or complete the form below for a free consultation.
"We are committed to fighting for justice for the people of Asheville and western North Carolina," -Gene Riddle
What to do if you're injured in an accident
The first and most important thing to do if you've been injured is to call 911 and seek immediate medical attention. Your safety is the #1 priority, and your medical records will play an important role in any personal injury claim or lawsuit.
After you've received the necessary medical attention, consider taking the following steps to protect your legal rights and start building a case for any potential personal injury claim or lawsuit:
Talk to the police — if a law enforcement officer is at the scene of the accident, be honest with them as you answer their questions. Keep in mind that anything you say can and will be used against you.
Get contact info — collect important contact information, including names, email addresses and phone numbers, of anyone involved in the accident, including witnesses.
Take photos — take photographs of any injuries and the accident scene, including debris, property damage, skid marks, etc.
Fill out and submit any necessary paperwork — if you're injured at work or on the property of a business, you must file a formal report. For workplace injuries, you have to complete Form 18 (simply a formal notice of the accident on the job) and your employer must complete and submit a Form 19. If you are concerned that your employer will not submit the forms as required, you can submit your Form 18 directly to the North Carolina Industrial Commission (NCIC).
Do NOT give the insurance company a recorded statement — statements given to insurance companies are frequently used to undermine your claim or lawsuit. Before you give any statement to an insurance company, consult a personal injury lawyer. However, if you don't talk to a lawyer first, then make sure you tell the truth and understand that your statement can be used against you later.
Speak with an experienced personal injury lawyer —If you've been injured and believe someone else is responsible, contact an experienced injury attorney at some point before you begin to negotiate your claim.  If you call us and we don't think you need an attorney, we will tell you.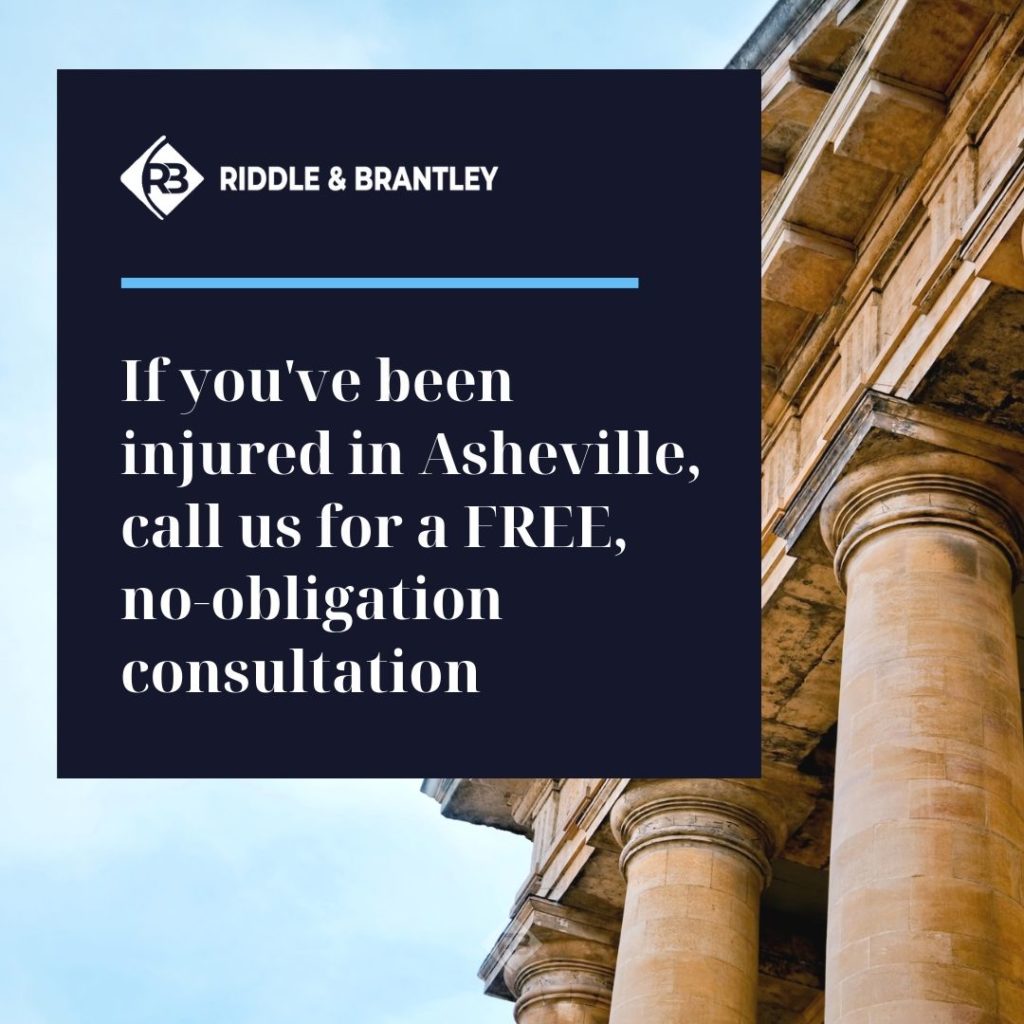 When deciding on the right personal injury lawyer, you will probably want to consider a variety of factors, including the firm's experience representing injury victims, and its familiarity with Asheville and the surrounding area.
At Riddle & Brantley, our attorneys have been representing injury victims in Asheville and North Carolina for decades, and we will fight tirelessly for justice and compensation for you.
Here are just a few of the recent settlements and judgments we've won for our clients:
Constitutional Rights | $5 million — When inmates were subjected to forced sex by a sheriff's deputy at the Wayne County jail, attorney Gene Riddle took the case and filed a civil lawsuit. After extensive litigation, Riddle won $1.5 million in actual damages and an additional $3.5 million in punitive damages.
Auto Accident | $2.75 million — Riddle & Brantley attorney Donald Dunn represented a client who was seriously injured in a head-on auto accident, resulting in multiple fractures to the client's neck, leg and arms. Through extensive litigation and arbitration, Donald Dunn secured a $2,750,000 judgment against the insurance company.
Workers' Compensation | $2.5 million — When our client fell from a platform while on the job, he suffered severe and disabling injuries, including a brain injury. Riddle & Brantley attorneys Gene Riddle, Christopher Brantley, and Jonathan Smith took the case, negotiating with the insurance company through several mediation sessions and ultimately obtaining a settlement of $2,475,000.
Negligence & Personal Injury | $1.5 million — Attorney Gene Riddle represented a client who was seriously injured when his employer cut a tree limb that fell on his head, resulting in several fractures. The employer did not have workers' compensation coverage so Riddle filed suit against the company, ultimately winning a $1,500,000 judgment for the Plaintiff. We are still litigating the coverage aspect of this case.
For more information on settlements and judgments won by Riddle & Brantley, please visit our case results page.
*** Disclaimer: The results mentioned are intended to illustrate the type of cases handled by the firm. These results do not guarantee a similar outcome, and they should not be construed to constitute a promise or guarantee of a particular result in any particular case. Every case is different, and the outcome of any case depends upon a variety of factors unique to that case.
Searching for an Asheville personal injury lawyer?
If you've been injured in Asheville or the surrounding area due to someone else's negligence, you deserve justice — and you may be entitled to compensation.
Our attorneys have been serving all of North Carolina for decades, and we may be able to help you.
For a FREE consultation, please call 1-800-525-7111 or complete the form below. There is no obligation, no upfront cost and no attorney fee unless we win your case and you receive financial compensation.
Not only will you be represented by an experienced injury attorney familiar with Asheville and eastern North Carolina, but you will also be backed by our entire staff of case managers, paralegals, and negotiators. We will be with you every step of the way to help minimize stress so you can focus on your recovery and regaining your quality of life.
Justice Counts.
Please contact us today. We would love to help.