Mint Hill Truck Accident Lawyer
Truck accidents can happen in the blink of an eye but the consequences can last a lifetime. If you've been injured in a Mint Hill area truck accident, you may be looking for a Mint Hill truck accident lawyer.
The North Carolina truck accident lawyers at Riddle & Brantley may be able to help.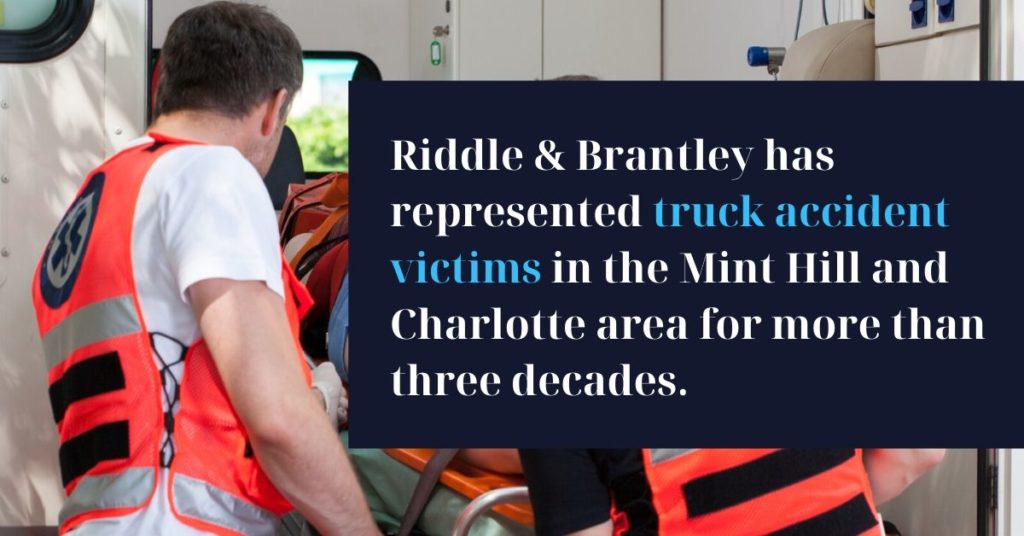 Since 1985, we've represented hundreds of truck and tractor-trailer accident victims throughout North Carolina, including many in the Mint Hill area and greater Charlotte.
For a FREE consultation with an experienced truck accident attorney, please call 1-800-525-7111.
You can also complete the fast and easy online form if you prefer.
There is no obligation and you won't pay a dime unless we win your case and you receive financial compensation.
Call 1-800-525-7111 today and let's talk.
We know the law in North Carolina and are familiar with Mint Hill and greater Charlotte. We would love to help you get justice if we can.
What Can a Truck Accident Lawyer Do for Me?
Truck and tractor-trailer accidents can be devastating, and the aftermath can be extremely challenging.
Our compassionate attorneys understand what you are going through and can fight tirelessly for the justice and compensation you deserve.
A Riddle & Brantley truck accident lawyer can help manage all aspects of your injury claim, including:
Interviewing potential witnesses
Documenting, collecting and preserving critical evidence
Obtaining the official police report
Referring you to medical providers
Negotiating with the insurance company
Filing your injury claim
Calculating damages
Litigation
Conducting depositions
Filing a lawsuit
Preparing and filing important court documents
Representing you in settlement negotiations
Mediation and/or arbitration
Setting up guardianships and/or trusts for long-term care
And much, much more
If you've been injured in a Mint Hill or greater Charlotte truck or tractor-trailer accident, call us today at 1-800-525-7111.
We will listen to you, determine whether you have a case, and advise you on available legal options.
The consultation is free and there are no upfront costs or attorney fees unless we win your case — and you receive financial compensation.
Please call 1-800-525-7111 or complete the short form below.
With more than 225 years in combined legal experience, the injury attorneys at Riddle & Brantley have been handling truck accident cases in North Carolina for more than three decades.
We help clients throughout the state, including many in Mint Hill and the surrounding Charlotte area.
We've helped clients who have suffered all types of injuries in truck crashes, including:
Soft tissue injuries
Cuts, scrapes and abrasions
Broken bones
Head injuries
Traumatic brain injuries
Spinal cord injuries
Neck injuries
Back injuries
Shoulder injuries
Loss of limbs (amputations)
Burns
Emotional injury like PTSD
And many more
In the most tragic cases, our wrongful death attorneys can also fight for justice and compensation for surviving relatives.
No financial compensation can ever make up for life-changing injury or death caused by the negligence of others, but we believe everyone is entitled to justice.
We say Justice Counts and we fight tirelessly to get our clients the justice and compensation they deserve.
For a FREE case review, please call 1-800-525-7111.
There is no obligation and no attorney fees unless we win your case and you receive compensation.
No win, no fee.
Call 1-800-525-7111 to speak with a truck accident lawyer with experience helping clients in Mint Hill and Charlotte.
What Our Clients Are Saying
We're proud of the many five, six and even seven-figure settlements and judgments we've secured for deserving clients, but also important to us are the words of our clients.
See what people are saying about working with Riddle & Brantley:
A Record of Success in North Carolina Truck Accident Cases
Riddle & Brantley strives to provide every client with unparalleled service. We have a team of experienced truck accident lawyers, investigators, case managers and paralegals all dedicated to your success.
We're not satisfied until justice is served.
We believe the quality of our work is reflected our record of success, including:
$9,450,000 | Tractor-Trailer Accident & Wrongful Death — Attorney Kurt Dixon fought for justice for the surviving relatives of a family of four who were tragically killed when their vehicle was rear-ended on a North Carolina interstate. We organized a comprehensive accident investigation, subpoenaed records from Google Maps to prove liability, and ultimately negotiated settlements with multiple defendants totaling $9.45 million.
$2,000,000 | Tractor-Trailer Accident & Wrongful Death — Attorneys Jonathan Smith and Gene Riddle represented the surviving sons of a woman who died as a result of injuries suffered in a crash involving a tractor-trailer. We hired experts to help prove liability in the case and attorney Smith was able to negotiate a $2 million settlement to help obtain justice for the grieving family.
$1,250,000 | Truck Accident — A 75-year-old woman was seriously injured in a three-vehicle crash involving a truck. We went to traffic court to help ensure the defendant was held criminally responsible, and later attorneys Gene Riddle and Adam Smith negotiated a settlement of $1.25 million paid by three separate insurance companies.
*** Disclaimer: The results mentioned are intended to illustrate the type of cases handled by the firm. These results do not guarantee a similar outcome, and they should not be construed to constitute a promise or guarantee of a particular result in any particular case. Every case is different, and the outcome of any case depends upon a variety of factors unique to that case.
Injured in a Mint Hill or Charlotte-area Truck Accident?
Our North Carolina truck accident lawyers may be able to help.
We fight tirelessly for our clients and pride ourselves on providing the best client service possible. We answer phone calls and emails after hours and on weekends, and if your injuries have limited your mobility, we'll even come to you.
We have Spanish-speaking staff available to help, as well.
Please call 1-800-525-7111 for a FREE consultation and case review.
If you've been injured in a truck or tractor-trailer accident, you may have an injury claim and be entitled to compensation.
Our NC truck accident lawyers have experience serving clients in the greater Charlotte area, including Mint Hill, and we would love to help if we can.
Call 1-800-525-7111 and let's talk.
There are no attorney fees unless we win your case.
Justice Counts.