Truck Accident Death Cases: Wrongful Death Claims and Workers' Comp Claims
Every year there are hundreds of people across the country who are killed in trucking accidents. In these cases, surviving family members may be able to file a civil wrongful death claim. In other cases, victims are on the job at the time of the accident. In truck accident death cases, workers' compensation is available to families of those who died while working.
At Riddle & Brantley, our dedicated truck accident attorneys strive to ensure that we help the families of victims of these collisions to maximize their recovery and ensure that those left behind are provided for.
Civil Wrongful Death Claims in Truck Accident Cases
Under the North Carolina Wrongful Death Act, the family of a deceased can be entitled to recover various civil remedies from the at-fault driver and/or his employer. These can include:
Expenses for medical care, including EMS or life-flight
Compensation for the deceased's pain and suffering
Funeral expenses
Compensation for the financial income and support the decedent provided to his or her family
Compensation for the loss of the decedent's companionship, society, comfort, guidance, kindly offices, and advice
Compensation for the services, protection, care, and assistance of the decent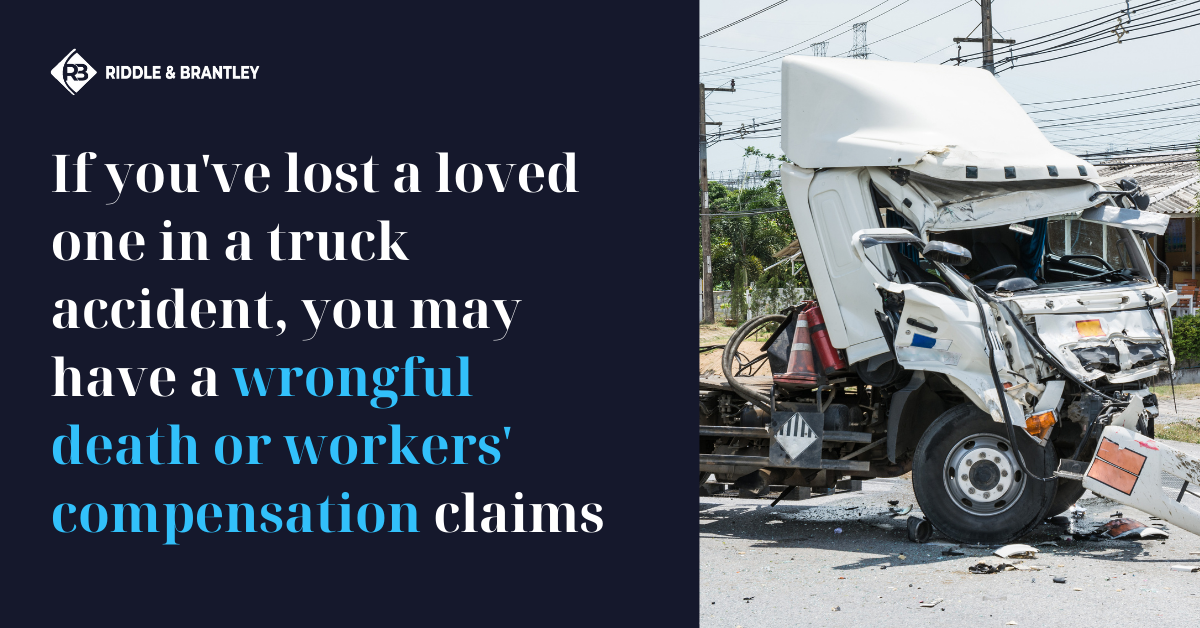 These terms are set out by statute in N.C.G.S. Section 28A-18-2, but their meaning means different things to different people. At Riddle & Brantley, we endeavor to understand what the loss of a loved one means to a particular family.
A human life is more than the net income of a person. A person is a mother, a father, or a companion.
A death in a trucking accident means a man or woman will not be there to care for his children, or grandchildren. It means his or her children will not enjoy their love and support at Christmases, at graduations, or at marriages. It means they will never be there to tell their children or grandchildren stories about their own childhood, or take them to the beach, or teach them to ride a bike.
A human life is more than a set of numbers, and sometimes this is a story that has to be told with pictures or even videos. We regularly create videos that tell the story of our clients' losses in ways that a letter or a legal brief never could.
There are no upfront costs and absolutely no attorney fees unless we win your case. You only pay attorney fees if we recover compensation for you.
Seeking ALL Available Insurance Coverage
Another advantage we provide for our clients is that we exhaustively search for all applicable insurance coverages or other sources of recovery. It is common for trucking companies to be set up such that there are multiple layers of ownership, and insurance. We carefully investigate every claim for our clients to ensure that we locate every applicable source of recovery, whether it be assets of a company or a parent company, or insurance proceeds that might cover the driver, the tractor he was driving, the trailer he was hauling, or the load he was carrying on his trailer.
Workers' Comp Benefits for Families of Workers Killed in Truck Accidents
Often, our clients who are injured by tractor-trailers were themselves on the job when they were injured and killed. Many of those who are killed in tractor-trailer collisions are themselves tractor-trailer drivers. If a tractor-trailer driver is killed while in the course and scope of his or her employment, his surviving family may be entitled to workers' compensation benefits.
These benefits are available whether or not the decedent is able to recover from a civil claim as set forth above. That means that when a truck driver is killed in a collision with another truck driver, his or her family can recover BOTH civil benefits from the at-fault driver AND workers' compensation benefits.
Workers' compensation death benefits are in many ways far more limited than benefits payable under the North Carolina Wrongful Death Act, but North Carolina truck accident workers' compensation death benefits are paid out largely regardless of fault. That means that even if a truck driver was partly, or solely at fault in causing a wreck, his or her surviving family can pursue a workers' compensation claim in the truck accident death case.
Workers' compensation benefits in truck death cases can also involve many layers of businesses or insurance. Many truck drivers are classified as employees, and in such cases it is easy to identify where and how to file a claim for workers' compensation death benefits.
Increasingly, however, more and more truck drivers are set up as independent contractors, or as employees of separate corporations created solely to employ them, and to shield a parent company from having to provide workers' compensation benefits. Some of these "shell" or "sham" companies are known as rogue trucking companies.
At Riddle & Brantley, we leave no stone unturned and ensure that we make every effort to identify every possible recovery for our clients, whether they be civil benefits under the North Carolina Wrongful Death Act, or benefits under the North Carolina Workers' Compensation Act.
"This settlement changed me and my family's lives."
–Linda B., Riddle & Brantley client
Recent Case Results
Our award-winning personal injury team has recovered many significant settlements for surviving family members in truck accident death cases (see disclaimer below), including:
$9,450,000 — We represented the relatives of a family of four that was killed in a tractor-trailer accident, recovering $9.45 million in total compensation in separate settlements after filing two lawsuits. We investigated the accident thoroughly, brought in outside experts to assist our investigative team, and even subpoenaed traffic data from Google Maps to prove liability.
$2,000,000 — Attorney Gene Riddle handled a matter in which an elderly woman was hit by a tractor-trailer and ultimately succumbed to her injuries. We represented the estate and two surviving sons and ultimately recovered $2 million in total compensation from the insurance company in question.
$2,250,000 — Attorney Gene Riddle represented a family that he knew personally when a young woman was tragically killed when a truck crossed the center line and hit her head-on. We brought in outside accident reconstructionists to prove liability and advised defense counsel of our intent to file suit, at which point they agreed to mediation, where we won $2.25 million on behalf of the family. Attorney Riddle was assisted by attorney David Kirby of Kirby Edwards in Raleigh.
Have You Lost a Loved One in a Truck Accident in North Carolina?
If you have a loved one who has died in a trucking accident, please contact our experienced truck accident lawyers. We dedicate our practice to helping injured victims and their families recovery every benefit available to them.
There is no obligation and if we don't recover compensation for you, you won't pay any attorney fees. That's our promise to you.
Please call 1-800-525-7111 and let's review your wrongful death or workers' compensation claim if your loved one has been killed in a truck or tractor-trailer accident.
"They made a hard time in my life easier to endure."
–Melissa C., Riddle & Brantley client
You may be entitled to compensation and you and your loved ones deserve justice.
We would love to help you if we can. Since 1985, we've helped thousands of North Carolinians recover millions of dollars in compensation in wrongful death and workers' comp cases (see disclaimer below).
Justice Counts for those who have lost a loved one in a truck accident, and wrongful death and/or workers' compensation benefits may be available for surviving family members.
---
*** Disclaimer: The results mentioned are intended to illustrate the type of cases handled by the firm. These results do not guarantee a similar outcome, and they should not be construed to constitute a promise or guarantee of a particular result in any particular case. Every case is different, and the outcome of any case depends upon a variety of factors unique to that case.