Can a Parent File a Personal Injury Lawsuit on Behalf of a Child?
"Can I File a Lawsuit for My Injured Child?"
There are not many things more heartbreaking as a parent than seeing your child become seriously injured. If your child is injured because of someone else's negligence, then chances are you are experiencing anger, sadness and maybe feeling somewhat guilty. You may be wondering what, if anything, you can do to help your child and make things right. Even though you will never be able to turn the clock back, you do have the right to take legal action against the person who caused the injury to your child.
IMPORTANT: For a FREE consultation with an experienced North Carolina child injury lawyer, please call 1-800-525-7111 or complete the fast and easy form below. There is no obligation, and we don't get paid unless we recover compensation for you and your child.
"How Do I File an Injury Lawsuit on Behalf of My Child?"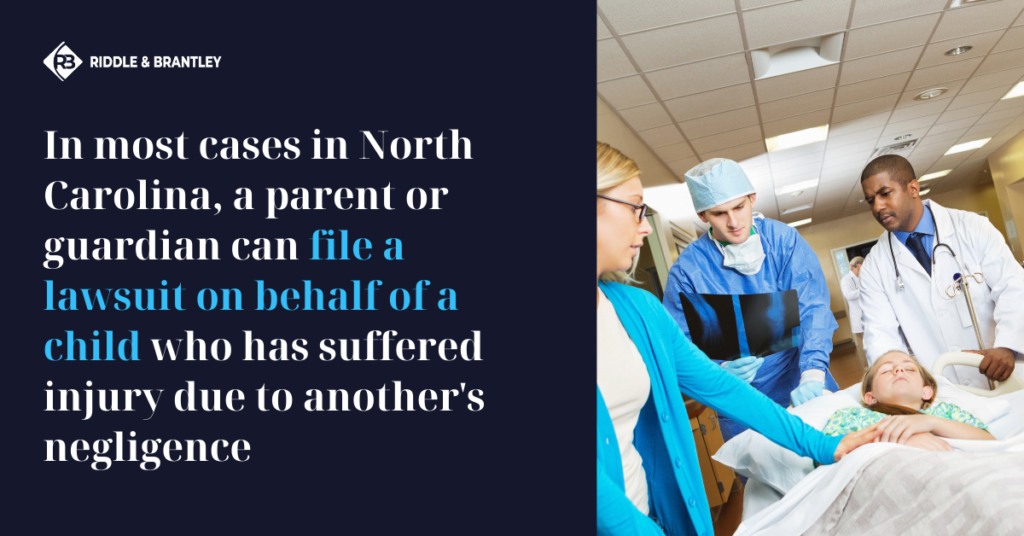 Children are not able to file a lawsuit on their own. Minors (children under 18) are simply not mature enough to handle this type of situation and the court system knows it. Under North Carolina law, a minor does not have the capacity to sue or be sued. The minor must appear in a civil action by and through a general or "testamentary" guardian or guardian ad litem (more on this specific type of guardian in a moment). This means a parent or guardian can file a suit on behalf of their child and take legal action against the person who caused their child's injury.
However, these cases involve unique legal issues. It is important to consult with an experienced personal injury lawyer in order to protect your legal rights and chart the right path for recovering compensation on behalf of your injured child.
Claims by Parents
If the parent or guardian is responsible for paying for a minor's medical expenses, then the parent/guardian will have their own claim independent of the child's claim. In this case the parent/guardian will be reimbursed before the minor turns 18 years old.
Guardian Ad Litem (GAL)
Should a lawsuit become necessary, the court will appoint a "guardian ad litem" (GAL) to litigate the case on behalf of the minor. This GAL will make sure the best interest of the minor is pursued at all times and that the settlement is reasonable and fair. However, it is important to understand that any settlement acquired on a child's behalf must be approved by the judge. Any compensation paid directly to the minor  will be held by the court until the minor turns 18 years old. In some instances, the funds are held in trust by the county clerk of court or a "special needs trust" may be granted.
Statute of Limitations in Child Injury Case in North Carolina
The time limit to file a lawsuit is called "the statute of limitations." The statute of limitations may be different for children. It may give them until the age of 18 to file. However, in North Carolina, this isn't true for every case and all types of damages. Please call the Riddle & Brantley law firm at 1-800-525-7111 today for a free, no-obligation consultation and we can help sort through issues concerning the statute of limitations for child injury cases in North Carolina.
One of our experienced personal injury attorneys will be glad to review your case and lead you in the right direction. Please call 1-800-525-7111 or fill out the short form below.
Contributory Negligence and Minors
"Contributory negligence" means that if the injured party negligently contributed to the incident (even 1%) then they cannot recover compensation for their damages or injuries.
North Carolina is one of the few states that still recognizes contributory negligence (although there are some exceptions). However, there are exceptions in child injury cases. Contributory negligence is viewed differently when it comes to minors in North Carolina. If a child is under the age of 7, they are under law incapable of contributory negligence.
Once a child turns 7, but is under the age of 14, they are believed to be incapable of contributory negligence. However, this rebuttable presumption can be overturned if it is shown that the child did not use the same amount of care as another child of the same age and with the same mental capacity.
"Reasonable Care"
Under the North Carolina civil legal system, every person has a duty to act with reasonable care in their actions, including actions that could harm a child. However, every situation is different so what is reasonable depends on the specific situation. When a person does not act with reasonable care and their actions cause injury, that party is considered negligent.
Unless the person has a legal defense, the party is liable for the injuries/damages caused by their negligence. Once someone's negligence causes harm to a minor, that minor's parents or representative has a viable legal claim against the party at fault.
Potential Damages in Child Injury Claims
You and your child may be entitled to compensation for many types of damages if you decide to file a personal injury lawsuit on their behalf in North Carolina.
Potential damages in child injury cases include:
Medical Bills: If your child suffers injuries, they will probably be headed to the hospital. There could be bills for an ambulance ride, emergency room visit or hospitalization. The negligent party may be responsible for these bills, co-pays, and prescriptions.
Lost Wages: If the parent or responsible adult must stay home to take care of the injured child, they may demand damages for lost wages.
Property Damage: In specific situations, your child could suffer property damage. Your 16-year-old could be driving his/her own car, motorcycle or expensive bicycle and it may be destroyed in the accident. You can demand compensation for the child's personal property on their behalf.
Pain And Suffering: As the legal guardian of a minor, you may be able to demand compensation for pain and suffering on their behalf. This is for any suffering the child endures, not the parent or guardian. "Pain and suffering" includes emotional trauma suffered as a result of the accident.
Permanent Injuries: If your child suffers permanent injuries or scarring, the GAL will be able to present claims for these damages.
Contact an Experienced Child Injury Lawyer Today
At Riddle & Brantley, our North Carolina child injury lawyers can demand compensation for any damages your child is entitled to after being hurt by someone else's negligence. It is important to remember this this compensation is for the child, not for the parent or guardian, who may or may not have a separate claim, as well.
The parents' potential claims are for medical bills up to the age of 18. These damages must be related to the minor's injuries, and these injuries must have been cause by negligence.
"You'll walk in the front door as a client, but leave as family. They are the absolute best."
-Sue S., Riddle & Brantley client
Our Experience
Accidents involving minors can become very complex. It is important to consult an experienced child injury lawyer such as one at Riddle & Brantley for help. Please call us at 1-800-525-7111 or fill out the short form below. We will be glad to talk things over with you, ask questions and let you know if we think you have a case.
Since 2000 alone, our North Carolina personal injury lawyers and car accident lawyers have secured more than $600 million in total compensation for our deserving clients, and we've handled thousands of cases involving injured children since 1985 (see disclaimer below).
Once you become a Riddle & Brantley client, our lawyers and staff will work tirelessly on behalf of your child and help take the burden off your shoulders. Justice Counts for children in North Carolina. We are always here to help.
For a FREE consultation with an experienced child injury lawyer handling car accident, truck accident, pedestrian accident, and other cases involving injured children, call 1-800-525-7111.
We have been helping the people of North Carolina for over 35 years and we are just getting started. Let us help you and your family however we can.
---
*** Disclaimer: The results mentioned are intended to illustrate the type of cases handled by the firm. These results do not guarantee a similar outcome, and they should not be construed to constitute a promise or guarantee of a particular result in any particular case. Every case is different, and the outcome of any case depends upon a variety of factors unique to that case.