What is the Last Clear Chance Doctrine in Personal Injury Cases?
North Carolina continues to be one of the few states to follow contributory negligence in personal injury law. Under the doctrine of contributory negligence, a plaintiff's claim is barred from recovery if his or her negligence contributed at all to the accident. Consequently, if an injured party is even remotely at fault for the accident, the defendant can use contributory negligence to prohibit recovery. This defense is extremely unfair to injured plaintiffs. While contributory negligence might ordinarily bar your claim, there are multiple exceptions to this defense, including "last clear chance." 
What is "Last Clear Chance" in Personal Injury Cases?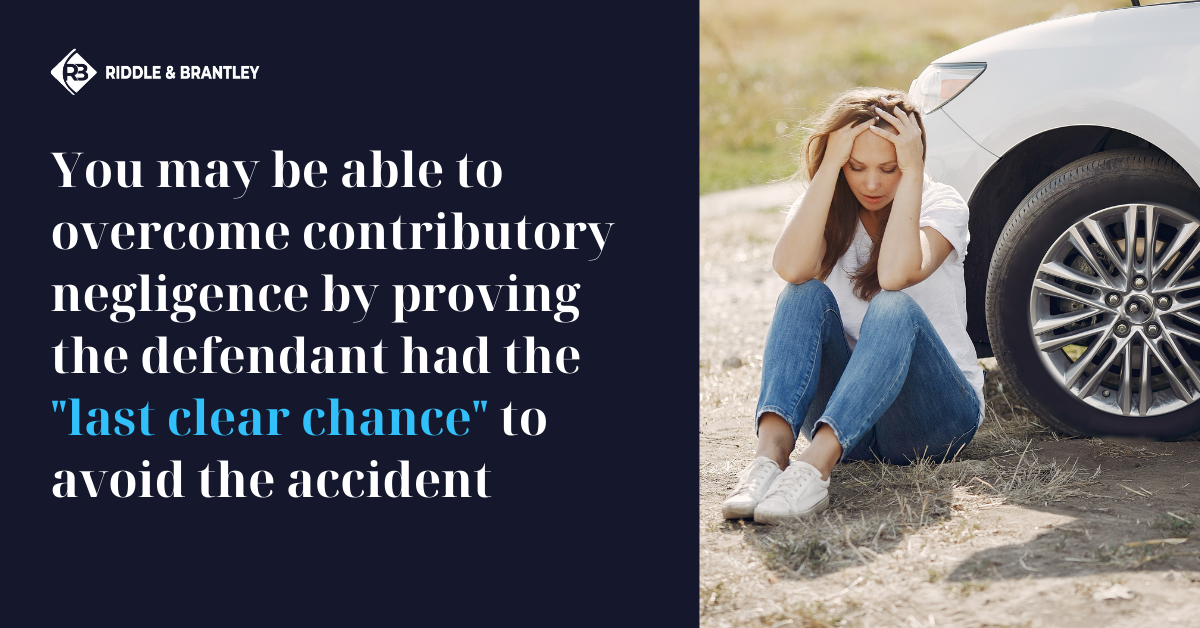 Under the last clear chance doctrine, a partially negligent injured party can still recover damages. In order to successfully use this doctrine, the defendant must have been able to reasonably prevent the accident from occurring but failed to do so. The premise behind last clear chance is that if the defendant exercised reasonable care and the accident could have been avoided, then he is liable for failing to do so. This means that even if a client is deemed to have contributed to the accident, the defendant can still be held liable — and the plaintiff can recover damages.
If you've been injured and a defendant is arguing that you were partially responsible for the accident, you may be able to use the last clear chance doctrine to recover compensation. Call 1-800-525-7111 today for FREE consultation with an experienced North Carolina personal injury lawyer.
Our personal injury lawyers have been fighting for injured victims in North Carolina since 1985 and we've recovered millions of dollars in compensation on our clients' behalf (see disclaimer below) in cases involving:
Boat accidents
Slip and fall injuries
Sexual assault
We may be able to help you recover compensation. Our attorneys have over 220+ years of combined legal experience and we have helped clients recover under the doctrine of last clear chance.
For a FREE, no-obligation consultation, call 1-800-525-7111. There are no attorney fees unless we win your case and you receive compensation.
Last Clear Chance in North Carolina
Recently, attorney Gene Riddle used the doctrine of last clear chance and recovered a $1,625,000 verdict for our client (see disclaimer below).
In this case, our client crossed a busy highway at night. However, this highway was well lit. Unfortunately, our client was hit by a vehicle and sustained debilitating injuries that will last a lifetime. Although the defense team argued that our client was negligent and therefore barred from recovery, we were able to use last clear chance to show the defendant driver had the opportunity to see our client and prevent the accident.
"Can I use the last clear chance doctrine in my case?"
It is important to note that every case is unique and last clear chance will not apply to every circumstance. Call Riddle & Brantley at 1-800-525-7111 today to see if we can help you. We offer free claim evaluations and once you sign with us, we'll immediately start investigating your accident. Prompt investigations are extremely important in order to preserve all important evidence. We even have retired law enforcement officers on staff to help lead accident investigations.
How Does Last Clear Chance Work in Personal Injury Cases?
Applying last clear chance in a personal injury claim is extremely complicated, which is why it is strongly recommended that you hire an experienced personal injury attorney.
In order to use the last clear chance doctrine, the burden is on the plaintiff to prove:
The plaintiff (injured party) negligently put herself in a risky position and had no means of escape
Despite the plaintiff's negligence, the defendant by exercising reasonable care should have learned of the plaintiff's position and inability to escape the danger
By exercising reasonable care, the defendant should have been able to prevent the accident from occurring
The defendant negligently failed to avoid the accident
There is no obligation and you won't pay any attorney fees unless we recover compensation for you.
For over 35 years, the attorneys at Riddle and Brantley have been securing justice and compensation for injured North Carolinians. Whether you or a family member was injured in an accident, contact our firm at 1-800-525-7111 today.
"They made a hard time in my life easier to endure."
–Melissa C., Riddle & Brantley client
All consultations are FREE and no-obligation and are offered by phone, email, text, or video chat. We can even meet at our office or your home if you prefer, however no in-person meeting is required to get started on your case.
At Riddle and Brantley we believe that Justice Counts, and we would love to help you if we can.
---
*** Disclaimer: The results mentioned are intended to illustrate the type of cases handled by the firm. These results do not guarantee a similar outcome, and they should not be construed to constitute a promise or guarantee of a particular result in any particular case. Every case is different, and the outcome of any case depends upon a variety of factors unique to that case.