"Will I Have to Pay Back My Insurance Company After My Injury Lawsuit?"
After a significant auto accident, you may find yourself drowning under huge amounts of medical bills. This can be scary and very overwhelming. However, you probably have options available to help you cover these bills — usually in the form of insurance coverage. Still, in some cases you may be required to pay back some or all of the expenses that an insurance company paid out for your accident.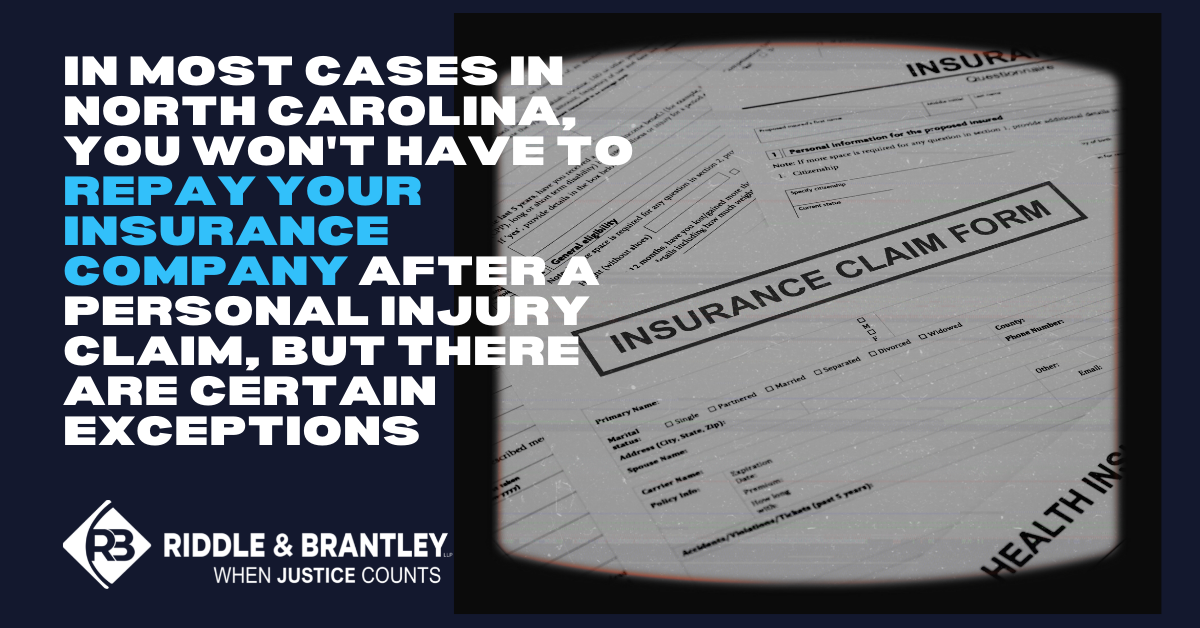 Before we get further into whether you will have to pay back the insurance company, however, let's take a look at the different types of insurance that may be in play after an accident.
Types of Insurance Coverage
After an accident, it's important to look at your own insurance policy as well as the insurance policy of other parties involved. There are different types of policy limits and coverage so it may be in your best interest to contact a personal injury attorney who can help you navigate through the process.
The following types of insurance coverage may be available to help  compensate for damages in an accident:
Liability Insurance
In the state of North Carolina, if someone else is negligent and causes an accident, then you should be able to file a claim against their liability insurance policy. Liability coverage pays for bodily injury and property damage caused by any covered individual who is determined legally responsible for the accident.
Uninsured or Underinsured Coverage (UM/UI)
Uninsured motorist coverage (UM) is mandatory in North Carolina and will pay for medical bills for you, your family or anyone else injured in your vehicle should an uninsured driver cause and accident and injure anyone in the car. Furthermore, in the event that the motorist responsible for the accident has low policy limits, you may be able to seek additional compensation from underinsured (UI) coverage.
Medical Payments Coverage (Med Pay)
Med Pay is an optional form of motor vehicle insurance coverage offered in North Carolina. After an auto accident, Med Pay pays any reasonable and necessary medical expenses up to your individual policy limit. Med Pay is a no-fault system. This means it should cover your bills regardless of who caused the accident.
Health Insurance
If you have health insurance, you should submit any medical bills to the carrier for payment. Your health care provider will typically have access to your insurance provider's reimbursement system and may submit your medical bills for you.
Workers' Compensation
Workers' compensation is a form of insurance that provides wage replacement and medical benefits to employees injured in the course of employment in exchange for the mandatory relinquishment of the employee's right to sue the employer for negligence.
If you were working at the time you suffered injuries due to someone else's negligence (or even if you were at fault), workers' compensation may cover your injuries. Once you receive workers' compensation, however, you can't file other claims related to that injury. This is called "exclusive remedy." However, in some cases you may have a claim against another person if that person causes an auto accident and injures you while you are on the job.
Liens and Subrogation
If you are seeking compensation for a North Carolina personal injury claim it is important to be diligent and determine any liens or subrogation interests that could be attached to your injury settlement or award. You can learn more about medical liens in our related article.
What is Subrogation?
Subrogation is a legal principle in most states which allows an insurance provider to take money out of a client's personal injury settlement or award to cover any payments it has made already.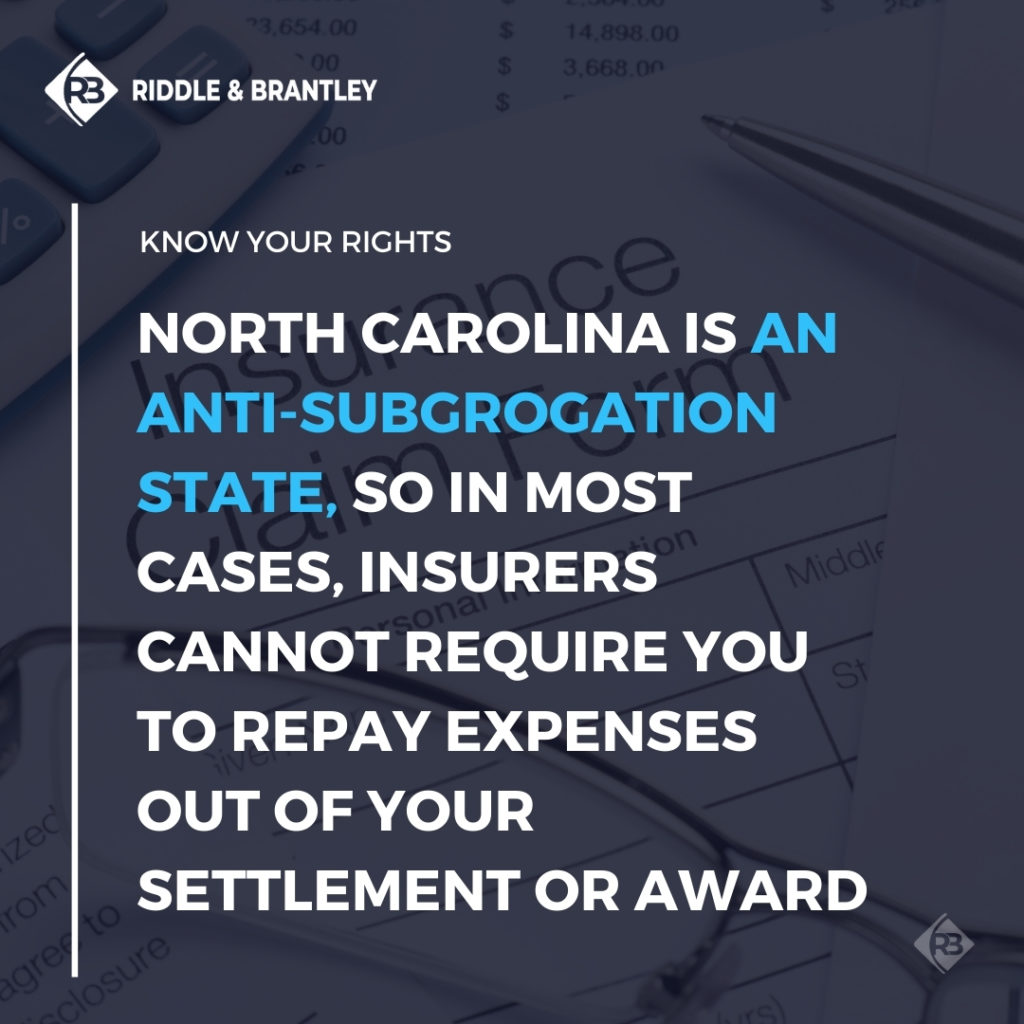 North Carolina has very complex laws that regulate subrogation.  North Carolina is an anti-subrogation state. These anti-subrogation laws are in place to protect the rights of injured people against insurance companies taking money from their settlement or award after an accident.  Without anti-subrogation laws, North Carolinians would stand to lose a significant amount of their compensation after a personal injury settlement.
Navigating the anti-subrogation law can be confusing, however. Certain public insurers like Medicare, Medicaid, and the state health plan can demand repayment of medical expenses from a personal injury settlement or judgment. At the same time, many private health insurance companies don't play fair with their policyholders. Insurers may try to recover their payments or avoid paying the compensation you deserve.
"What if My Insurance Doesn't Cover Everything?"
If your insurance coverage doesn't apply or cover the extent of your medical bills, you may be responsible for the balance. You may want to contact an attorney to help you figure out what coverage you have and how it applies to your situation. Hiring an attorney can take the guesswork out of trying to figure out your best course of action.
"I'm Filing a Personal Injury Claim. Should I Also File a Claim with My Insurance?"
It is important to remember that your personal injury claim may take a while to resolve. If you have health insurance, you may want to file all claims you can with your health insurer. Filing claims with your health insurance company may prevent you from having to worry about collections and any damages to your credit rating.
North Carolina law states that your private health insurance policy cannot demand repayment of medical bills that they have already covered, even if you later receive compensation to address those bills. However, this does not apply to public health insurance plans such as Medicare and Medicaid, or if you have insurance coverage through your job and your employer qualifies under the federal law called the Employee Retirement Income Security Act.
Contact an Experienced Injury Attorney Today
A North Carolina injury lawyer at Riddle & Brantley can help you figure out how to handle these charges. We have been helping injured motorists in North Carolina recover the compensation they deserve for over 35 years. Let our knowledge and experience work for you.
With over 220+ years of combined legal experience helping the people of North Carolina, our attorneys have the knowledge to help you navigate the system and take the guesswork out of getting your bills paid.
Please call us at 1-800-725-7111 or fill out the short form below for a FREE, no-obligation consultation.
There is never a consultation fee, and we don't get paid unless we get compensation for you. We are here to help. Justice Counts for you and your loved ones.
Call 1-800-525-7111 today and let's talk.