Common Workplace Injuries
Workplace accidents and injuries happen every day. No matter what business or industry you are in, you are not immune from an on-the-job injury. Any kind of accident — from a bad fall to a work-related car or truck accident — can leave an employee seriously injured and in need of workers' compensation benefits. A workplace injury in North Carolina could result in weeks or months of recovery, stacks of hospital and doctor bills, and lost income.
Do not let a workplace injury rob you and your family of your future. Contact our North Carolina workers' compensation lawyers at 1-800-525-7111 for a free, no-obligation consultation today. We would love to help you get the justice and compensation you deserve.
For a FREE consultation with an experienced North Carolina workers' comp lawyer, please call 1-800-525-7111. We don't get paid unless you do — if we don't recover compensation for you, you won't pay any attorney fees. That's our promise to you.
Board-Certified Specialists in Workers' Comp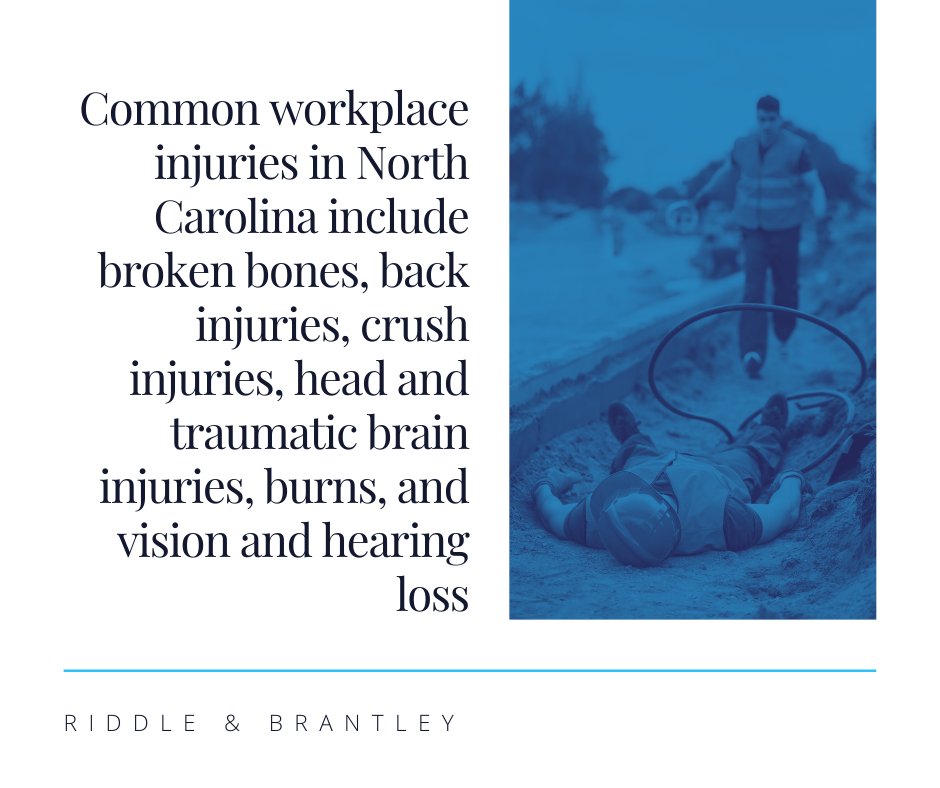 Our goal is to help you understand and obtain all of the workers' compensation benefits that you deserve for your injury or illness. Our Board-Certified Specialist attorneys Adam Smith and Chris Brantley have been recognized by the NC State Bar for their expertise and experience. That designation means that they have met education requirements and passed a challenging exam and that they have had their competence and qualifications verified by other lawyers. In addition, they have had substantial hands-on experience with negotiating and appealing claims for our clients.
Since 1985, our work injury lawyers have recovered millions of dollars in compensation for victims of workplace accidents (see disclaimer below). Don't wait — call 1-800-525-7111 for a FREE consultation today.
Why You Need Riddle & Brantley
As an injured employee, you may have a right to workers' compensation insurance benefits. Those benefits may cover your medical expenses and a portion of your lost wages. Family members of workers involved in fatal workplace accidents may also be entitled to benefits for the income they will lose.
Although you may be entitled to those benefits, it does not mean you will automatically get them. Your employer may dispute or deny your workers' comp claim, which could delay payments or dash your claim altogether.
Technical problems with your claim application can further harm your chances to claim your benefits. A North Carolina workers' compensation lawyer at Riddle & Brantley can help keep that from happening to you or your loved one. We know North Carolina's workers' compensation laws and how the N.C. Industrial Commission runs the state's program. Our goal is to help you understand and obtain all of the workers' comp benefits that you deserve for your injury or illness.
How Common Are Workplace Injuries In North Carolina?
According to the U.S. Bureau of Labor Statistics (BLS), there were 69,400 nonfatal injuries and illnesses reported among private industry employers here in North Carolina in 2019, which equals 2.3 cases per 100 full-time employees. Among these cases, 36,600 of them were of a more severe nature, as they necessitated days away from the job, job transfers, or restrictions. Out of the 69,400 reported injuries and illnesses, 95.8 percent of them were injuries.
Occupations with a Higher Risk of Workplace Injury
Accidents that lead to serious injury can occur in any work environment, but some occupations carry increased risks. These risks, although expected, are no excuse to limit compensation for the victims. Any occupation has a risk for a workplace injury, but some have a higher likelihood of an accident.
Construction – Workers often work in dangerous conditions around power tools, heavy machinery and equipment, dangerous chemicals, open sources of electricity, heat or open flame, and inclement weather.
Manufacturing – Manufacturing plants, often noisy and unclean, are environments with non-stop machinery running. Depending on the industry, workers may face injury by machinery or exposure to toxic chemicals or sources of radiation, to name a few.
Jobs Involving Motor Vehicles – When driving or riding in a motor vehicle is part of a job duty and you are in an accident, or you are hit by a motor vehicle while on the job, you may be eligible to receive workers' compensation benefits. You may also have a separate personal injury claim against the other driver in addition to the workers' comp case.
State and Municipal work – Law enforcement personnel, emergency responders, utility workers and government workers are increasingly likely to experience violence or exposure to dangerous conditions.
Types of Injuries That May Qualify for a Workers' Comp Claim
If you have sustained any of the following injuries in connection with your occupational duties, then you may qualify for workers' compensation benefits:
Crushing injuries – Heavy falling objects or large machinery may cause crush injuries resulting in severe muscle and nerve damage, broken bones and fractures, and traumatic amputations.
Musculoskeletal disorders – Musculoskeletal disorders may include a stiff or sore back and neck, sore shoulders, knees or hips, and/or joint pain and inflammation. Work environments also may lead to broken bones, strains and even arthritis.
Carpal tunnel syndrome – Those who suffer carpal tunnel may feel numbness, tingling, weakness, or debilitating muscle damage in the hands and fingers. Typing on a computer keyboard is a common cause of carpal tunnel.
Loss of vision – Some eye injuries may be a result of too much time in front of a computer screen without proper precautions being taken, while others may be caused by fragments or objects striking the victim's eye. About 2,000 American workers suffer a job-related eye injury that requires medical treatment every day, according to the Centers for Disease Control and Prevention (CDC).
Loss of hearing – Occupational hearing loss is one of the most common work-related illnesses in the United States. North Carolina has very specific guidelines setting forth the rules for determining compensability and benefits of hearing loss claims.
Head and traumatic brain injuries (TBI) – A recent study said the leading causes of occupational brain injury deaths were motor vehicle accidents, falls, assaults and other acts of violence, and contact with objects/equipment.
Major burns – Fire, explosion, electrical current, chemicals or radiation may cause major burn injuries. Third- and fourth-degree burns are medical emergencies that can easily be fatal, particularly if they occur over a large portion of the victim's body.
Work-related death – Sometimes wrongful death occurs as a result of an on-the-job accident; common fatal accidents include vehicle crashes, falls from heights, or other industry related accidents.
Common Causes of Workplace Injuries
What are some of the most common types of workplace accidents? According to the 2019 Liberty Mutual Index, the 10 most costly causes of workplace injuries and illnesses are as follows:
Overexertion involving outside sources: These injuries typically occur when workers strain too hard while attempting to complete a task.
Falls on the same level: This typically stems from a slip or trip and fall and can be caused by slick surfaces, snagged carpets, or uneven flooring.
Falls to a lower level: These are particularly common in construction accidents where workers may fall off of a scaffold or through a roof.
Struck by an object or equipment: Whether this is a packing box, a tool, a machine part, or other object, workers who are at risk of being struck by an object or equipment should be equipped with protective gear at all times.
Other exertions or bodily reactions: This may include an accident where a worker may injure themselves when trying to avoid being struck by a falling object.
Roadway incidents involving motor vehicles: Many workers are required to drive or sit in a motor vehicle while on the job, and there is virtually no limit to the number of potential causes for a motor vehicle crash. A worker may also be on foot at his or her workplace and be struck by a motor vehicle.
Slips or trips without falling: Perhaps the worker found something to grab onto at the last minute to avoid a fall, but still may have pulled a back muscle from the unexpected jolt caused by the slip or trip.
Compressing and catching injuries: A worker's clothing, hair, or limbs may get caught or compressed in heavy moving machinery, which is most common in factories.
Repetitive motions that involve microtasks: While someone who sits at a desk and types all day long is unlikely to be severely injured in a workplace accident, the long-term damage they incur can still be debilitating, whether it is back problems, vision problems, or carpal tunnel syndrome.
Being struck against an object or equipment: Especially in fast-paced environments where workers are prone to lapses in focus, a worker may accidentally run into an inanimate object such as a door, wall, table, chair, or window, and suffer serious injuries as a result.
If you've suffered one of these or another type of workplace accident and been injured as a result, call 1-800-525-7111 for a FREE, no-obligation consultation and case review.
There is no obligation and we don't get paid unless we recover workers' compensation benefits for you.
How Can a North Carolina Attorney Help?
The cost of workplace injuries can be overwhelming. As an injured employee, you may have a right to workers' compensation insurance benefits. Those benefits may cover your medical expenses and a large portion of your lost wages. Family members of workers involved in fatal workplace accidents could also receive benefits for the income they will lose.
When you are denied benefits or feel as though you did not recover what you deserve, then you may need to contact an experienced legal team. An attorney who has experience settling cases for victims who suffer serious workplace injuries will know how to identify liability and understand the laws that exist in North Carolina.
Due to the nature of an employer-employee relationship, your employer may feel empowered to take advantage of you by means of a lowball workers' compensation settlement offer. Once you hire an experienced attorney, though, the dynamic changes. Your employer knows that you mean business, and that anything short of a fair settlement offer could result in further legal action.
For a variety of reasons, from financial costs to unfavorable publicity, to the possible necessity to divulge proprietary information, many employers will do everything they can to avoid facing a lawsuit. Therefore, hiring the right attorney increases your odds of reaching a fair settlement. 
A Track Record of Success
$500,000 Settlement
Among many cases our North Carolina workers' compensation lawyers have successfully pursued was the case of a client who contracted carpal tunnel syndrome and cubital tunnel syndrome (caused by pressure on the ulnar nerve at the elbow). He developed these occupational injuries due to repetitive stress while on the job.
Our client underwent multiple surgical procedures to treat the conditions, but still developed chronic regional pain syndrome. This required extensive physical therapy and pain management, which included a trial of a spinal cord stimulator implant.
After two and half years of disability compensation payments and payment of all medical expenses, followed by mediation, we obtained a $500,000 settlement for our client (see disclaimer below).
$2,475,000 Settlement
In another case, we represented a construction worker who suffered a debilitating head injury in a fall from a platform while on the job. The injury left him permanently disabled.
Attorneys at Riddle & Brantley investigated the accident and were able to secure a significant $2.475 million total settlement with the workers' compensation carrier. We also set up two trusts and a guardianship for the family of the victim in order to ensure his long-term care.
These are just two examples among many. Learn more about the settlements and verdicts we've secured for our clients on our case results page.
Contact Our Workers' Comp Attorneys
If you sustain one or more of the common workplace injuries and you believe it was caused by working conditions or an occupational accident, then we would like to discuss your case and see if we can help you.
Riddle & Brantley's workers' compensation attorneys have years of experience when it comes to work injury claims.
Contact us today at 1-800-525-7111 for a free consultation with one of our personal injury lawyers about your workers' compensation claim. We may be able to help you obtain a better benefit with less delay than you can on your own. Our attorneys have more than 220+ years of combined experience. We believe that Justice Counts and we would love to help you however we can.
"This settlement changed me and my family's lives."
-Linda B., Riddle & Brantley client
---
Disclaimer: Please note that these results are intended to illustrate the type of matters handled by our firm, and not all the firm's results are listed. These results do not guarantee a similar outcome, and they should not be construed to constitute a promise or guarantee of a particular result in any particular case. Every case is different, and the outcome of any case depends upon a variety of factors unique to that case.