What is the Average Settlement for a Truck Accident?

If you've been injured in a truck accident, the consequences can be severe.
In addition to the serious injuries, pain and suffering you may experience, there is also potential emotional trauma to contend with, as well as the burden of expensive medical bills.
If you're considering filing a truck accident injury claim or truck accident lawsuit, you may be wondering:
What is the average settlement for a truck accident?
The short answer is it depends. As with all cases in personal injury law, every truck accident injury case is unique, and the potential settlement will depend on the unique facts and circumstances of the case, particularly the injuries.
Some of the factors that can impact a potential settlement in truck accident injury cases include:
The severity of your injuries
Whether or not the truck driver, insurance company and/or defense counsel disputes liability
Whether or not the truck accident resulted in wrongful death
The facts presented in the official police report
The official statement you give to the insurance company
Any statements you give to law enforcement
Whether or not the truck driver faced criminal charges or violated any federal safety regulations regarding the load or driving
Witness testimony
Evidence gathered at the scene of the accident including photographs
Truck accident reconstruction by expert witnesses who can help determine liability
Testimony by expert witnesses including truck safety experts
And many more…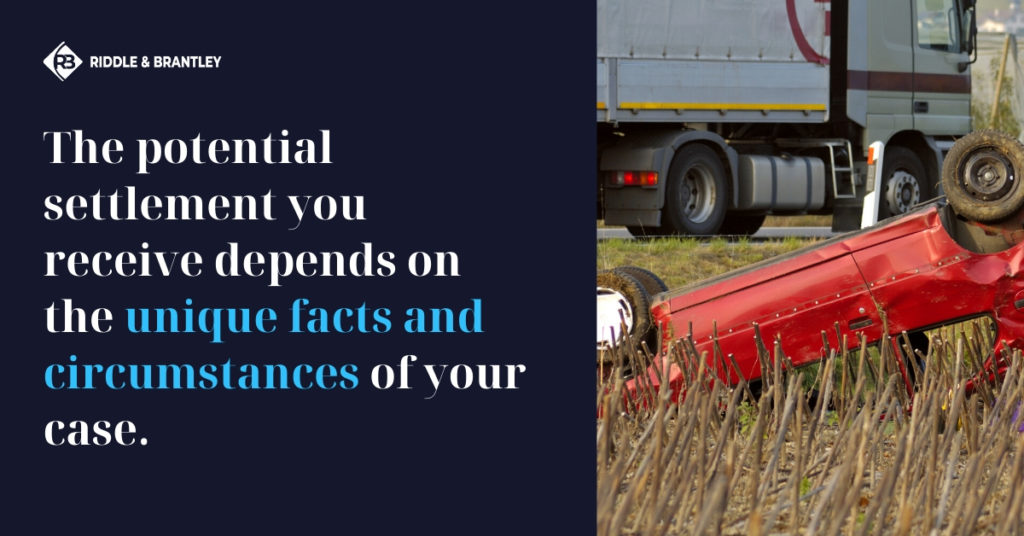 A potential truck accident settlement can even be affected by the messages you post on social media.
The truck accident lawyers at Riddle & Brantley frequently advise clients not to post any messages on social media about their case while negotiations or litigation are ongoing.
So… if you're wondering what the average truck accident settlement is, the best and shortest answer is:
It depends.  And you don't want your individual case determined by average standards.  Your case is special and unique. 
An experienced truck accident lawyer can advise you on the best legal options in your case.
Injured in a truck accident in North Carolina?
There is no obligation and there are no upfront costs or attorney fees unless we win your case and you receive financial compensation for your injuries.
We understand the impact a truck accident can have on you and your loved ones, and we would love to help if we can.
"It was nice to see Riddle & Brantley put me and my needs first."
-R. Colley
Riddle & Brantley's truck accident lawyers have more than 220+ years of combined legal experience and have handled truck accident injury cases throughout the state for more than three decades.
We have convenient offices in Raleigh, Durham, Goldsboro, Greenville, Kinston and Jacksonville, and can even come to you. Please note that in-office meetings in Durham, Greenville and Kinston are available by appointment only.
Justice Counts.