Can Philips CPAP Machines Cause Pneumonia?
Philip CPAP Machines and Potential Pneumonia Risk
Last year, Philips announced that it would recall many of the company's CPAP machines and ventilators. This recall was submitted to the FDA and indicated that the polyester-based polyurethane sound abatement foam in the machines could degrade and potentially cause a variety of health issues, possibly including respiratory problems like pneumonia and various types of cancer.
Since the recall, many consumers have come forward with various health problems they attribute to long-term use of these recalled devices, including pneumonia. So, can recalled Philips CPAP machines really cause pneumonia?
In this blog post, we'll discuss the potential connection between defective Philips CPAP machines and recurrent pneumonia. We'll also discuss CPAP lawsuits and, in particular, CPAP pneumonia lawsuits that allege these devices caused users' chronic pneumonia.
IMPORTANT: Due to developments in the multi-district litigation, we can no longer accept kidney or liver cancer claims related to Philips CPAP machines. Other cancers and health problems may still qualify. Please call 1-800-525-7111 for a free case review.
Can Philips CPAP Machines Cause Pneumonia?
A recent complaint filed with the Northern District of California describes the claimant developing "chronic bronchitis, COPD, sarcoidosis, pulmonary hypertension, severe headaches and….pneumonia at least three times." She attributes these health conditions to her nightly use of her Philips DreamStation Auto CPAP machine, which was one of the machines recalled by Philips.
Bacteria, fungi, and viruses can all cause pneumonia. Additional risk factors for pneumonia include inflammation of the respiratory tract, as this reduces the natural defenses in the lungs that can ward off foreign bacteria.
Already Elevated Risk
CPAP machines and ventilators already come with an elevated risk for pneumonia when not operated and cleaned properly. This is a phenomenon described by the CDC as "ventilator-associated pneumonia." This is because the warm, moist air inside a ventilator or CPAP can provide the perfect breeding ground for bacteria and viruses.
Also, ventilators and CPAP machines that are defective or not cared for properly can cause irritation of the nose, throat, and lungs, weakening the body's natural defenses. This makes it easier for foreign bacteria and viruses to infect the respiratory system.
Increased Pneumonia Risk with Defective CPAP Machines
According to Philips' recall filing with the Food and Drug Administration, a sound-abating foam in its recalled CPAP machines "may degrade into particles which may enter the device's air pathway and be ingested or inhaled by the user, and the foam may off-gas certain chemicals."
Inhaling foreign objects or gases can have serious respiratory consequences for many people, especially people already struggling with respiratory issues that led them to use a CPAP machine or ventilator in the first place.
Further investigation into this failure found that it was made more likely to occur because of a design flaw that allowed moist air to pass over the foam insert, which sped up its ability to degrade.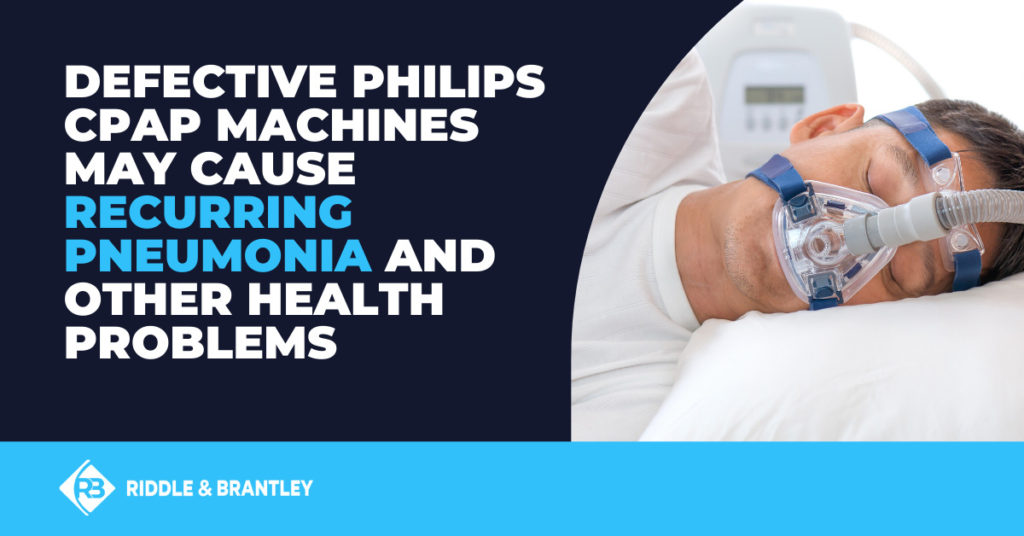 So, with additional moisture and foreign substances entering the lungs due to the potentially faulty design of the Philips machines, it's not surprising that people are reporting pneumonia and other respiratory or bronchial issues potentially caused by the CPAP machines. Based on the evidence available, it seems reasonable to believe that defective Philips CPAP machines may cause pneumonia in some users.
However, studies about the health risks are still ongoing.
IMPORTANT: Philips strongly denies any liability and/or wrongdoing associated with claims that recalled CPAP machines, Bi-Level PAP machines, and ventilators cause pneumonia and other health problems.
"Can I File a CPAP Pneumonia Lawsuit?"
Due to the potential connection between CPAP machines and pneumonia, our firm is actively investigating these claims and considering filing Philips CPAP pneumonia lawsuits.
If you've been diagnosed with recurring pneumonia or another qualifying disease after using a recalled Philips CPAP machine, Bi-Level PAP machine, or ventilator, you may qualify for potentially significant compensation in a CPAP lawsuit.
For a FREE consultation with an experienced product liability attorney concerning a potential CPAP pneumonia lawsuit (or CPAP lawsuit involving another disease), call 1-800-525-7111.
IMPORTANT: Due to developments in the multi-district litigation, we can no longer accept kidney or liver cancer claims related to Philips CPAP machines. Other cancers and health problems may still qualify. Please call 1-800-525-7111 for a free case review.
Beyond recurrent pneumonia, other injuries potentially caused by inhaling or absorbing foam particulates from Philips CPAP machines include:
Severe ear, eye, nose, throat, sinus, or oral cavity inflammation and injury including nodules, cysts, and tumors
Respiratory problems, including:

Reactive Airway Disease (RAD)
Acute Respiratory Distress Syndrome (ARDS)
Recurrent pneumonia
New or or worsening asthma

Lung damage / lung disease
Kidney damage/ kidney disease
Liver damage / liver disease
Heart problems
Sudden respiratory failure leading to heart attack
Defective CPAP machines may also cause cancer, potentially including:
Rectal cancer
Brain cancer
Stomach cancer
Testicular cancer
Nasal cancer
Throat cancer
Laryngeal cancer
Thyroid cancer
Papillary cancer
Various types of leukemia
Non-Hodgkin's lymphoma
Multiple myeloma
The consultation is free and you won't pay any upfront costs or attorney fees unless we win your case and you receive compensation. Our firm has recovered hundreds of millions of dollars for those injured due to others' negligence and we'd love to help however we can (see disclaimer below).
Call 1-800-525-7111 and let's review your claim.
---
*** Disclaimer: The results mentioned are intended to illustrate the type of cases handled by the firm. These results do not guarantee a similar outcome, and they should not be construed to constitute a promise or guarantee of a particular result in any particular case. Every case is different, and the outcome of any case depends upon a variety of factors unique to that case.