What Compensation is Available in a Pedestrian Accident Claim?
The consequences of a pedestrian accident can be life-changing. In addition to physical injuries, victims can suffer emotional trauma, and be burdened with expensive medical bills. They may also lose wages if they are forced to miss work due to disability or medical treatments. Given these many damages, many of our clients ask our North Carolina pedestrian accident attorneys, "What compensation is available in a pedestrian accident claim?"
Whether through a settlement or a jury verdict, there are many types of compensation available in a pedestrian accident claim in North Carolina.
Compensation in a pedestrian accident claim may be awarded for "damages," which may include:
Medical bills
Lost wages
Miscellaneous expenses (in-home medical equipment, mileage for transportation to and from medical treatment, etc.)
Pain and suffering (a blanket term for "emotional injury" suffered due to an accident)
Punitive damages (compensation intended to punish a defendant for reckless or malicious behavior resulting in injury)
"What must be proven to receive compensation in a pedestrian accident claim?"
In order to secure compensation in any personal injury claim in North Carolina, the plaintiff must prove several things:
That the defendant had a "duty of care" to prevent harm to the victim
That the defendant violated that "duty of care"
That the defendant's actions caused the victim's injuries
That you sustained damages (such as those listed above)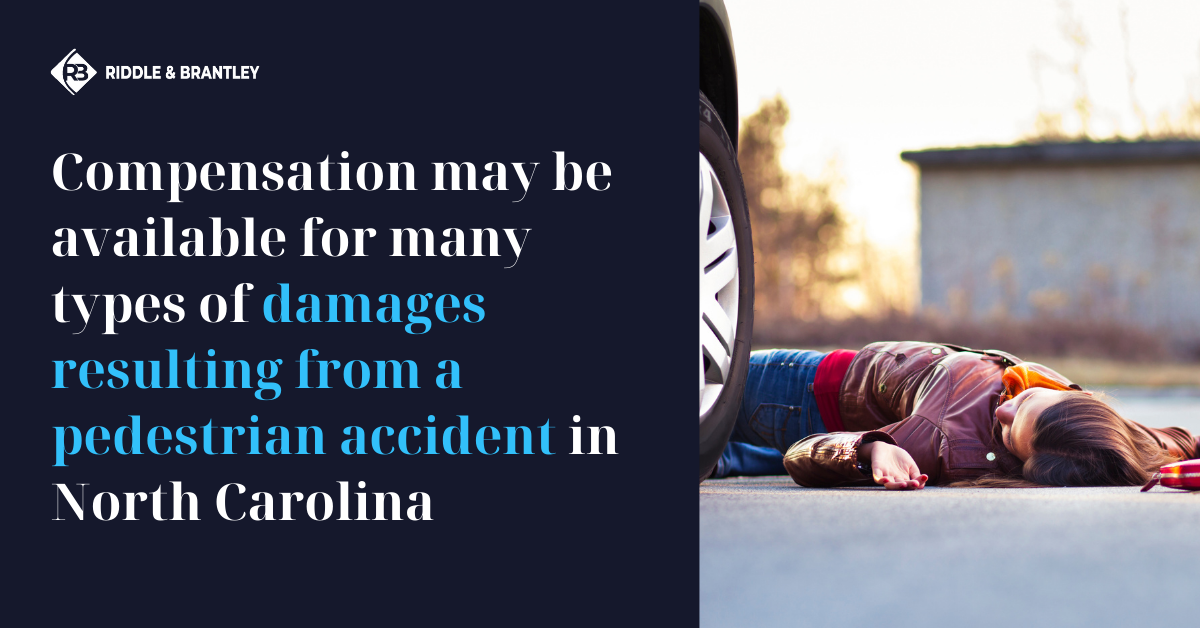 Pedestrian accident cases can be complicated, however, and liability is often contested. Insurance companies will do as much as possible to avoid paying a claim. Because of this, we recommend that you contact an experienced North Carolina personal injury lawyer in order to protect your legal rights and pursue maximum compensation in a pedestrian accident.
There are no upfront costs and no attorney fees unless we win your case and you receive financial compensation.
Please call 1-800-525-7111 for a FREE, no-obligation consultation with an experienced personal injury lawyer handling pedestrian accidents in North Carolina.
We are committed to justice for our clients and fight aggressively for their right to maximum compensation.
Why Hire an Attorney for Your Pedestrian Injury Claim?
If you've been injured in a pedestrian accident, you deserve representation by an attorney who will fight tirelessly for your right to compensation.
If you're wondering what compensation is available in a pedestrian accident in North Carolina, we can help evaluate your claim and advise you on your legal options. Call 1-800-525-7111 today for a FREE, no-obligation consultation.
Since 1985, our North Carolina personal injury lawyers have been handling pedestrian accident cases, securing millions of dollars in compensation (see disclaimer below), including:
$1,900,000 — Our client was represented by late partner Gene Jenkins and founding partner Gene Riddle after she was injured by a cement truck that hit her while she was walking across a parking lot. We brought in an accident reconstructionist to investigate the matter and prove liability in the case. Ultimately we were able to secure $1.9 million in total compensation.
$1,625,000 — Our client was injured walking across a street when she was struck by a vehicle. Our firm took the case and fought aggressively for justice on her behalf, proving liability and ultimately securing $1.625 million in compensation.
$140,000 — The insurance company aggressively fought to deny liability after our client was struck by a vehicle and injured while walking across a roadway. We investigated the accident, bringing in outside experts to prove liability, and ultimately obtained a total settlement of $140,000 after negotiations with the insurance carrier.
*** Disclaimer: The results mentioned are intended to illustrate the type of cases handled by the firm. These results do not guarantee a similar outcome, and they should not be construed to constitute a promise or guarantee of a particular result in any particular case. Every case is different, and the outcome of any case depends upon a variety of factors unique to that case.
"Riddle & Brantley found me all the available money from the insurance companies."
–David Howard, Riddle & Brantley client 
For a FREE consultation with an experienced NC pedestrian accident lawyer, call 1-800-525-7111 today.
There is never any obligation and we don't get paid unless you do. If we don't recover compensation for you, you won't pay any attorney fees.
Please call 1-800-525-7111 today and let's review your claim.
Compensation is available in North Carolina pedestrian accident claims when your injuries are due to another's negligence and we would love to help you if we can.
Justice Counts.