Camp Lejeune Lawsuit Settlement Amounts
Potential Camp Lejeune Payouts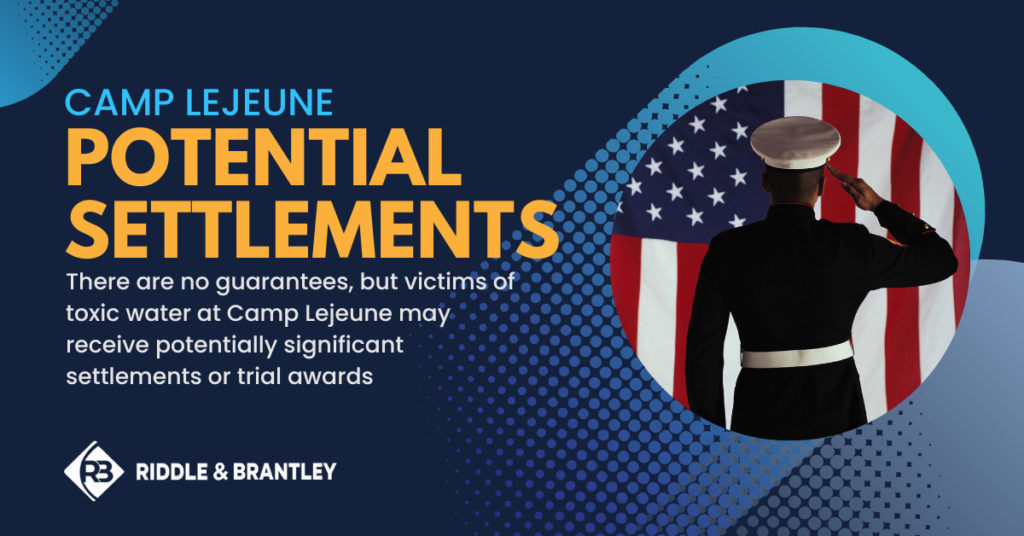 Thousands of veterans, family members, and civilian contractors living and working at US Marine Corps Base Camp Lejeune may have suffered serious health problems due to water contamination on the base between 1953 and 1987. As Camp Lejeune claims and lawsuits are filed, many victims are asking about potential compensation in Camp Lejeune contaminated water cases.
The best and most honest answer is that it depends. To be clear — there are no guarantees, and every Camp Lejeune claim is unique. Potential Camp Lejeune settlement amounts may vary greatly — perhaps from a few thousand dollars to more than a million dollars — depending on the specific facts and circumstances in each case.
IMPORTANT: Keep in mind that we are working on very limited information at this point. Estimates of potential Camp Lejeune payouts are exactly that — they are only "educated guesses" until we see how these claims work their way through the system and the courts.
In this article, we'll look at some of the factors that may impact potential settlement amounts or "payouts" in Camp Lejeune water contamination cases.
"Victims of toxic water at Camp Lejeune may receive potentially significant settlement amounts or trial awards."
–Gene Riddle, trial attorney, Riddle & Brantley
VA Compensation Already Awarded in Camp Lejeune Claims
Until the passage of the Camp Lejeune Justice Act (part of the PACT Act) in September 2022, victims of the water contamination at Camp Lejeune were prevented from filing claims against the government. Nevertheless, the Department of Veterans Affairs (VA) was required to pay over $2 billion to veterans and family members who suffered from certain conditions after exposure to the toxic water because of the Honoring America's Veterans and Caring for Camp Lejeune Families Act, passed in 2012.
Separate legislation, the Janey Ensminger Act (named for a victim of the toxic water at Camp Lejeune) ensured that family members of service members stationed at Camp Lejeune received benefits and medical treatments associated with the contamination.
As part of these requirements, the VA set aside an additional $350 million to provide health care benefits to those who suffered due to the toxic water.
Veterans who suffered from injuries linked to the toxins at Camp Lejeune may also qualify for additional disability benefits, available for those diagnosed with eight specific conditions.
But what about those who are only just now allowed to file claims?
The most recent cases being filed in relation to the toxic water at Camp Lejeune are individual claims against the federal government. Potential payouts in these cases may be significant.
Potential Payouts in Camp Lejeune Claims
A potential Camp Lejeune water contamination payout — by no means guaranteed — will ultimately be determined by the unique facts and circumstances of the individual case. Recent legislation makes clear that these cases will be handled individually, with individual Camp Lejeune settlements or trial judgments.
That legislation — the Camp Lejeune Justice Act, part of the larger Honoring Our Pact Act of 2022 — set aside roughly $6.7 billion in funding for veterans, family members, and other workers who suffered from health problems potentially linked to toxic water at Camp Lejeune.
Legal analysts have estimated that potential compensation in a Camp Lejeune contaminated water claim may range from a few thousand dollars to several hundred thousand dollars, and perhaps more. It's important to note, however, that this is purely speculative until these claims begin to be processed, litigated, and result in actual settlements and/or verdicts.
Keep This in Mind
We simply don't have a lot of data — yet — to evaluate what kinds of compensation Camp Lejeune water contamination victims might expect in these cases. In one of the first cases settled under the VA's disability program for Camp Lejeune toxic water vicitms, however, it has been reported that a Marine Corps veteran who suffered from kidney cancer after exposure to the water was awarded $100,000 in benefits. Our firm has not been able to independently verify this claim, however.
Factors Impacting Potential Camp Lejeune Water Contamination Settlements
The amount a victim may receive in a Camp Lejeune water contamination claim will ultimately depend on many factors. If you file a claim seeking compensation from the government for health problems possibly due to the toxic water, the following may impact the amount of any potential compensation:
Your specific medical condition — You will need a formal diagnosis of a health problem linked to exposure to the toxins at Camp Lejeune.
The strength of evidence supporting a connection between your condition and the toxins in the water at Camp Lejuene — Many conditions have been linked to the dangerous chemicals found in the water supply at Camp Lejeune, but the scientific evidence is stronger for certain toxins. This will be considered in any Camp Lejeune compensation claim. However, it's important to note that the legislation outlining the handling of these claims sets a lower bar for proving causation than would typically apply in other personal injury claims.
The duration and frequency of your exposure — The extent of your exposure to the toxic water will likely be considered in any claim. Because the water supply was found to be so contaminated, however, and most service members, family members, and civilian contractors lived and worked at the base for significant periods of time, this evidence should be relatively easily established for most claimants.
Your evidence-supported financial damages associated with your toxin-linked health problem — The government (and a judge or jury if the case goes to trial) will consider the financial costs of your medical treatment and associated expenses. Cases involving conditions that require more extensive treatment, home care, equipment, etc. will likely receive more significant Camp Lejeune settlement amounts or judgments.
Evidence against the government — It has been reported that the US military and government agencies were aware of the water contamination for decades before taking any decisive action. Marine Corps officials have even been accused of falsely denying that there was a problem with water contaminants at Camp Lejeune. These allegations of negligence and wrongdoing will almost certainly be weighed — especially by judges and juries involved in cases that go to trial — when determining potential settlement or verdict amounts.
Precedent for Potential Settlements and Judgments
While we cannot be certain of any potential payout amounts in the Camp Lejeune litigation, we can look at previous cases involving toxic chemical exposure for clues as to how these cases will play out.
Below are a few examples of other recent claims and lawsuits involving injuries potentially caused by toxin exposure and the type of compensation ultimately secured in settlement and verdicts.
DuPont Chemical – Ohio River Contamination (2017)
For years, DuPont Chemical was accused of contaminating the Ohio River and the communities surrounding their Parkersburg, West Virginia plant with the toxic chemical known as C8. In February 2017, DuPont Chemical agreed to settle all outstanding cases brought against them for $670 million.
DuPont's knowing concealment of the risks associated with C8 exposure and its improper disposal of C8 into the surrounding community made this one of the most high-profile chemical contamination cases of all time.
In a separate case, DuPont had to pay the EPA $16.5 million for concealing evidence about the risks associated with C8 exposure.
Monroe School District – Toxic Chemical Exposure at School (2022) 
Over $247 million in settlements have been proposed in Washington state this year to compensate students and their families for the exposure to toxic chemicals at a Sky Valley Education Center in the Monroe School District over eight years.
Court records obtained by The Seattle Times revealed a $34 million settlement figure was part of one of the deals struck with the families. Still, the school district continues to publicly deny that it was responsible for hazardous chemicals being found on the campus.
The lawsuits allege that students, parents, and teachers were poisoned by leaky light ballasts containing PCBs, a chemical currently banned from being manufactured or used in the United States.
Shell and ConocoPhillips – Benzene Drinking Water Contamination (2018)
In 2018, Shell and ConocoPhillips settled with the people of Roxana, Illinois, for $4.83 million after 18 refinery leaks in 25 years resulted in over 200,000 pounds of benzene being released into the environment. Like the Camp Lejeune claimants, the residents of Roxana claim that the benzene contamination entered their drinking water and caused severe long-term health problems, including various cancers.
Although the amounts listed here do not necessarily reflect the amounts that claimants may recover in a Camp Lejeune lawsuit (remember, there are no guarantees and we can only estimate potential Camp Lejeune water contamination payouts), they do reflect a type of precedent for compensation in contamination cases.
History of Camp Lejeune Water Contamination
Between the early 1950s and late 1980s, US Marine Corps Base Camp Lejeune's water was contaminated with industrial solvents, potentially causing thousands of service members, their family members, and civilian military contractors to suffer from serious health conditions, including various types of cancer and other health problems.
The Agency for Toxic Substances and Disease Registry (ATSDR) found trichloroethylene (TCE), tetrachloroethylene (PCE), vinyl chloride (VC), and benzene near Camp Lejeune, all of which were far exceeded EPA safety thresholds. These chemicals are known to be human carcinogens, and elevated doses of some of them may cause serious health problems.
If you worked at Camp Lejeune between 1953 and 1987 and later developed serious health issues, you may be eligible for a Camp Lejeune lawsuit or claim, and we are ready to help. Call 1-800-525-7111 for a free, no-obligation consultation.
Who is Eligible for a Camp Lejeune Lawsuit?
Victims of Camp Lejeune water contamination can now file claims, even if their claim was previously denied, thanks to recent legislation that seeks to help injured veterans and their families receive the justice they deserve.
IMPORTANT: Certain diagnoses may not qualify if not accompanied by another diagnosis for a separate condition. Call 1-800-525-7111 for a free case review and we'll evaluate your claim.
To file a Camp Lejeune lawsuit, you must meet the following criteria:
Were exposed to contaminated water at Camp Lejeune for 30 or more days between August 1, 1953 and December 31, 1987
Were diagnosed with one of the following conditions: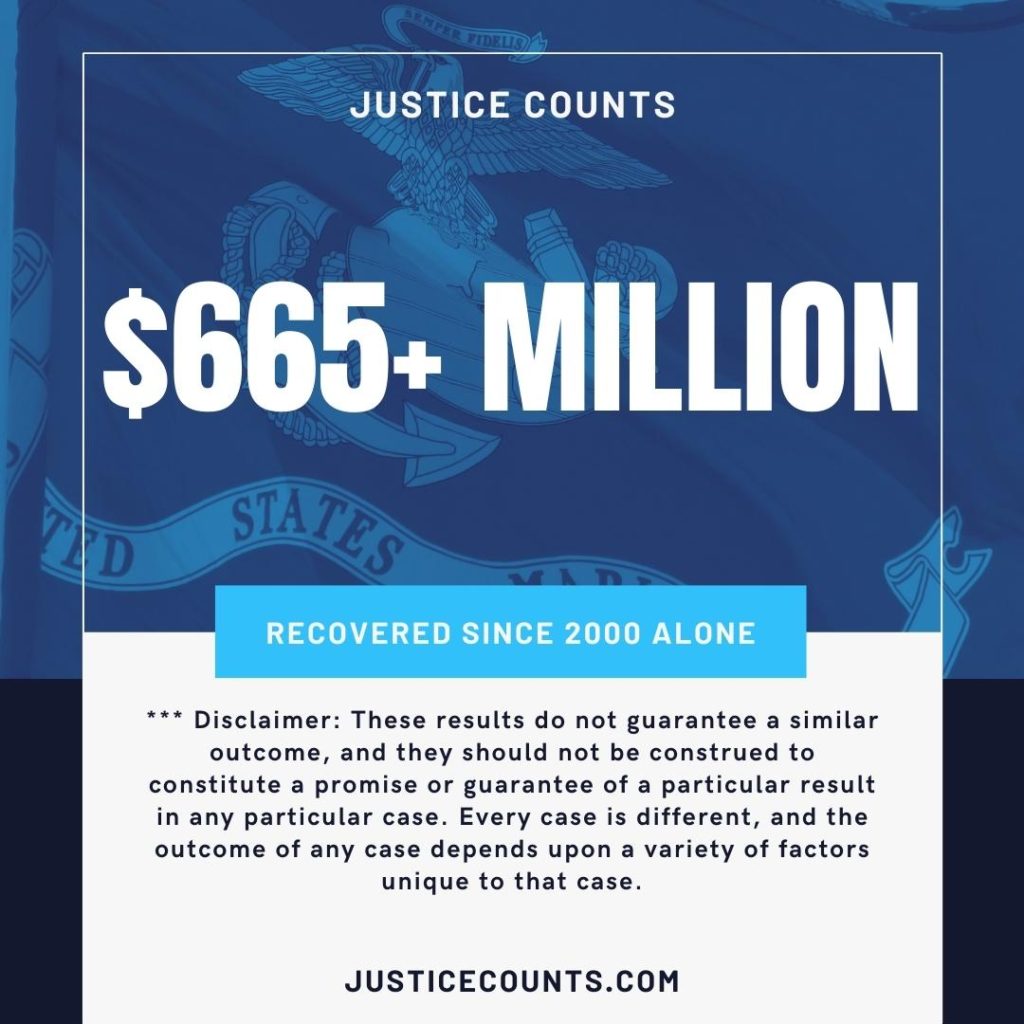 We at Riddle & Brantley want to assist individuals who were injured after being exposed to contaminated water at Camp Lejeune. Please call us at 1-800-525-7111 for a free consultation so we can assist you in deciding on the best course of action for you.
You won't pay any attorney fees unless we secure a Camp Lejeune settlement or favorable verdict for you, so please contact us today to see if you are eligible for a Camp Lejeune lawsuit.
Our military heroes, their loved ones, and others who lived and worked at US Marine Corps Base Camp Lejeune deserve justice. Call 1-800-525-7111 and let's see how we can help.
How Can Riddle & Brantley Help?
Riddle & Brantley can assist you in understanding your options for a Camp Lejeune claim, and we will work hard to get you the justice you deserve. We provide free consultations, and you won't have to pay lawyer fees unless we win compensation for you.
In addition to receiving many prestigious membership and award recognitions (see disclaimer below), our Camp Lejeune lawyers have been praised for providing exceptional service and treating clients like family.
"It was nice to see Riddle & Brantley put me and my needs first."
–R.C., Riddle & Brantley client
"Riddle and Brantley was extremely diligent in handling the case. The case was a class action. I can't imagine the amount of communications that was needed to get the result this firm accomplished. I will always be thankful because this settlement changed me and my family's lives. Thank you for a job very professionally done."
–Linda B., Riddle & Brantley client
"I have nothing but wonderful things to say. You all have been a blessing in my life and I feel like a family member."
–Jacqueline P., Riddle & Brantley client
You will be treated as a person and feel at home at Riddle & Brantley. We have won over $665 million for our valued clients since 2000 alone (see disclaimer below), and we would like to offer you the same hard-fighting representation.
At Riddle & Brantley, Justice Counts.
---
*** Disclaimer: The results mentioned are intended to illustrate the type of cases handled by the firm. These results do not guarantee a similar outcome, and they should not be construed to constitute a promise or guarantee of a particular result in any particular case. Every case is different, and the outcome of any case depends upon a variety of factors unique to that case.
*** Disclaimer: An attorney must meet certain requirements to join these organizations or receive these awards. For more information on Membership Criteria for Million Dollar Advocates Forum, Multi-Million Dollar Advocates Forum, Super Lawyers, Super Lawyers "Rising Star" designation, The National Trial Lawyers Top 100, The National Trial Lawyers Top 40 Under 40, The National Association of Distinguished Counsel, AV Preeminent designation by Martindale-Hubbell, the Litigator Award, and other memberships, awards, and accolades, please visit our Membership Criteria page. These awards and memberships should not be construed as a promise or guarantee of a similar result. Each case is different and must be evaluated separately.