Can North Carolina Truckers Get Workers' Compensation After a Truck Accident?
Workers' compensation benefits are generally available to anyone injured while on the job, provided they work for an employer with three or more full-time employees (there are some exceptions to this rule). Work injuries are common across all industries, including the trucking industry. Many of our clients ask, "Can truckers get workers' compensation after a truck accident?"
The short answer is yes, but we'll go into more detail.
In this article, our workers' comp attorneys and truck accident lawyers will talk about the workers' comp benefits truck drivers may be entitled to after an accident, and what you can do to protect your legal rights when seeking workers' compensation as a trucker.
"I'm a truck driver. Can I get workers' compensation for a truck accident in North Carolina?"
Yes, in general, workers' compensation is available for truck drivers injured in truck accidents in North Carolina. Workers' comp is also available for other on-the-job injuries truck drivers may suffer, not just limited to truck accidents.
Workers' Compensation for Truck Drivers in North Carolina
Depending on the unique facts and circumstances, workers' compensation benefits may be available for your on-the-job injury if you are a truck driver.
Common injuries suffered by truck drivers while on the job (either in truck accidents or while loading and unloading, etc.) include:
Back injuries
Cuts, scrapes and contusions
Head injuries, including concussions
Chest injuries and organ damage
Paralysis and semi-paralysis
And more…
In the most heartbreaking situations, trucking accidents may even result in death. In these cases, a wrongful death attorney may be able to help surviving loved ones fight for justice.
In cases in which a trucking injury results in long-term disability, a disability lawyer can help with claims and appeals with the Social Security Administration (SSA).
So… "Can truck drivers get workers' compensation in North Carolina?"
Everything depends on the unique facts and circumstances of your case, but yes, in general, workers' compensation is available for injured truckers who have been hurt while on the job.
Have You Been Hurt While on the Job as a Truck Driver in North Carolina?
You deserve justice, and you may be entitled to compensation.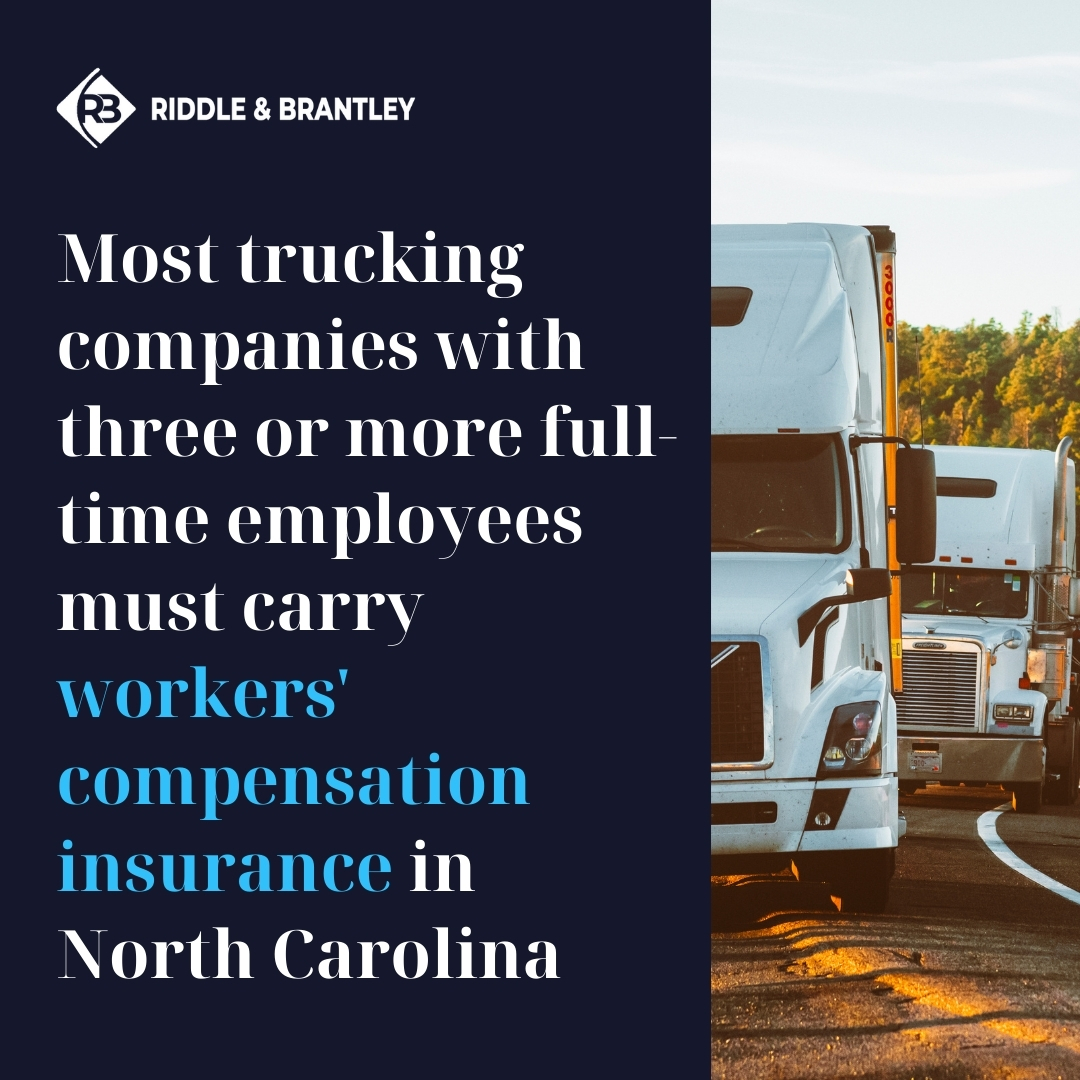 With more than 220+ years of combined legal experience, our workers' comp attorneys have handled all kinds of workers' comp cases for injured truckers in our state. We know how to handle the complex workers' comp system and hold insurance companies and employers accountable.
We would love to help you get the justice you deserve if we can.
Remember, workers' comp may be available for injury suffered as a truck driver. An experienced workers' compensation lawyer at Riddle & Brantley can review your case and advise you on your best legal path for seeking benefits.
There is no obligation and you won't pay any attorney fees unless we win your case and you receive compensation.
In one recent case, attorney Gene Riddle negotiated a $1.8 million settlement on behalf of an injured truck driver who suffered serious injuries when he was hit by another truck while on the job (see disclaimer below).
"I would recommend Riddle & Brantley to anyone who needs help with workers' comp."
–B. Fields, Riddle & Brantley client
Board-Certified Workers' Compensation Specialists
Our team is led by two Board-Certified Specialists in Workers' Compensation law, attorneys Chris Brantley and Adam Smith. Both Chris and Adam have passed a rigorous examination, and are recognized by the North Carolina State Bar for their experience and expertise.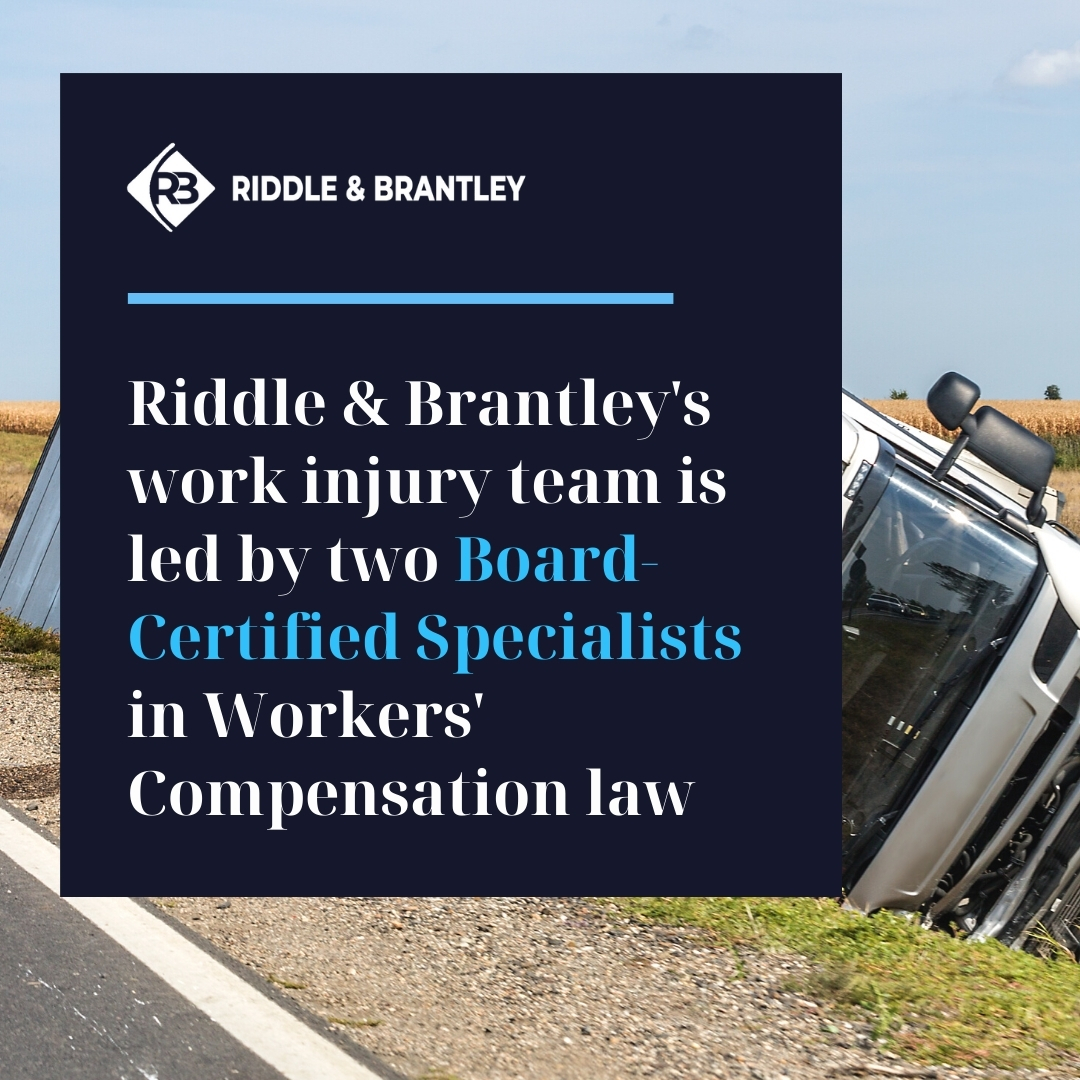 There are no upfront costs and no attorney fees unless we win your case and you receive financial compensation.
Justice Counts for those who have been injured on the job. We are proud to fight for injured truck drivers and would love to help you if we can.
Remember, we don't get paid unless you do. If we don't recover workers' compensation for your truck accident injury, you won't pay any attorney fees.
---
*** Disclaimer: The results mentioned are intended to illustrate the type of cases handled by the firm. These results do not guarantee a similar outcome, and they should not be construed to constitute a promise or guarantee of a particular result in any particular case. Every case is different, and the outcome of any case depends upon a variety of factors unique to that case.