Who Can Be Held Liable After a Truck Accident in North Carolina?
Truck accident injury cases can be complex. In addition to the serious injuries often suffered in truck accidents, there is often a tremendous amount of evidence to sift through. Accident reconstructionists and other experts sometimes need to be brought in to help prove liability, and fault is often disputed. Many of our clients ask, "Who can be held liable after a truck accident?"
In this article, we'll discuss what parties may be held liable in a truck accident, and what you can do to protect your legal options in a potential truck accident injury claim.
IMPORTANT: If you've been injured in a truck accident, don't wait to contact an attorney ­— the longer you wait, the harder it may be to win your case and recover the compensation you need and deserve. 
Reach out to Riddle & Brantley for expert guidance on a wide range of truck accident lawsuits.
Determining Fault in a Truck Accident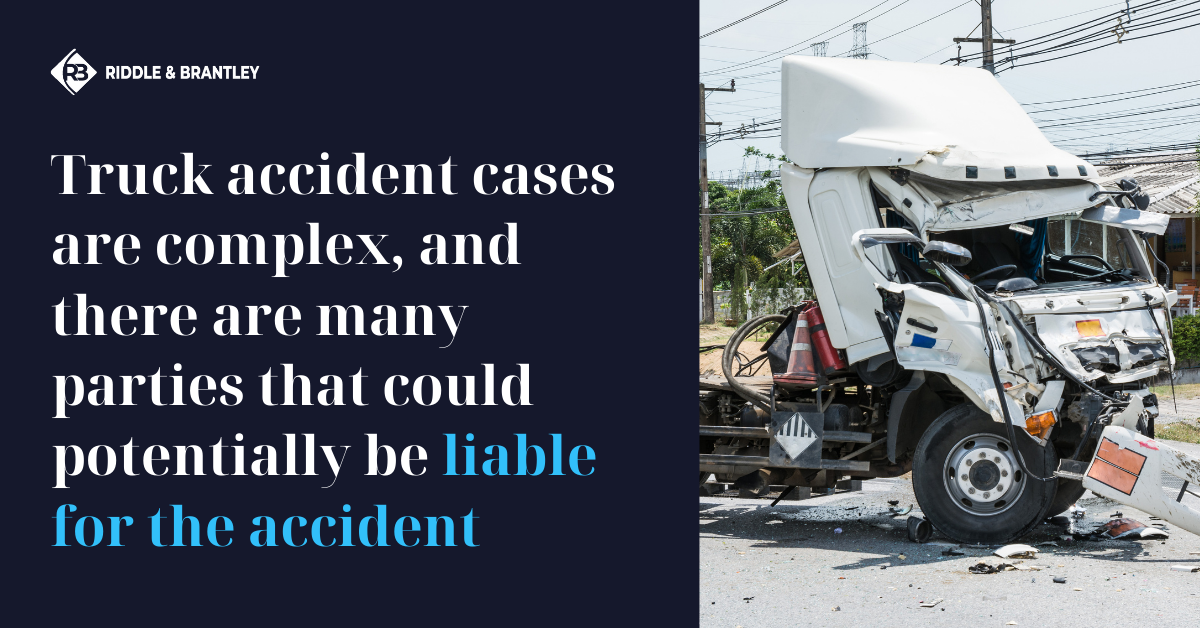 It can be difficult to prove liability in a truck accident, and in many cases, liability is contested by the truck driver, trucking company, insurance company, or defense counsel.
A comprehensive truck accident investigation is often needed to sift through the truck accident evidence and determine who is at fault. Victims sometimes wonder, "Who can be held liable in a truck accident?"
There are many parties that may potentially be found at fault in a truck accident.
Parties that may be held liable in a truck accident in North Carolina include: 
Truck driver — the truck driver may have violated "hours of service" regulations, ignored traffic laws, or driven while under the influence of alcohol or drugs.
Driver of the other vehicle — in many cases, the driver of the other vehicle may be at fault due to speeding, distracted driving, drugs or alcohol, or other reasons.
Trucking company (sometimes called a "carrier") — in certain situations, a trucking company may be held liable in a truck accident, such as when the carrier pressures a driver to violate "hours of service" laws.
Truck manufacturer — if a design or mechanical defect resulted in the accident, the truck manufacturer itself may be held liable in a truck accident.
Truck parts manufacturer — similar to the truck manufacturer, defective parts can mean that the parts manufacturer or supplier may be held liable.
Truck maintenance company — if a maintenance company is found to have acted negligently, it might be held liable in a truck accident.
The owner of the truck's cargo — if the cargo itself contributed to the accident (such as flammable cargo that was improperly secured), the owner of that cargo may be held responsible for causing the crash.
Companies providing services to the carrier — other companies, such as loading companies, may contribute to the accident and be held liable.
Governments or contractors responsible for highway design and maintenance — if the design or condition of the roadway contributed to the truck accident, the local, state or federal government or its contractors may be determined at fault.
This is not intended to be a comprehensive list. Every truck accident is different and the unique facts and circumstances of each case will determine who is ultimately liable.
Truck Accident Investigations
Proving liability in a truck accident often relies on evaluating a significant amount of evidence, witness testimony, and even truck "black box" data. One of the first things our firm does when we're hired by a truck accident victim is organize a thorough investigation.
We have a team of experienced investigators on staff to help identify and preserve important evidence, contact potential witnesses, and evaluate the crash scene.
We also frequently bring in outside experts such as accident reconstructionists and federal trucking safety experts.
In one recent $9,450,000 truck accident case, we even obtained traffic data from Google Maps in order to help prove liability (see disclaimer below).
Contributory Negligence 
North Carolina is unique in that it is one of only a few states governed by the rule of contributory negligence. According to this law, you are barred from recovery in a personal injury case if you are even partially responsible for the accident.
This can make holding someone else liable for a truck accident even more difficult and is yet another reason why it's important to contact an experienced truck accident lawyer after a truck accident.
Have You Suffered Injury in a North Carolina Truck Accident?
We can evaluate your claim and help determine who can be held liable after a truck accident. There is no obligation and because we work on a contingency basis.
There are no upfront costs or attorney fees unless we win your case. No win, no fee. It's as simple as that.
Please call 1-800-525-7111 today to speak with an award-winning truck accident attorney at Riddle & Brantley (see disclaimer below).
"This settlement changed me and my family's lives."
–Linda B., Riddle & Brantley client
We can help answer the question, "Who can be held liable after a truck accident?", and advise you on your best legal path for seeking compensation in your claim or lawsuit.
Justice Counts for those injured due to others' negligence and we would love to help you and your loved ones however we can.
---
*** Disclaimer: The results mentioned are intended to illustrate the type of cases handled by the firm. These results do not guarantee a similar outcome, and they should not be construed to constitute a promise or guarantee of a particular result in any particular case. Every case is different, and the outcome of any case depends upon a variety of factors unique to that case.
*** Disclaimer: An attorney must meet certain requirements to join these organizations or receive these awards. For more information on Membership Criteria for Million Dollar Advocates Forum, Multi-Million Dollar Advocates Forum, Super Lawyers, The National Trial Lawyers Top 100, The National Association of Distinguished Counsel, AV Preeminent by Martindale-Hubbell, the Litigator Award, and other memberships, awards, and accolades, please visit our Membership Criteria page. These awards and memberships should not be construed as a promise or guarantee of a similar result. Each case is different and must be evaluated separately.