How is Pain and Suffering Calculated in a North Carolina Car Accident Case?
Calculating car accident damages like medical expenses and lost wages is a fairly straightforward practice. However, other losses are harder to quantify – such as the amount of "pain and suffering" a person may have sustained during and after a crash.
North Carolina courts use multiple formulas for estimating a fair and reasonable amount for "pain and suffering" damages.
Formulas for Calculating Pain and Suffering Damages
"Pain and suffering" is a blanket term for emotional trauma caused by the accident, including:
Mental anguish
Distress
Anxiety
Lack of energy
Loss of appetite
Mood swings
Anger
Humiliation
Sleep disturbances
PTSD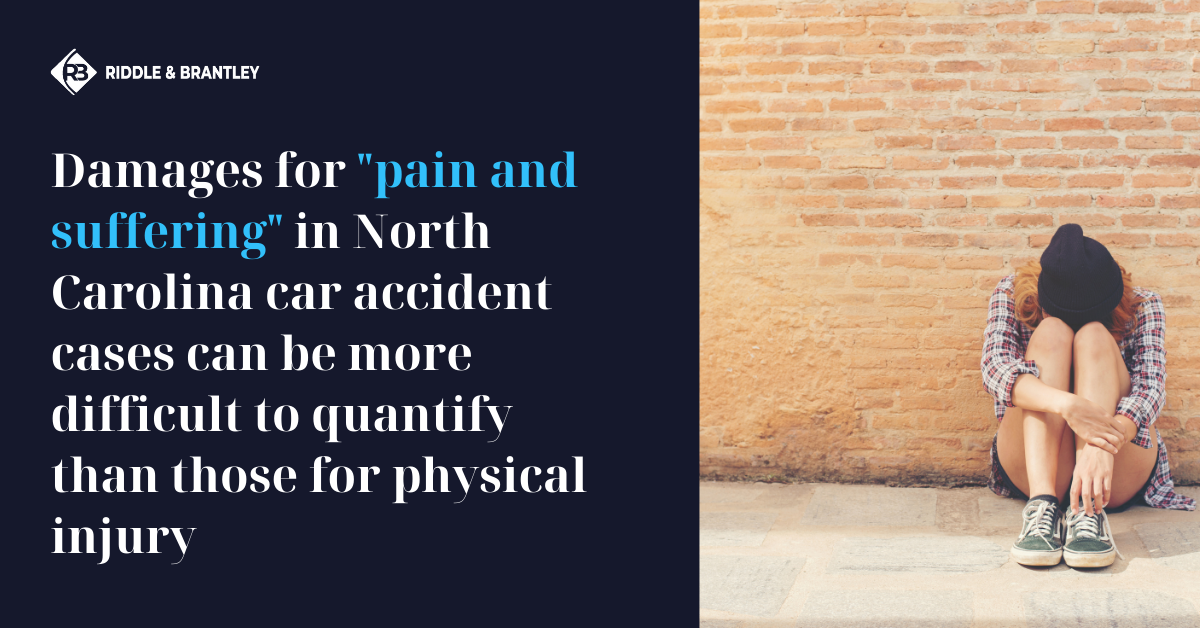 In other words, any psychological or emotional impacts that diminish the quality of life can potentially be compensated in a personal injury lawsuit. Applying a monetary figure to this type of damage can be challenging, which is why car accident victims are urged to enlist the help of a knowledgeable attorney to calculate a damages amount that truly and fairly reflects the pain and suffering you have experienced.
North Carolina juries are instructed to rely upon the following guidance in calculating damages for pain and suffering:
"Damages for personal injury also include fair compensation for the actual Past Present and Future physical pain and mental suffering experienced by the plaintiff as a proximate result of the negligence of the defendant. There is no fixed formula for placing a value on physical pain and mental suffering. You will determine what is fair compensation by applying logic and common sense to the evidence."
The "per diem" model, in which damages are calculated on a per-day basis, is also used in North Carolina, but for permanent injuries.
A personal injury lawyer can have considerable sway in arguing how much your pain and suffering is truly worth. For a FREE, no-obligation consultation with an experienced car accident lawyer, please call 1-800-525-7111 or complete the fast and easy form below.
There are no upfront costs and you won't pay any attorney fees unless we win your case and you receive compensation.
Are There Damages Caps on Pain and Suffering in North Carolina?
North Carolina does not place a limit on pain and suffering damages, except for cases of medical malpractice. A 2011 law put a $500,000 cap on non-economic damages when suing a doctor, hospital, or medical center.
Exceptions can be granted if the court finds the defendant was "reckless," "fraudulent," "grossly negligent," "intentional," or "malicious" in causing the plaintiff's injuries or death.
Your Lawyer Can Help Maximize Compensation for Pain and Suffering
Pain and suffering is often what bumps a five or six-figure award up to a seven-figure award (see disclaimer below; keep in mind that we can't guarantee a specific result and the outcome of your case will be based on factors that are unique to your situation). When calculating damages, the court also considers "loss of enjoyment in life" factors, such as:
The severity of injuries – Treatment costs (and the amount of physical pain suffered) tend to be greater if you've experienced loss of limb or loss of organ function, for example, as opposed to cuts, bruises, and scrapes.
Impact on daily life – Injuries that affect the ability to care for a child, work, and participate in meaningful daily activities are generally worth more. Limitations to movement or mobility are considered most severe.
Necessary treatments – You can expect a higher settlement amount if your injury requires long-term physical therapy or multiple surgeries. The cost of care is a considerable factor.
A personal injury attorney can help you collect evidence to substantiate your past and future losses. If you keep a journal in which you record pain symptoms, feelings, emotions, medication dosages you're taking, and doctor's appointments, it can be admissible in court.
Personal details can be considerable factors when it comes to assessing compensation, as well. For instance, the inability to participate in sexual relations with a partner (loss of consortium) may be a covered damage.
Get the Full and Fair Damages You Deserve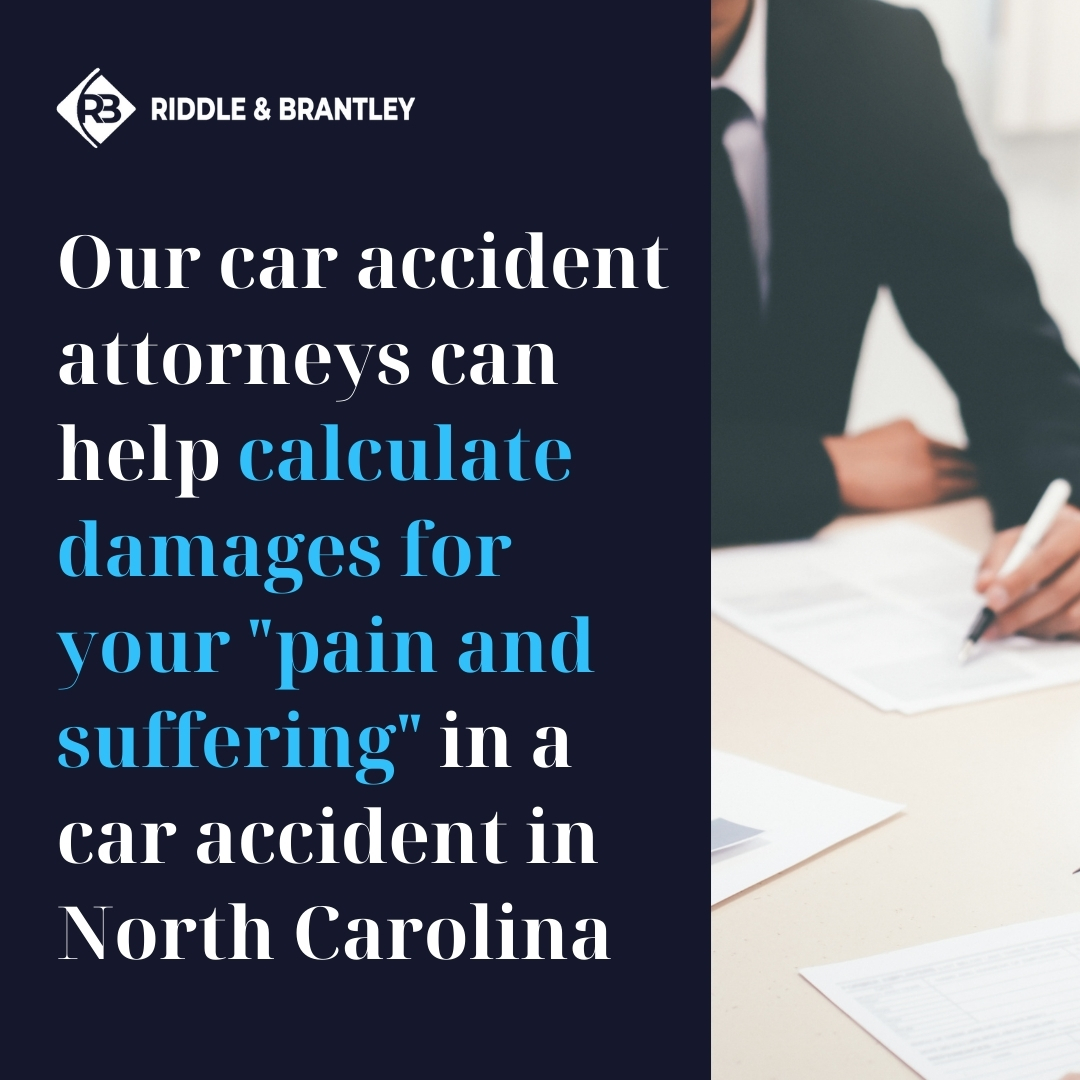 We believe Justice Counts. 
If you've been injured in an auto accident, call 1-800-525-7111 for a free consultation with a North Carolina car accident lawyer at Riddle & Brantley.
Our experienced car accident lawyers have a proven track record of multi-million-dollar settlements and jury awards. You have nothing to lose by contacting us today, as you never owe us a legal fee unless we recover compensation on your behalf.
"It was nice to see Riddle & Brantley put me and my needs first."
–R. Colley, Riddle & Brantley client
Don't wait — the longer you wait to contact us, the harder it may be to win your case and recover the compensation you need and deserve.
Call 1-800-525-7111 today and let an experienced car accident lawyer review your claim for free. You won't pay any upfront costs or attorney fees unless we win your case and you receive compensation.
---
*** Disclaimer: The results mentioned are intended to illustrate the type of cases handled by the firm. These results do not guarantee a similar outcome, and they should not be construed to constitute a promise or guarantee of a particular result in any particular case. Every case is different, and the outcome of any case depends upon a variety of factors unique to that case.