School Bus Accident Reported in Harnett County, North Carolina
At least one person was hurt in an accident involving two school buses in Harnett County, North Carolina. According to WTVD, police and highway patrol officers are on the scene and investigating.
School Bus Accidents in North Carolina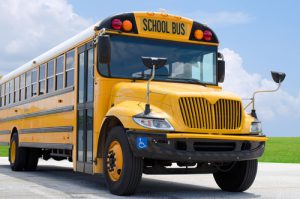 While generally safe, school buses are involved in hundreds of accidents every year in North Carolina.
According to the North Carolina Department of Public Instruction, school buses transport more than 792,900 students to and from school throughout North Carolina each year. And a report by the North Carolina Department of Transportation (NC DOT) reveals there are approximately 770 school bus crashes resulting in over 720 personal injuries and more than 10 fatalities statewide each year.
These accidents are especially devastating because they involve children. While many factors can contribute to these accidents, a driver's negligence (either the bus driver or the driver of another vehicle) is often the cause.
"Our most precious resources are our children and they ride yellow school buses," said Gene Riddle, managing partner and personal injury attorney at Riddle & Brantley. "It is imperative that our bus drivers and all drivers follow safe driving rules to prevent school bus accidents."
Justice for School Bus Accident Victims
In North Carolina, state law offers parents of children injured in school bus accidents the opportunity to seek justice.
If a review by investigators and attorneys determines that negligence contributed to the accident, parents can file a personal injury claim against the negligent driver or the State of North Carolina (under a State Tort Claim) on behalf of an injured child if the bus involved was a yellow school bus. Plaintiffs may be entitled to compensation for the physical, emotional and financial toll inflicted by the school bus accident.
School Bus Accident Lawyer in North Carolina
At Riddle & Brantley, our team of North Carolina personal injury lawyers has been helping injured North Carolinians for more than 30 years. We've recovered compensation for our clients injured in auto accidents, including those involving school buses and children. In one case, a Riddle & Brantley attorney represented two North Carolina teenagers who were injured at a crosswalk at the school. Managing Partner Gene Riddle won settlement of $700,000*** for the victims, and also established a Special Needs Trust for their care. 
These types of lawsuits are complicated, and an experienced school bus accident lawyer is needed to help victims and their families navigate the legal system. Attorneys from Riddle & Brantley have over 220+ years of combined experience practicing personal injury law in North Carolina, including experience recovering compensation for children hurt in school bus crashes, as well as their families. If you or a loved one has been injured in North Carolina, contact us today for a free case review. There is no obligation, and no fee unless we win your case.
*** Disclaimer: The results mentioned are intended to illustrate the type of cases handled by the firm. These results do not guarantee a similar outcome, and they should not be construed to constitute a promise or guarantee of a particular result in any particular case. Every case is different, and the outcome of any case depends upon a variety of factors unique to that case.